Dear Colleagues-Friends,

Each year we open the academic year by recognizing faculty members for their outstanding dedication and distinguished service in support of our education, research and clinical missions. This is a wonderful tradition, and one we look forward to.

The first of these events was last week's 37th Annual Faculty Convocation. In his inspirational opening remarks, Dr. Michael Rao spoke about how "uniquely committed and dedicated" VCU faculty members are to the success of our students and how you are "improving people's lives through [your] creativity and innovation," helping to shape not just Richmond and the Commonwealth but also the world. This is a sentiment I share as I see the dedicated work you put into making a difference for our students, our patients and the scientific community.
During this event, I had the honor of introducing Lisa K. Brath, M.D. as the winner of this year's Outstanding Term Faculty Award. Dr. Brath is a professor in the Pulmonary and Critical Care Medicine division of the Department of Internal Medicine and program director for the Pulmonary and Critical Care Medicine fellowship program. She also serves as medical director for both Respiratory Care and the Unique Pathogens Unit at VCU Medical Center.
Dr. Brath expressed her gratitude for being able to touch the lives of so many patients and learners at VCU and shared that she is still working hard to fill the shoes of the faculty and other individuals who inspired her so much as an MCV intern. You can see a video and bio that describe Dr. Brath's accomplishments on our SOM website.
In just a few weeks, we will have the pleasure of recognizing another group of distinguished SOM faculty members for their educational achievements during the 21st Annual Faculty Excellence Awards Program. This year's School of Medicine Teaching Excellence Awards recipients are:
Frank Fulco, M.D., RPh

, Department of Internal Medicine – Enrique Gerszten, M.D. Faculty Teaching Excellence Award, our highest recognition for teaching

Josephina Vossen, M.D., Ph.D.

, Department of Radiology – Irby-James Award for Excellence in Clinical Teaching

Steven Crossman, M.D.

, Department of Family Medicine and Population Health, and Michael Miles, M.D., Ph.D., Department of Pharmacology and Toxicology – Distinguished Mentor Award

Peter Haar, M.D., Ph.D.

, Department of Radiology; Alex Meredith, Ph.D., Department of Anatomy and Neurobiology; Gross Anatomy Teaching Faculty; VCU Radiology Residency Program; and VCU CT Technologists – Educational Innovation/Educational Research Award
You can help celebrate these honorees by attending the awards program on Wednesday, September 25, 12 – 1:30 p.m. in the Kontos Medical Sciences Building (KMSG) Auditorium. Lunch will be served immediately following on the KMSB plaza. Otherwise, when next you see any of our award winners around campus, please congratulate them on their marvelous accomplishments. My own thanks go out to these remarkable faculty members and to you as well for all that you do each day to advance our missions of education, patient care and discovery.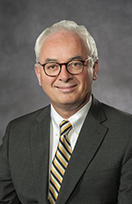 With all good wishes,

Peter F. Buckley, M.D.
Dean, VCU School of Medicine
Executive Vice President for Medical Affairs, VCU Health System