Dear Colleagues-Friends,
Two weeks ago, May 10, 2019, was a glorious day in the life of our medical school. It was a day of traditions and new beginnings. In the morning, we hosted our Advanced Degree Recognition event, where we honored almost 200 students graduating from our certificate, master's and doctoral programs. Additionally, we recognized more than 150 master's and doctoral students who earned departmental, school , university, national and international awards this past year for their excellence in the classroom and their contributions to the research and clinical missions of our school. We shared their accomplishments with relatives, friends, mentors and program directors.
In the afternoon, our medical students were cloaked in the storied academic hood, with the proud VCU black and gold and the green colors of medicine, marking the day that our learners transition from medical students to physicians. At the Convocation Ceremony, our speaker was Peter Pronovost, M.D., Ph.D., a world-renowned patient safety champion who has saved thousands of lives with his work on checklists. He compelled audience members to consider new narratives of medicine by sharing stories of the inspiration he's found in medicine's small, quiet moments … moments that grow into forces for change in medicine.
The medical school's website offers video of the ceremony, which includes Dr. Pronovost's address as well as other remarkable moments. We were treated to a rendition of the national anthem by one of our own third-year medical students, the incredibly gifted Tricia Coughenour. We also enjoyed the time-honored military tradition of commissioning four new officers from the Health Professions Scholarship Program, who will serve as physicians in the Air Force, Army and Navy. Class President Kathryn Gouthro gave her farewell to the class before each of her classmates marched across the stage to receive their pins and hoods. You can watch the video or flip through a photo gallery at https://medschool.vcu.edu/stories/graduation-2019/.
Families, friends, faculty and all of us rejoiced in the accomplishments of the VCU School of Medicine Class of 2019. We thank each and every one of you for your mentorship, guidance and support of our newest doctors and scientists. We look forward to hearing how they will carry forward the great legacy of our medical school with distinction.
With all good wishes for this Memorial Weekend and beyond,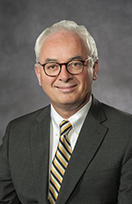 Peter F. Buckley, M.D.
Dean, VCU School of Medicine
Executive Vice President for Medical Affairs, VCU Health System