Dear Colleagues-Friends,
As we begin this new academic year, we are delighted to share that 16 of our researchers have received pilot funding through either our Value and Efficiency Teaching and Research (VETAR) or the Presidential Research Quest (PeRQ) awards.
VETAR
VETAR is a competitive pilot grant program supported by VCU Health that is designed to promote scientific research and education in our School of Medicine. The program provides faculty members with the initial support they need to begin research/educational projects and collect the preliminary data required for the submission of competitive proposals to external funding agencies.
Overall, 62 proposals were submitted this year. Each proposal was reviewed carefully by two experts and discussed at one of nine expert review panel meetings before the VETAR Executive Committee made final funding approvals. Our thanks to Dr. Michael Donnenberg and all the expert reviewers who served on these panels. We are especially grateful for the chairs of the subcommittees: Dr. Bernard Fuemmeler, Dr. Brian Wattenberg, Dr. Devanand Sarkar, Dr. Fadi Salloum, Dr. Gretchen Neigh, Dr. Huiping Zhou, Dr. Mike Ryan and Dr. Phil Hylemon.
Although every proposal had merits, we received many more than could be funded. Join me in congratulating the following investigators who were selected to receive funding this year for their impressive research efforts:
Albert Arias, M.D., Department of Psychiatry – Predicting Relapse and Providing Timely Interventions in Patients with Alcohol-Related Liver Disease. Co-investigators: F. Gerard Moeller, M.D.; Vimal Mishra, M.D.; Arun Sanyal, M.D.; and Brian Davis, M.D.
Matthew Banks, Pharm.D., Ph.D., Department of Pharmacology and Toxicology – An Innovative Strategy to Study the Epigenetics of Opioid Withdrawal on a Cell-Type- Specific Level. Co-investigators: Edwin van den Oord, Ph.D.; Karolina Aberg, Ph.D.; and Steve Negus, Ph.D.
Mark Baron, M.D., Department of Neurology – Safety and Efficacy of State-of-the-Art Exoskeleton Technology to Improve Mobility in Parkinson's Disease. Co-investigators: Robert Hand, DPT; R.K. Elswick, Jr, Ph.D.; Gina Blackwell, MPH
Genta Kakiyama, Ph.D., Department of Internal Medicine – Role of Cholestenoic Acids in Non-alcoholic Steatohepatitis: An Approach for Understanding a Common Mechanism of Insulin Resistance-Related Inflammatory Pathways
Srinivasa Karnam, Ph.D., Department of Physiology and Biophysics – Understanding the Mechanisms of GI Motility Disorders in DMD
Dana Lapato, Ph.D., Department of Human and Molecular Genetics – Longitudinal MicroRNA Study of Recurrent Early-Onset Major Depression. Co-investigators: Roxann Roberson-Nay, Ph.D., and Theresa Swift-Scanlan, Ph.D., RN
Jessica LaRose, Ph.D., Department of Health Behavior and Policy – Understanding Drivers of Variability in Treatment Response among Emerging Adults in Behavioral Obesity Treatment. Co-investigators: Autumn Lanoye, Ph.D.; Ronald Evans, Ph.D.; Anika Hines, Ph.D.; and Robert Perera, Ph.D.
Qinglian Liu, Ph.D., Department of Physiology and Biophysics – Targeting a Novel Auto-Inhibition Mechanism on the Hsp110s' ATPase Activity for Potential Treatment of Yeast Infection
Daniel Miller, Ph.D., Department of Microbiology and Immunology – Characterizing Gingival Epithelial Cell Responses to Treponema denticola
Roxann Roberson-Nay, Ph.D., Department of Psychiatry – Hormonal Contraceptive Effects on the Developing Female Brain. Co-investigator: James Bjork, Ph.D.
Daniel Rodriguez-Agudo, Ph.D., Department of Internal Medicine – Protective Role of Cholesterol Transport Protein StarD5 in Fatty Liver Disease. Co-investigator: William M. Pandak, M.D.
Zina Trost, Ph.D., Department of Physical Medicine and Rehabilitation – Using Haptic Virtual Reality and Noninvasive Brain Stimulation to Restore Touch Perception among Individuals with Complete Paraplegia. Co-investigators: Carrie Peterson, Ph.D.; Lance Goetz, M.D.; Peter Pidcoe, DPT, Ph.D.; and Sylvia Gustin, Ph.D.
PerQ Awards
The VCU Presidential Research Quest Fund (PeRQ) is grounded in the President's commitment to develop and enhance faculty scholarship across the university. PeRQ's goal is to afford all faculty an internal funding opportunity to support new, emerging or continuing research.
This year's awards were just announced, and four School of Medicine faculty members were among the recipients. Congratulations to:
Ananda Amstadter, Ph.D., Department of Psychiatry – Mental Health, Substance Use, and Academic Outcomes: Impact of COVID-19 on VCU Students
Gregory Buck, Ph.D., Department of Microbiology and Immunology – Epidemiology and Evolution of SARS-CoV-2 / COVID-19 and the Human Microbiome
Carlos Escalente, Ph.D., Department of Physiology and Biophysics – Structural and Functional Studies of the AAV Packaging Machinery
Chunqing Guo, Ph.D., Department of Human and Molecular Genetics – Targeting Scavenger Receptor A for Treating Metastatic Breast Cancer
Collectively, these awards represent an increased and boarder commitment to the research careers of our faculty. They also reflect the quality of the science being conducted within our school. When you next meet any of our research award recipients, please congratulate them. We look forward to hearing the results of their work in due course.
With all good wishes,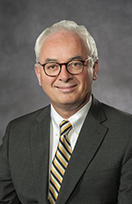 Peter F. Buckley, M.D.
Dean, VCU School of Medicine
Interim CEO, VCU Health System, and Senior Vice President, VCU Health Sciences
Executive Vice President for Medical Affairs, VCU Health System