Dear Colleagues-Friends,
We are pleased to report out on three internal research awards:
The first round of Value and Efficiency Teaching and Research (VETAR) awards have recently been made.
VCU has announced the 2019 Blick Scholars.
President Michael Rao has just announced the Presidential Research Quest (PeRQ) awards.
VETAR Funding
Emanating from VCUHS Vision by Design, VETAR is a new funding source and methodology that supports academic activities in research. Each proposal was reviewed carefully by two experts and discussed at one of seven expert review panel meetings before the VETAR Executive Committee made final funding approvals. Our thanks to Dr. Michael Donnenberg and all the expert reviewers who served on the panels.
Although every proposal had merits, we received many more than could be funded. Join me in congratulating the following investigators who were selected to receive funding this year for their impressive research efforts:
Stephanie Call, Rebecca Miller, Deborah DiazGranados, Claire Kimberly, Christopher Reina – A Tool to Foster Real-Time Self-Assessment and Deliberate Practice to Promote Well-Being in Medical Trainees: A Pilot Study
William Carter, Sue Stella, Justin Canada, Ronald Evans – Interdisciplinary Exercise Physiology Student Education in a Novel Oncology Prehabilitation Setting
Brian Cocchiola – Effectiveness of Point of Care Ultrasound Training of Anesthesia Residents
Anindita Das – Anti‐Inflammatory Role of miR‐17‐92 Cluster in Ischemic Heart Disease in Diabetes
Babette Fuss – GLT‐1 (EAAT2): A Glutamate Transporter Modulating CNS Repair
Javier González-Maeso, Montserrat Samso – Cryo-EM Structure of the mGluR2 Homodimer
John C. Hackett – Cytochrome P450 Dynamics at the Membrane Interface
J. Chuck Harrell – Single-Cell RNA Sequencing for Selection of Therapeutic Targets for Triple Negative Breast Cancers
Sudha Jayaraman, Tilahun Adera – Evaluation of Trauma Care Using a Multi-Institutional Trauma Registry in Rwanda
Jennifer Koblinski, Nick Farrell – Precision Medicine for Anticancer Platinums
Stefan Leichtle, Vishal Yajnik, Dennis J. Rivet – Ascorbic Acid Concentrations in Traumatic Brain Injury Patients: A Potential Target for Intervention
Megan Lemay, Sara Wilson McKay – The Art of Medicine: Impact of an Elective in Medicine, Arts and the Humanities on Medical Students
Vijay Lyall – Capsaicin, Olvanil and Capsiate Lower Salt Intake by Reversing the Effects of High Salt Intake on ENaC Expression and Function in Human Salt-Sensing Taste Cells
Sunila Mahavadi – Regulation of Gastric Motility by the G Protein-Coupled Estrogen Receptor
Richard T. Marconi – Development of Chimeric Epitope-Based Antigens for the Improved Diagnosis of Lyme Disease
Caitlin E. Martin – The Role Pain with Labor and Delivery Plays in the Recovery of Pregnant and Parenting Women with Opioid Use Disorder
Henry J. Rozycki – External and Internal Validation for Children's Research Institute
Mathula Thangarajh, Nicholas Johnson, Brian Taylor – Multimodal Assessment of Brain Structure and Function in Neurodevelopmental Disorders for Clinical Trial Readiness and Regulatory Approval Pathway
Nicholas D. Thomson – The Impact of Endogenous Omega-3 Levels on the Development of PTSD, Aggression and Drug Use in Victims of Violence
Amir A. Toor, Masoud Manjili, Christina Wiedl, Rehan Qayyum – Understanding Killer Immunoglobulin like Receptor Interactions to Optimize Natural Killer Cell Function in Stem Cell Transplantation
Thank you to the review committees and to all who submitted proposals. We especially thank Huiping Zhou, Jack Grider, Bernard Fuemmeler, Fadi Salloum, Phil Hylemon, Mike Ryan, Gretchen Neigh and Devanand Sarkar for serving as chairs of the subcommittees.

Blick Scholars
The Office of the Vice President for Health Sciences has announced the 2019 Blick Scholars, three out of four of which reside in the School of Medicine. Congratulations to Drs. Alexis Edwards, Psychiatry; April Kimmel, Health Policy; and Mikhail Dozmorov, Biostatistics!
The Blick Scholar appointment comes with an annual award of approximately $25,000/year (based on market performance) from the George and Lavinia Blick Research Fund. Created with a generous $2 million bequest by Lavinia Blick, the fund was her gesture of gratitude for the care she and her family received at MCV and later at the VCU Medical Center. Her only stipulation was that the gift fund medical research on the MCV Campus.

Blick Scholars are chosen through a competitive nomination process. Selected scholars demonstrate documented growth toward achievement of national or international recognition, a developing record of external research funding, collaborative scholarship and a primary faculty appointment in one of the health sciences schools.
PerQ Awards
Finally, the Presidential Research Quest Fund (PeRQ) awards were just announced, and five School of Medicine faculty members were among the recipients. These awards consist of up to $30,000 each in University funding plus matching funds, usually up to $20,000, from the school or college in which the principal investigator resides.
Congratulations to:
Kaitlin Bountress – Posttraumatic Stress Disorder and Alcohol Misuse: Examining Shared Genetic and Fear-Based Risk Factors
Melissa Bradner – Evaluation of CHAT: Communication and Health Advocacy Training for Adults with Intellectual and Developmental Disabilities (IDD)
Adam Klausner – Novel Hemodynamic Metrics to Differentiate Brain and Bladder Influences in Overactive Bladder
Aamer Syed – High-Dose Intravenous Vitamin C as an Adjunctive Treatment for Sepsis in Rwanda: A Feasibility Trial
Uyen Truong – Improving the Early Detection and Risk Stratification of Diverse Aortopathies using Novel Quantitative Biomechanical MRI: A Pilot Study in Patients at High Risk of Future Type B Aortic Dissection
Collectively these awards represent an increased and broader commitment to the research careers of our faculty. They also demonstrate the high quality of science at VCU. When you next meet any of our research award recipients, please congratulate them. We look forward to hearing the results of their work in due course.
With all good wishes,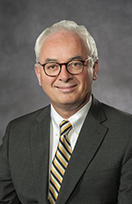 Peter F. Buckley, M.D.
Dean, VCU School of Medicine
Executive Vice President for Medical Affairs, VCU Health System