Dear colleagues,
Last Friday, the School of Medicine awarded MDs to 187 new physicians and completed the 2022-2023 awarding of advanced degrees and certificates to 146 students. As exciting as I know it was for them, I found myself also getting emotional in the moment -- not because it made me recall that time many years ago when I made that walk with my classmates. Or even the fact that for the first time, I had the privilege of addressing these accomplished graduates as the new SOM dean. Rather, I was overcome with hope. Hope for our future.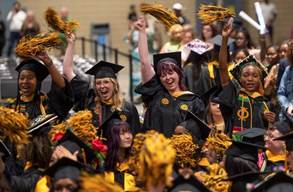 Graduations are a joyous time, both for what they conclude and what they commence. They are celebrations of what we've accomplished, but they are also calls to action: What are you going to do with what you've accomplished? My hope resides confidently in knowing that this next generation of scientists possess the tools and skills to solve problems and find answers to the complex challenges we face; that this cohort of caregiving clinicians can heal and serve with compassion and competence.
And this would not have been possible without you.
You prepared them, taught them, mentored them and supported them throughout their coursework and training, and now they are ready to become a force multiplier in making a difference in their communities and in the world. We are first and foremost a school; but with every student we graduate, we also produce hope in abundance. I can't thank you enough for that.
Please enjoy the coverage of last week's ceremonies, and continue to take pride in our graduates. Soon a new class of students will arrive on campus ready to learn and grow at this fine institution. I can't wait.
Kind regards,
Arturo P. Saavedra, M.D., Ph.D.
Dean, VCU School of Medicine
Executive Vice President for Medical Affairs, VCU Health System