Dear Colleagues-Friends,
We are pleased to announce that Tom Maness, M.P.A., who has an already substantial start at VCU in his first year as associate dean for development for the School of Medicine, will now be taking on a bigger and broader role as the associate vice president of development for the MCV Campus effective January 25, 2019. As the first-ever MCV Campus AVP, Tom will play a critical role in ensuring the success, enhanced collaboration and continued growth of VCU's health sciences fundraising efforts with a particular focus on our grateful patient program. In this new role, Tom will continue to work closely with the School of Medicine, the MCV Foundation and other community partners in realizing the success of the Make It Real campaign, currently underway.
As many of you may be aware, our development team has impressive breadth and depth, raising $43 million last year, which is the second strongest fundraising year in our school's 181-year history and is a great credit to our entire development team. We are leveraging the strength of this team as we make this strategic reorganization, and we are most grateful to Amy Lane, Ph.D., who will now serve as interim associate dean for development for the School of Medicine. A senior and highly effective development leader currently serving as director of Major Gifts for the School of Medicine, Dr. Lane has a longstanding commitment to and knowledge of the School of Medicine. Just last month, Amy's skill as a highly accomplished fundraiser was acknowledged by the Development and Alumni Relations Spirit award she received. In presenting the award, Jay Davenport, vice president for Development and Alumni Relations, remarked, "Amy is one of VCU's most competent, capable, helpful, and supportive leaders." Amy has been with VCU since 2004, brings a deep complement of skills to this role and is known as a trusted colleague and mentor. Amy will oversee the continued growth of the team to provide greater support to departments, develop new outreach efforts and support our nationwide alumni engagement.
We continue to build on the strengths of this team and will call on another of its senior leaders, Priscilla Wiggin, who has agreed to take on Amy's role as director of Major Gifts on an interim basis. Ms. Wiggin joined the VCU School of Medicine's major giving team in 2015 and is a highly skilled and expert fundraiser. Prior to her major gifts officer role, Priscilla served as assistant director of Leadership Annual Giving at VCU Massey Cancer Center. In her extended role, Priscilla will also oversee other recruitments that are underway on the medical school's major gifts team.
We are enthusiastic about the current strategic positioning of our fundraising efforts. Our VCU Make It Real campaign is on target with $686 million raised to date already, representing 91.5% of the $750 million goal. The School of Medicine is the largest single contributor to this campaign and its success. These strategic changes in our development team position us well for the remaining efforts of our campaign.
Moreover, we are now also embarking on a major initiative – the Medical Philanthropy Academy – to provide specific fundraising training and experiences to many of our School of Medicine faculty. As this program evolves, it also will draw upon the talent and fundraising experiences of our senior faculty and accomplished development team. All-in-all, we have strong momentum that will we will continue to build on.
Please join us in congratulating Tom and welcoming Amy and Priscilla to their new roles.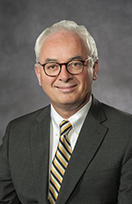 With all good wishes,
Peter F. Buckley, M.D.
Dean, VCU School of Medicine
Executive Vice President for Medical Affairs, VCU Health System