Dear Colleagues-Friends,
It is my pleasure to announce that Dr. Kevin Harris has been named interim senior associate dean for Diversity, Equity and Inclusion for the VCU School of Medicine. In this new interim role, Dr. Harris will serve as our chief diversity officer and act as a catalyst for advancing policies and programmatic infrastructure that promote diversity, equity, access and inclusion for our learners and employees within the broader context of achieving our mission.
Dr. Harris brings a wealth of experience in diversity work as a former assistant vice president for student initiatives and inclusion at VCU and the current associate vice president for strategic initiatives and engagement in VCU's Office of the Senior Vice President for Health Sciences. In his current and continued role, Dr. Harris is responsible for assisting the senior vice president for health sciences on strategic and operational priorities, fostering student success and leading diversity affairs and community engagement initiatives.
Leveraging this expertise, Dr. Harris will swiftly move dialogue into action by leading the development and implementation of the Health Sciences Action Framework for an inclusive health sciences campus. In tandem, Dr. Harris will also facilitate the implementation of a diversity, equity and inclusion plan for our School of Medicine that will be presented shortly in draft form for feedback.
Additionally, with Dr. Harris's leadership, a representative team will conduct a high-level review of our School of Medicine's policies, practices, programs and procedures to determine whether they support or inhibit the establishment of an inclusive workplace and learning environment. The group will compile their findings and recommendations into an actionable report that will inform the organization, infrastructure, staffing and resources needed to establish a viable Office of Diversity, Equity and Inclusion within our School of Medicine.
Dr. Harris also has distinct experience related to U.S. medical schools. Prior to his tenure at VCU, Dr. Harris was a director in the Division of Diversity Policy and Programs at the Association of American Medical Colleges. In this capacity, he served as the national deputy director of the Robert Wood Johnson Foundation Summer Medical and Dental Education Program. Dr. Harris has a Bachelor of Science in Computer Information Systems from Christopher Newport University, a Master of Science in Administration from Central Michigan University, and a Ph.D. in Public Policy and Administration from the VCU L. Douglas Wilder School of Government and Public Affairs. His research focuses on diversity in higher education as it intersects with interprofessional education in health sciences.
A national search will be conducted to find a permanent CDO for our School of Medicine. This is an inaugural and vital position for our school. I am grateful to Dr. Pat Nana-Sinkam and Dr. Aimee Grover who will co-chair this key search committee that will have broad representation from our medical community.
We are delighted to create this position within our School of Medicine. Please join me in offering a warm, grateful welcome to Dr. Harris in his new interim role.
With all good wishes,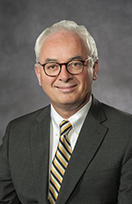 Peter F. Buckley, M.D.
Dean, VCU School of Medicine
Interim CEO, VCU Health System, and Senior Vice President, VCU Health Sciences
Executive Vice President for Medical Affairs, VCU Health System