Dear colleagues-friends,
We thank each and every one of you who make up our amazing faculty and staff for your stellar leadership, courage and compassion, as well as your remarkable ingenuity and professionalism during this most difficult time.
As was highlighted yesterday during our School of Medicine (SOM) virtual town hall, which included more than 430 colleagues, here are just a few examples of how your collective efforts and ingenuity are advancing our SOM missions. A summary of the information presented during the town hall is forthcoming. Thanks also to our presenters: Dr. Betsy Ripley, Dr. Chris Woleben, Dr. Brian Aboff, Dr. Michael Grotewiel, Dr. Michael Donnenberg, Ms. Sung-Hee Jeu and Dr. Amelia Grover, as well as to Dr. Anita Navarro and Ms. Amber Logan for moderating.
We're improvising, collaborating and pivoting to continue to educate our learners and wider community.
We're committed to sustaining our leadership role through flexibility and rapid adaption of our research.
We're unwavering in our commitment to patients.
We're giving - and receiving - acts of kindness.
This is not an exhaustive list of all your accomplishments, although it sure is an awesome one!
It was just over a century ago that our faculty and trainees were called upon to care for the victims of the 1918 influenza pandemic in Virginia. Today, you again are answering the call as we marshal our energy and ingenuity to combat this virus and write a new and compelling chapter in the legacy of our great medical school.
With great admiration and gratitude,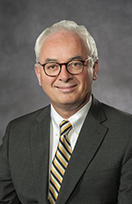 Peter F. Buckley, M.D.
Dean, VCU School of Medicine
Interim CEO, VCU Health System, and Senior Vice President, VCU Health Sciences
Executive Vice President for Medical Affairs, VCU Health System