Dear Colleagues-Friends,
After a distinguished tenure, John F. Butterworth, IV, M.D., has announced his intention to step down from his role as chair of the Department of Anesthesiology and retire from VCU at the end of this academic year. Dr. Butterworth was recruited and returned to his alma mater in 2011 to serve as professor and chair of the Department of Anesthesiology at VCU School of Medicine. Please take the opportunity over the coming weeks and months to congratulate John.
After graduating from the VCU School of Medicine in 1979, Dr. Butterworth served as trauma research fellow in the (then) Division of Neurological Surgery at VCU. He next completed his residency in anesthesiology and a research fellowship at the Brigham and Women's Hospital before joining the obstetric anesthesia staff at the Brigham. He moved to the Wake Forest University School of Medicine in 1985. In his 20 years at Wake Forest, Dr. Butterworth served as vice chair for research, section head of cardiothoracic anesthesia in the Department of Anesthesiology and director of the Office of Clinical Trials Research for the medical school. In 2005, he moved to the Indiana University School of Medicine and served as the R. K. Stoelting professor and chairman of the Department of Anesthesia before returning to his alma mater and hometown of Richmond.
A highlight of Dr. Butterworth's career has been his service to the profession at all levels. Most recently, he has served on the board of the International Anesthesia Research Society, including a term as chair. He also has served on the boards of directors of the American Society of Regional Anesthesia and Pain Medicine and the Medical Society of Virginia as well as a trustee of the Richmond Academy of Medicine. In addition, he served on the board and as president of the North Carolina Society of Anesthesiologists and on the board of the Indiana Society of Anesthesiologists.
In 2018, MSV honored Dr. Butterworth with the Clarence A. Holland, M.D. award. Named for our alumnus Dr. Holland, M'62, the award recognizes MSV member physicians who have high personal integrity and have been outstanding leaders in their fields.
Additionally, John has had an active research career with more than 150 publications in refereed journals. He has written or edited several textbooks (including the bestselling textbook in his field), monographs and numerous book chapters. He currently serves on the editorial boards of several journals: Regional Anesthesia and Pain Medicine, Anesthesia and Analgesia, Anesthesiology, and the Journal of Thoracic and Cardiovascular Surgery, and is co-editor in chief of Current Opinion in Anesthesiology.
Please join me in congratulating John on a remarkable and distinguished career at VCU. He has served his alma mater with distinction, and his legacy and leadership in the field of anesthesiology position the department very well as we launch a national search for its next chair. Our thanks go to Dr. Butterworth for his passion for our medical school as a committed alumnus and for all that he has done to strengthen his department, our school and our hospital. We have benefited greatly from the enthusiasm and experience he brings as an alumnus, visionary anesthesiologist and physician leader.
With gratitude,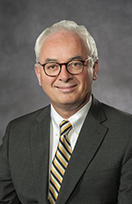 Peter F. Buckley, M.D.
Dean, VCU School of Medicine
Executive Vice President for Medical Affairs, VCU Health System