Dear Colleagues-Friends,
We are saddened to share the news of the death of Dr. Michael L. Hess, who died in Richmond on April 13, 2019.
A longtime faculty member in the Department of Internal Medicine and the Division of Cardiology, Dr. Hess was an iconic and beloved leader at VCU. We mourn his passing and are immensely grateful for his almost half a century of remarkable academic and clinical leadership at VCU.
Dr. Hess obtained his undergraduate degree in 1964 at St. Francis University in Loretto, Pennsylvania. He earned his medical degree in 1968 from the University of Pittsburgh, staying there for his residency and serving as chief resident. He earned a Young Investigators Award from the American College of Cardiology in 1972 and pursued additional medical training in cardiology at St. Bartholomew's Hospital in London and through the U.S. Navy. He served his country as a cardiologist at Portsmouth Naval Hospital from July 1973 to July 1975, attaining the rank of Lt. Commander and earning a Fleet Commendation in Medical Education.
Dr. Hess moved to Richmond, Virginia, and joined the MCV Campus in 1971 in the Department of Physiology. Upon discharge from the Navy in 1975, he additionally joined the Department of Internal Medicine. He was appointed professor of medicine in cardiology in 1980. From 1981 to 1982, he served as the first president of the International Society of Heart and Lung Transplantation, an organization he co-founded. From 1982 to 1991, and then again from 1999 to 2002, he was the director of the Heart Failure Transplantation Program. During his tenure, Dr. Hess also served as acting chairman for the VCU Division of Cardiology, as chairman of the Division of Cardiology's Laboratories and Research and as director of the Advanced Heart Failure Program, during which time VCU began utilizing the total artificial heart. In 2013, influenced by his cancer experiences, he established VCU's Cardio-Oncology Program and acted as its director until his retirement in 2018.
In these roles, he published over 200 research papers, served as an editor for nearly 40 publications and authored or edited three full-length books. Upon his death, he was writing the history of MCV from its founding to the modern day, including its name change to Virginia Commonwealth University Health System.
Beyond his work on the MCV Campus, highlights from his extensive CV include multiple projects with the National Institutes of Health, the Department of Veterans Affairs, international collaborations with the Canadian Heart Foundation and space-based research with NASA. He also was involved in numerous societies including the American Physiological Society, both the Southern and American Society for Clinical Investigation and as a fellow of the American College of Cardiology and American Heart Association. Already a member of Alpha Omega Alpha, the medical honor society, he was most proud upon the induction of both his wife and daughter into AOA in 2007.
Dr. Hess was fiercely devoted to patient care, being a passionate clinician. Peers and patients voted him into Top Doctors in Richmond, Best Doctors in Virginia and Best Doctors in America. However, he was equally engaged with his students including cardiology fellows, Ph.D. students, postdoctoral trainees, medical students and other health care professionals. As a result, he earned many awards including the Outstanding Teacher Award seven times, the Outstanding Teacher for Advanced Cardiovascular Physiology four times and the Distinguished Clinical Care Award from the Department of Internal Medicine.
Additionally, he earned three major university honors including VCU's Distinguished Scholarship Award in 1989, the Distinguished Clinician Award from MCV Physicians in 2003 and the University Award of Excellence in 2011. We are delighted that he was honored recently in the naming of the Dr. Michael Hess Library in West Hospital in acknowledgement of his outstanding contributions to academia.
A consummate student of history, Dr. Hess witnessed and participated in landmark medical advances on the MCV Campus. Last year he spoke with the MCV Foundation to commemorate the 50th anniversary of our medical center's first heart transplant. You can follow this link for the video interview. For more on Dr. Hess's remarkable legacy, The Beat published a wonderful story of his work and life.
Dr. Hess' life certainly affected many individuals, and his years of service and leadership on the MCV Campus and to the field of cardiology have been a remarkable inspiration to our community. His legacy will be extended through the work of his students and trainees who admired him so greatly as well as through the life and work of his daughter, Dr. Samantha Hess Hudson (M'07), who was inspired to practice medicine.
The family will hold visiting hours Friday, April 26 from 6-8 p.m. and a memorial service on Saturday, April 27 at 2 p.m., both occurring at Woody's Funeral Home, 1020 Huguenot Road in Midlothian, Virginia.
We are fortunate to have called Dr. Hess one of our own. Our thoughts are with his wife, Dr. Andrea Hastillo, a housestaff alumna and professor emerita of the medical school, Dr. Hudson and the rest of their family.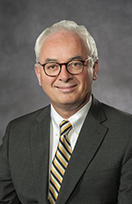 Warm regards,
Peter F. Buckley, M.D.
Dean, VCU School of Medicine
Executive Vice President for Medical Affairs, VCU Health System