Dear Colleagues-Friends,
Over the past few months, we have engaged in dialogue across the breadth of our community, and what we have heard and learned is fueling our actions to make our medical school a more diverse and representative place to learn and work. Some of the actions we have undertaken already include:
Appointing an interim senior associate dean for diversity, equity and inclusion for our school
Launching a new DEI website
Drafting our first DEI statement
Removing the legacy checkbox from M.D. applications
Addressing issues of racism and discrimination at VCU and in Richmond through new student orientation sessions called Crucial Conversations. Recordings of these sessions are available on the DEI website.
Establishing medical education work groups to address the naming of academic societies and to conduct a curriculum review regarding racism, bias, diversity, equity and inclusion
Partnering with VCU Medical Center to provide students with an ecumenical prayer space where people from a variety of backgrounds, philosophies and religions can all feel comfortable and welcome. The VCUHS Interfaith Chapel, located on the second floor of the Main Hospital, is available 24 hours a day for students to reflect individually or share in collective experiences.
We also just launched a nationwide search for our school's first permanent senior associate dean for diversity, equity and inclusion. The senior associate dean for diversity, equity and inclusion serves as our school's chief diversity officer, which encompasses the roles of change agent, consultant, thought-leader, influencer and subject matter expert. This position is responsible for:
Working with senior leadership to develop and implement institution-wide changes to ensure diversity, equity and respect for all faculty, staff, students and patients
Collaboratively leading, planning and implementing diversity initiatives and activities for student affinity groups, students, faculty and staff from underrepresented populations, and all members of our School of Medicine community
Providing strategic and operational leadership to address topics such as health equity, health disparities, race and racism in medicine
Reviewing School of Medicine policies to ensure support of diversity, equity and inclusion
The full job description is available here.
The creation of this role has garnered a great deal of grassroots support from across our School of Medicine community, and this individual will be an important and valuable addition to our senior leadership team.
Our thanks go to Dr. Kevin Harris for serving as our interim and inaugural senior associate dean for diversity, equity and inclusion until this role is filled permanently. We also greatly appreciate the dedicated work the search committee co-chaired by Dr. Pat Nana-Sinkam and Dr. Aimee Grover will provide in filling this essential and vital position for our school. Members of the search committee are Dr. Joel Moll, Dr. Kenneth Warren-Foster, Dr. Joyce Lloyd, BJ Shelton, Dr. Blythe Bynum, Dr. David Cifu, Saher Randhawa, Kennedy Goldsborough and Antonio Dominguez. Please forward names of any potential candidates to Dr. Nana-Sinkam and/or Dr. Grover.
As part of our collaborative and collective efforts, we look forward to sharing more information about our DEI initiatives in the coming weeks and months through our new website, as well as providing ways for you to become more engaged and involved in ensuring our workplace and learning environment is a place of dignity, professionalism, mutual respect and inclusivity.
With gratitude,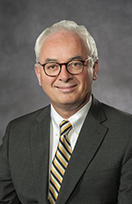 Peter F. Buckley, M.D.
Dean, VCU School of Medicine
Interim CEO, VCU Health System, and Senior Vice President, VCU Health Sciences
Executive Vice President for Medical Affairs, VCU Health System