Dear Colleagues-Friends,
The end of the year is traditionally a time for us to reflect on everything that we have accomplished – and what a year 2019 has been!
There has been new research funding in both basic health science and clinical departments – a driving force behind VCU's unprecedented $310 million research portfolio. This includes Dr. David Cifu's $50 million grant from the Department of Defense and VA – the second largest grant in University history; Dr. Paul Wehman's two grants worth $8.8 million to support employment of people with intellectual and developmental disabilities; and the Central Virginia Center on Drug Abuse Research's NIDA P30 grant worth $6.8 million.
Our SOM researchers have published papers in a number of top tier journals, including Nature, Nature Medicine, JAMA, the New England Journal of Medicine and The Lancet.
Members of our faculty were recognized throughout the year at the local, regional and national level. For example, Dr. Michelle Whitehurst-Cook and Dr. Sudha Jayaraman both received Salute to Service Awards from the Medical Society of Virginia this fall. Dr. Whitehurst-Cook for her service to the uninsured and underserved, and Dr. Jayaraman for her service to the international community. Dr. Samuel Bartle was recently recognized with the 2019 Governor's EMS Award for Outstanding Contribution to EMS for Children, and Dr. Sarah Spiegel was presented with the Outstanding Achievement Award at the Sixth International Conference on Bioactive Lipids in Cancer, Inflammation and Related Diseases.
This past weekend during commencement, Dr. Jim Neifeld and his wife Ramona received the Edward A. Wayne Medal for their exemplary volunteer service and philanthropy. The couple is a longtime donor to the Massey Cancer Center and School of Medicine. In 2011, they established the Herbert S. and Elinor C. Neifeld Scholarship in Medicine in honor of Dr. Neifeld's parents.
You continue to strengthen our reputation as a leader in scientific research, discovery, innovation and education by serving in leadership roles within prominent national, regional and local societies – such as the AAMC – and as editors of well-respected scientific journals.
Your good work has helped to attract high caliber recruits. Award-winning mentor and patent-holding physician-scientist Dr. Patricia Sime joined us in July as chair of the Department of Internal Medicine. Dr. Ronald B. Gartenhaus also joined us in July as the inaugural director of a new cancer center at the Hunter Holmes McGuire Veterans Affairs Medical Center, associate director for veteran's health at VCU Massey Cancer Center and professor in the VCU School of Medicine's Department of Internal Medicine. Then earlier this month, Dr. Robert Winn from the University of Illinois at Chicago became the new director of the Massey Cancer Center. Finally, in January, the Department of Psychiatry will welcome its new chair, alumnus Robert L. Findling, M'87.
Our educational programs continue on a strong path with full accreditation from the LCME, a successful CLER residency education visit and our Center for Human Simulation and Patient Safety's five-year accreditation.
Match Day again made us proud with the Class of 2019 seeing a 97% match rate, well above the national average of 94.9%. Thirty-five of these students decided to stay here at VCU for their residency. Then in August, we welcomed the diverse group of 184 students who now make up the Class of 2023.
Our Student Family Medicine Association was recognized with an American Academy of Family Physicians Program of Excellence Award for its commitment to promoting family medicine's value in the health care system and introducing students to the important roles and functions of family physicians for patients, families and communities.
Many of our faculty were among the 80 VCU Health providers who were recently commended for their exceptional bedside manner with a 2019 Best Bedside Manner Award, an annual honor presented by OurHealth Magazine for Richmond, with 16 placing first in their specialty.
Several of our clinical departments have been nationally recognized for their quality, safety and exceptional patient care. For example, our emergency department was re-accredited earlier this year by the American College of Emergency Physicians' Clinical Ultrasound Accreditation Program, making it one of the first 21 emergency departments in the country to earn this accreditation. VCU Health System was also designated as a National Pancreas Foundation Center for Pancreatitis and a Sarcoidosis Center of Excellence.
Many thanks to all of you for your hard work and dedication throughout the year. I hope you have the opportunity to spend time with your family and friends during the holiday season and to enjoy all of the activities – and relaxation – that are so important for maintaining your physical, mental and emotional wellbeing.
To those who celebrate holidays in December, I wish you and yours a happy holiday season and a healthy start to 2020.
With all good wishes,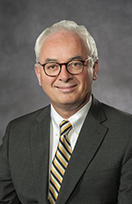 Peter F. Buckley, M.D.
Dean, VCU School of Medicine
Executive Vice President for Medical Affairs, VCU Health System