Dear Colleagues-Friends,
Last week, we sent off our class of 2020, graduating our M.D. students and graduate students, who have completed doctoral and master's degrees and certificate programs. It was a different and historic graduation held in the middle of a world-wide pandemic with substantial health and economic impacts during days of social distancing. Thus, the ceremonies with our graduates were virtual with their many family and friends and our faculty celebrating with them from afar. To see the ceremonies, please access the following links:
In his commencement address to the medical student graduates, Dr. Darrell Kirch, a national leader in academic medicine, noted that the principles of ethical medicine and the related difficult decisions have played out in the current pandemic, underscoring the lack of true social justice in our society. He compelled the graduates to remember this moment and rededicate ourselves to the commitment to clinical ethics and the principles we hold dearly.
These graduates go out into the world as new physicians and scientists ready to tackle our biggest health problems. They are undertaking some of the most challenging roles in our society during extremely difficult times. They are ready to make their mark, ready to take great care of patients and ready to solve the most vexing problems. We are very proud of them and what they mean to the future of medicine and science. They are a bright spot during an unprecedented era in medicine.
We are also proud of and grateful for all our faculty and staff who have supported these students through teaching and mentoring and other myriad ways. You have walked with these students through their education from when they were applying to our programs, celebrating with them when they arrived, through the ups and downs of being a student, to now when we recognize their accomplishments. We thank you for all you have done for these graduates and our current students.
Although the format of graduation was altered by forces greater than ourselves, it does not in any way diminish the accomplishments of these wonderful students who have meant so much to our school during their time here and particularly now. We offer heartfelt congratulations to our new alumni and look forward to all that they will accomplish in their careers as medical doctors and scientists.
With all good wishes,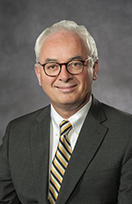 Peter F. Buckley, M.D.
Dean, VCU School of Medicine
Interim CEO, VCU Health System, and Senior Vice President, VCU Health Sciences
Executive Vice President for Medical Affairs, VCU Health System