Dear Colleagues-Friends,
Education is at the heart of our mission as an academic medical center. Our faculty are not only highly skilled clinicians and cutting-edge researchers, they also are inspirational role models and mentors for the next generation of physicians and scientists, using their passion and energy to motivate students to want to continue to learn and better understand the world and people around them. We are extremely proud that several of our faculty members have recently been honored for their scholarship, teaching and distinguished service at both a university and national level.
Robert J. Glaser Distinguished Teacher Award
Earlier this month, Dr. John Bigbee was named one of four recipients of the Alpha Omega Alpha Robert J. Glaser Distinguished Teacher Award. This is a national recognition given by the Association for American Medical Colleges (AAMC) to faculty members who have distinguished themselves in medical student education.
Dr. Bigbee, who has spent 34 years in the Department of Anatomy and Neurobiology, tries to get students in his histology classes to understand that learning is "its own reward," he told VCU News. "To be able to give students that sense of wonderment and awe at what they are looking at is magic. I want this to be the stimulus for them to want to learn their whole life."
Speaking to how prestigious an award this is for Dr. Bigbee and thereupon also for our school, Dr. Bigbee is one of just three Glaser award winners in our school's history, with the last recognition from the AAMC for such individual educational excellence being 16 years ago. The prior two distinguished awardees are Linda Costanzo, Ph.D., in 2004 and the late Hugo Seibel, Ph.D., in 1998. In addition to the Glaser award, Dr. Bigbee has won 27 Outstanding Teaching Awards from our School of Medicine, including the Enrique Gerszten, M.D., Faculty Teaching Excellence Award this year. He will be recognized during the AAMC's virtual conference this fall.
Faculty Convocation Honorees
Just last week, I had the distinction of introducing two of our remarkable faculty members – Dr. Peter Boling and Dr. Wes Shepherd – at VCU's annual Faculty Convocation. Even in the face of a pandemic, this annual event remains a wonderful tradition and a cherished opportunity for us to honor our exemplary faculty.
"This is a time when we recognize our role models," Dr. Michael Rao said in his inspirational opening remarks. "I view them as our 'mission stars' – people who are committed to everything that we stand for at this institution."
Dr. Peter Boling, chair of the Division of Geriatric Medicine, was presented with VCU's Distinguished Service Award for his long-standing leadership and impact on the university and our community. For almost 40 years, Dr. Boling has championed high-quality, compassionate and cost-effective care for older adults and provided community-based learning experiences for our medical students. He developed curricula for medical students who have an interest in geriatric medicine and created the annual Forum on Aging and a Geriatric Student Interest Group. In addition, Dr. Boling played a key role in championing changes to the American health care system that modified payment policies for at-home visits, something that greatly benefits older patients. Throughout his distinguished career, Dr. Boling's commitment to our medical school has been unwavering and truly awesome.
Dr. Wes Shepherd was honored with VCU's Outstanding Term Faculty Award for his contributions to raising VCU's national prominence. Dr. Shepherd is a professor of internal medicine in the Division of Pulmonary Disease and Critical Care Medicine and played an essential role in the creation and growth of our interventional pulmonology (IP) program. This program has developed into one of the preeminent in the country over the last 16 years and is the most comprehensive IP program in Virginia, filling a specialized niche for many complex patients throughout the Commonwealth. Dr. Shepherd also gives lectures across the country and internationally, and is a tremendous role model and ambassador for our medical school.
My thanks go out to these remarkable faculty members and to you as well for all that you do to advance our missions of education, patient care and discovery. We look forward to another year of academic excellence.
With all good wishes,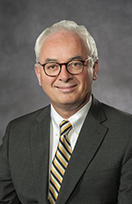 Peter F. Buckley, M.D.
Dean, VCU School of Medicine
Interim CEO, VCU Health System & Senior Vice President, VCU Health Sciences
Executive Vice President for Medical Affairs, VCU Health System