Dear Colleagues-Friends,
The horrific killings of Breonna Taylor in Louisville, Kentucky, Ahmaud Arbery in Brunswick, Georgia and most recently, George Floyd in Minneapolis, Minnesota leave us processing many emotions and questioning the senseless nature of these social justice inequities. The anguish of these recent events is also reflected in our own community as our city experiences protests over this weekend. No one is immune to what is taking place across the United States. All of us are in pain.
At this moment of collective anguish, it is important to reaffirm our values and, specifically, to reaffirm the primacy of human dignity and respect. In our roles as healers, scientists, faculty, staff and students in the medical school, we have a responsibility to address racism in all its forms.
As educators and mentors, we must support all our learners in achieving their professional goals, regardless of background, culture or socioeconomic status, modeling the care and concern that is so needed in our fractured society.
As researchers, we need to diversify our scientific endeavors to ensure that research benefits those who have historically not seen these benefits in order to improve our ability to deliver precision care to all populations.
As clinicians, we must be committed to care for all who pass through our doors with dignity, compassion and the best that medicine has to offer.
As learners, we should understand the cause and effect of these events and their impact on the lives of those in our community and nation as the next generation of physicians and scientists. We also should be vigilant in our pursuit of knowledge so that we may mobilize it to determine solutions to present day and future problems in society and health.
As colleagues and peers, we must ensure that every member of our SOM community is respected and valued for who they are and for the qualities they bring to our education, research and patient care endeavors every day.
We must continuously strive for our workplace and learning environment to be a place of dignity, professionalism, mutual respect and inclusivity. Among our SOM community, and especially among our African American colleagues and friends, we are understandably hurting and upset. If you need support, please reach out to trusted colleagues, faculty members and community leaders. Resources for faculty and staff include the Employee Assistance Program available through your insurance (VCU: https://www.dhrm.virginia.gov/employeebenefits/employee-assistance, MCVP: 804-828-4327). Resources available for students include:
As President Rao expressed, "We must think about our shared humanity in more enlightened ways." Recent events serve as a call for us all to reflect on our way of being in and shaping the world around us and underscore the need to address diversity and inclusion as central to our missions. It is only by doing this work that we will be able to achieve equity in health and in society.
We are cognizant that our expressions of concern and mutual respect inevitably occur now in the midst of a global pandemic that necessitates social distancing. However, we can still be ever close in solidarity and in spirit. I urge you tomorrow – wherever you are – to observe a moment of personal reflection as we reaffirm our collective commitment to social justice, human dignity and respect.
Be well and be safe .
Respectfully,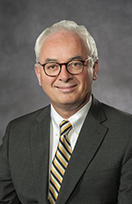 Peter F. Buckley, M.D.
Dean, VCU School of Medicine
Interim CEO, VCU Health System, and Senior Vice President, VCU Health Sciences
Executive Vice President for Medical Affairs, VCU Health System