Dear Colleagues-Friends,
We were delighted with the recent announcement that Robert Winn, M.D. will become Massey Cancer Center's (MCC) new director on December 2, stepping into a role that our colleague and friend, Dr. Gordon Ginder, has ably overseen for two-plus decades.
Dr. Winn is a pulmonologist who hails from the University of Illinois at Chicago and is an expert in lung cancer and community-based health care. At UIC, he built a community-to-bench integrated health model that combined the discovery and implementation sciences into one health delivery and research system.
Additionally, Dr. Winn has been affiliated with the Jesse Brown Veterans Affairs Medical Center in Chicago and has research funded through the US Department of Veterans Affairs. He will have an appointment and a clinical position at the Hunter Holmes McGuire VA in the Pulmonary Service and in the new Oncology Center. Dr. Winn also will have an appointment in the School of Medicine Department of Internal Medicine. You can learn more about Dr. Winn in this article on VCU News.
Building on the tremendous leadership legacy of Dr. Walter Lawrence, inaugural MCC director and Dr. Gordon Ginder, current MCC director, Dr. Winn is inheriting an NCI-designated cancer center that grew tremendously under our stellar leadership. Our center has grown both with regard to extramural, philanthropic and state funding for life-saving cancer research and the creation of state-of-the-art spaces for cancer research, training and care across the university and health system.
The ability to gain such a remarkable recruit is a testament to the accomplishments made at Massey during the last two decades under Gordon's leadership, to the quality of science and to the great work of the search committee. Our thanks go out to Drs. Gerry Moeller and Vanessa Sheppard who co-chaired the search committee, and to the committee's members, which included our SOM faculty, Drs. Doug Arthur, Chuck Clevenger, Bernard Fuemmeler, Ann Fulcher, Greg Hundley, Kandace McGuire, Patrick Nana-Sinkam, Said Sebti and Christina Wiedl, for supporting this excellent recruitment.
Our search partners, Denise Gaffney and Jamie Sands, provided a wide array of great candidates and so our thanks to our colleagues for their help. Most importantly, Dr. Marsha Rappley secured this vital recruitment for our institution. Recruiting a Cancer Center director is a major milestone for any institution and Marsha "brought it all home" – an especially great outcome given the other highly competitive center director positions open at several institutions across the country.
At VCU, we are so fortunate to have an array of talented researchers and clinical leaders in cancer, and the addition of Dr. Winn will only strengthen our collective ability to improve the health of people in the Commonwealth of Virginia and beyond.
Many thanks for all you do.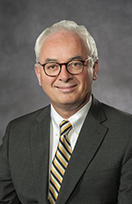 With all good wishes,

Peter F. Buckley, M.D.
Dean, VCU School of Medicine
Executive Vice President for Medical Affairs, VCU Health Syste