Dear Colleagues-Friends,
For more than a century, November 11 has served as a reminder to honor all of those who have – and continue to – step forward to defend our country. From the frontlines of battle to disaster relief efforts, themen and women of our Armed Forces have answered the call to protect and serve, no matter what the personal costs might be.
We are proud to be able to help support and serve veterans in our local community and across the nation through our long-standing partnership with the Veterans Health Administration – a collaboration that dates back to World War II. Members of our faculty help staff the Hunter Holmes McGuire VA Medical Center, serve as national VA directors across a number of specialties and conduct research aimed at improving the lives and wellbeing of service members. Additionally, many of our residents and students train at the VA each year.
We are also fortunate to have among us several hundred School of Medicine colleagues and VCU Health team members who have answered the call to military service for our nation. They are a model and inspiration for selfless service, and bring the core values of duty, honor and service to bear in all they do in support of our tripartite mission.
I hope you will take this opportunity to join me in recognizing all of those who have served, and use this Veterans Day as an opportunity to share your heartfelt thanks with them for all that they have given in service to us all.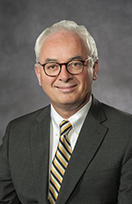 With all good wishes,

Peter F. Buckley, M.D.
Dean, VCU School of Medicine
Executive Vice President for Medical Affairs, VCU Health Syste