Dear Colleagues-Friends,
We are very pleased to share that Dr. David Cifu, chair of the Department of Physical Medicine and Rehabilitation and senior traumatic brain injury specialist for the U.S. Department of Veterans Affairs (VA), and his team have been awarded a $50 million federal grant to oversee a national research consortium that will study the long-term impacts of mild traumatic brain injuries or concussions on service members and veterans.
The Long-Term Impact of Military-related Brain Injury Consortium (LIMBIC) will bring together universities; VA hospitals, including Richmond's Hunter Holmes McGuire VA Medical Center; and the military to evaluate the ongoing health impacts of combat concussions, such as those from blasts, bullets and hand-to-hand fighting, as well as vehicle accidents, sports injuries and falls.
Researchers from the LIMBIC team have already discovered linkages between combat concussions and dementia, Parkinson's disease, chronic pain, opioid usage and suicide risk. This initial research was funded by a $62 million grant – the largest in university history – from the Department of Defense and VA, which was awarded to Dr. Cifu and his team in 2013.
This new $50 million grant from the Department of Defense and VA will build on the great work Dr. Cifu and his team have already accomplished, allowing them to expand the analysis of the "big data" they've collected from more than two million veterans and service personnel through a range of linked electronic medical and administrative records. They also intend to increase enrollment to more than 3,000 veterans and service members with multiple combat concussions whose recovery is monitored systematically for the rest of their lives and will study innovative treatments for the difficulties that accompany such injuries.
"We are getting a 360-degree overview of all aspects of these veterans and service members, from their brains and nervous systems to emotional well-being to their day-to-day functioning. We're getting a full look because they're enrolled in this ongoing comprehensive study," Dr. Cifu said in a news release announcing the grant award. "This is the largest study of its kind that is entailing a deeper dive and more thorough investigation than any person, patient or even research participant could get. The individual being studied is getting the most comprehensive evaluation of its kind because that is exactly what is required to finally understand these combat concussions and their linkages to symptoms and secondary conditions, like dementia."
Cifu and his team are a terrific example of the exciting research that takes place in our School of Medicine and in collaboration with our strong partners at the VA at both the local and national levels – a cooperative arrangement that dates back to World War II.
Our valued colleague, Dr. Julie Beales, who is the chief of staff at the Richmond VA Medical Center, said, "We are pleased that research to help service members who have experienced brain injury continues at McGuire. With the ongoing work of Dr. Cifu and his team at our medical center, we expand our knowledge of brain injury and continue the strong partnership with VCU."
We're immensely proud of Dr. Cifu, his team and all of our neuroscience research community for their remarkable work that enhances the reputation of our School of Medicine as a highly collaborative institution at the forefront of neuroscience research. Impressively, neuroscience – including basic and clinical neuroscience, addiction and mental health research – collectively comprise one-third of our entire federal National Institutes of Health (NIH) research funding portfolio. Continued success by our talented neuroscience faculty, coupled with strategic new investments in both basic and clinical neuroscience, has helped drive an impressive increase in federal funding to our medical school.
NIH funding was up 13% from 2017 to 2018, reaching $61,040,373, with major gains in both basic health science and clinical departments, including Biochemistry & Molecular Biology, Neurology, Pediatrics, Pharmacology & Toxicology and Psychiatry. Moreover, in recent years, our school has seen a nearly 40% increase in the number of grants submitted to the NIH, and our researchers account for 87% of the university's NIH funding.
Additionally, a new neuroscience building is poised to continue our momentum in basic and clinical neuroscience research, and LIMBIC is a great example of the type of collaborative research we want to promote and highlight with this new facility.
Moreover, this new grant increases Dr. Cifu's and the LIMBIC team's ability to improve the care of veterans and service members through cutting-edge research, which will then be applied to the civilian population. Ultimately, we all will benefit from their concussion work. This new LIMBIC research, which launches Oct. 1, will continue for five years.
Our thanks to Dr. Cifu; our collaborative partners in research at the VA, both locally and nationally; and our entire neuroscience community for the high quality of science that is a hallmark of our commitment to improving the lives of people with neurological and related conditions.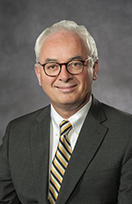 With all good wishes,

Peter F. Buckley, M.D.
Dean, VCU School of Medicine
Executive Vice President for Medical Affairs, VCU Health System