Dear Colleagues-Friends,
Earlier this week, we were saddened to learn of the death of our dear friend and colleague, Dr. Walter Lawrence, who was a longtime faculty member in our Department of Surgery, the founding director of the Massey Cancer Center and the first surgeon to ever lead a U.S. cancer center. Dr. Lawrence was a giant in the field of cancer, setting up the first-ever university-based division of surgical oncology; leading many national organizations, including the American Cancer Society; publishing more than 260 papers; winning countless awards and advocating for diversity and inclusion all along the way.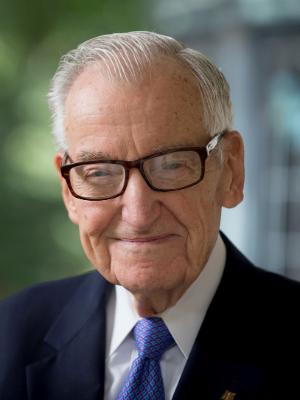 During our Executive Committee of the Faculty meeting on Wednesday, we remembered Dr. Lawrence and his many contributions. Dr. Vig Kasirajan remarked that Dr. Lawrence was an incredible person with a longstanding presence on campus, even after retirement. Dr. Robert Winn, current director of Massey Cancer Center, also noted that Dr. Lawrence advocated staunchly for "the mission to help those who are less fortunate than ourselves," which will be his legacy at Massey. Just last year, at the age of 95, Dr. Lawrence wrote an opinion piece on the escalating costs of health care. He had a remarkable grasp on health care and a vision for the future of quality care.
With yesterday being Veterans Day, it is fitting to also note that Dr. Lawrence saw patients at the Richmond VA. He approached his work with veterans in the same way he did everything else – as an opportunity to give back and make a difference. However, his work at the VA was personal. Dr. David Cifu recently shared that his best memory of Dr. Lawrence was hearing him talk about what it was like in Korea and then seeing him speak with other Korean-era veterans, truly relating to their shared experiences. It was all about a sense of connection.
A consummate educator, Dr. Lawrence continued to teach up until last year at the age of 95, even though he had officially retired from our faculty. During his time on faculty, Dr. Lawrence also served on the Admissions Committee as its chair and was, indeed, an early advocate for student diversity in admissions. Dr. Michelle Whitehurst-Cooke remembered that "Dr. Lawrence loved meeting our applicants to share his enthusiasm for medicine and VCU SOM. He found this work to be very rewarding and recruited several faculty and alums to serve on the committee."
Dr. Lawrence was a very special person. To read more about his life and legacy, we point you to this wonderful profile in The Cancer Letter, an article in the Journal of Surgical Oncology written by our own Harry Bear, who holds the Walter Lawrence, Jr. Distinguished Professor of Oncology Chair, and this tribute posted yesterday on the Massey Cancer Center website.
If ever the phrase "a life well lived" is applicable, it sure is here. Dr. Lawrence has taught all of us the joy of life and the satisfaction that comes from making a real difference through his ever-enthusiastic perspective (always accompanied by a wide, warm smile) for what the future has to hold. A great American and a remarkable person, our world has been fortunate that Dr. Walter Lawrence lived with such profound influence over his 96 great years – truly, a life well lived.
During this month of gratitude, we acknowledge the deep impact of Dr. Lawrence on our institution, our patients and our trainees and express our appreciation and condolences to his family.
Respectfully,