Dear Colleagues-Friends,
Welcome to VCU. The start of July is an exciting time for all of us here at our School of Medicine and VCU Health as we welcome you – in all, some 148 interns and 91 fellows – into our team and our community as our stellar new colleagues.
As the largest physician provider of care in the commonwealth with multiple specialties, an international leader in health care research and innovation, a Level 1 trauma center, and a health care anchor to our community, VCU Health provides the opportunity for you to gain an unparalleled depth and breadth of clinical experience.
You are joining us at a very exciting time in our history. We have seen several years of unprecedented growth, including the current construction of a new ambulatory facility and groundbreaking for a new children's hospital. These projects continue to redefine our clinical footprint on the MCV Campus as we create world-class facilities to match our faculty's world-class care.
Our faculty are also attracting new federal grants and new foundation support for research that is accelerating the transformation of patient care and helping create better treatments for a wide variety of diseases and conditions. We hope that you will have an opportunity to experience and participate in research with our faculty.
We are committed to your future success and to providing you with exemplary training in a learning environment that is respectful and supportive of each and every one of you. For our newest physicians, this started with our annual "Walk the Walk" orientation program in June, which used an interdisciplinary approach to socialize VCU Health's core behaviors, including STAR service, teamwork, communication and patient safety. Pictures from this three-day program can be found in this photogallery on our website.
We are so excited to have you join us, and we encourage you to be fully engaged in our academic community and to be outstanding teachers to our medical students. We also request your support in upholding our ethical values in healthcare and in our commitment to respect all our colleagues and patients.
We wish you every success as you take this next step in your professional development. Welcome and thank you again for all you will do for our institution.
Best regards,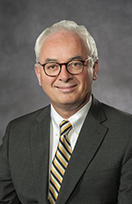 Peter F. Buckley, M.D.
Dean, VCU School of Medicine
Executive Vice President for Medical Affairs, VCU Health System