Professor of social and behavioral health
Most recent post: University of Kentucky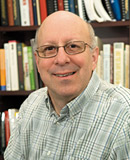 Rick Zimmerman, Ph.D., has always been interested in those factors that lead people to healthy or not-so-healthy behaviors. His first task at VCU's MCV Campus will be to extend NIH-funded work he developed at the University of Kentucky – a television campaign to promote safer sex.
One new challenge will be testing the campaign in Richmond and another Southern city that both have more diverse communities than Lexington, Ky. Another will be to incorporate a new technology component, taking advantage of the Internet and perhaps online communities, such as Second Life.
Zimmerman's interest in using behavior as an intervention point was born in his dissertation work at the University of Wisconsin, where he focused on reducing salt consumption to help prevent high blood pressure. After earning his Ph.D. in sociology, he saw AIDS take hold in Miami in the early 1980s, before the disease had a name. Even before the causative agent was known, a relevant behavioral factor was clear: sexual behavior.
"It was an interesting disease with a behavioral component," he says, and he applied the same interventional tools to what was then a new problem.
From the University of Miami, Zimmerman moved to the University of Kentucky, where he spent time in both the Department of Communication and the College of Medicine's behavioral science department. There he continued his work on the prevention of HIV and other sexually transmitted diseases and teen pregnancy. Zimmerman arrived at VCU in January, looking forward to being part of a new department and playing a role in the ongoing creation of a new School of Public Health. His is also looking outside the department to make connections with researchers in pharmacology, psychology, sociology, nursing and social work.
While the Virginia climate is no different from that of Kentucky, Zimmerman will appreciate the change in scenery – hiking in the mountains and watching the ocean are two activities he hopes to make time for soon.
By Jill U. Adams, for the Dean's Discovery Report