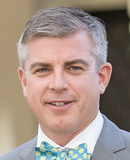 Educational Innovation Award
Team-based learning. Visits to the Virginia Museum of Fine Arts to explore principles of fellowship training. Reflective essays to highlight the humanistic basis of medical care. Individualized attention to students at all levels of training, from medical student, resident, and fellow. Process Oriented Guided Inquiry Learning (POGIL). Blogging about medical education. These are examples of the innovative teaching and learning approaches that Dr. John "Christian" Barrett has dedicated himself to mastering and bringing to learners in the School of Medicine.
Dr. Barrett is an Associate Professor in the Division of Hematology, Oncology, and Palliative Care, and Associate Chair for Clinical Operations, Department of Internal Medicine. He has held a major educator role as co-course director for the second year Hematology-Oncology Course, and is now co-course director for the Marrow division of the Marrow and Movement Course in the new C3 medical school curriculum. He is also a Core Educator in the Internal Medicine Residency Program and Fellowship Director for the Hematology-Oncology Fellowship program. To each of these roles, he strives to bring the most effective learning experiences to his students, constantly bringing innovative teaching approaches to the learning studio and clinic.
Medical students are not always welcoming of new learning approaches, most having spent many years excelling in more traditional formats such as lectures. Dr. Barrett's dedication to mastering new, more effective learning activities, as well as his enthusiasm, have won over many skeptical students. When small group learning in Hematology/Oncology was introduced to the second year class, medical student Kathryn L. Williams recalls, "The majority of the class, including myself, was resistant to the idea of a new method of educating after over a year of mostly self-study. Dr. Barrett was in no way discouraged by our poor attitudes…even those most resistant to the new learning style were won over by Dr. Barrett's tireless commitment and enthusiasm."
As the Hematology-Oncology Fellowship Director, Dr. Barrett begins the fellowship by meeting with the new fellows to discuss their individual learning goals and going to the Virginia Museum of Fine Arts to reflect on specific pieces of art Dr. Barrett has chosen to highlight core principles of the fellowship program, such as "integrity" and "teamwork." This emphasizes the expectations of the fellowship, while allowing Dr. Barrett and the fellows to learn about one another through their individual interpretations and reflections on the artwork, insights that are valuable as they begin to work together.
Colleague Lisa Brath, M.D., Professor of Medicine, observes that Dr. Barrett has been an academic faculty member for just eight years. "I don't know too many other faculty members who have joined the ranks of an academic practice and so quickly become so accomplished and recognized as an educator." Dr. Barrett's talent and accomplishments are becoming recognized beyond VCU in work with committees and educational activities with the American Society for Hematology and the American Society for Clinical Oncology.
As someone who has been both a student and colleague, Vikrant S. Brar, M.D., Hematology-Oncology Fellow attests, "I think the key to Dr. Barrett's effectiveness as an educator comes from the emphasis he places on being a lifelong learner himself." Dr. Barrett is enrolled as a Faculty Fellow in the Teaching in Medical Education (TiME) graduate certificate program and participates in faculty development opportunities to expand his knowledge and skills in effective medical teaching.
As Teresa J. Carter, Ed.D., Associate Dean for Professional Instruction and Faculty Development, and creator of the TiME program, summarizes, "It takes courage, vision, and foresight to teach with evidence-based practices. (Dr. Barrett) is a highly dedicated, innovative, and inspiring teacher and the VCU School of Medicine is fortunate to have his leadership and teaching expertise among the faculty."