News
Hamid I. Akbarali, Ph.D.
Hamid I. Akbarali, Ph.D., Professor of Pharmacology and Toxicology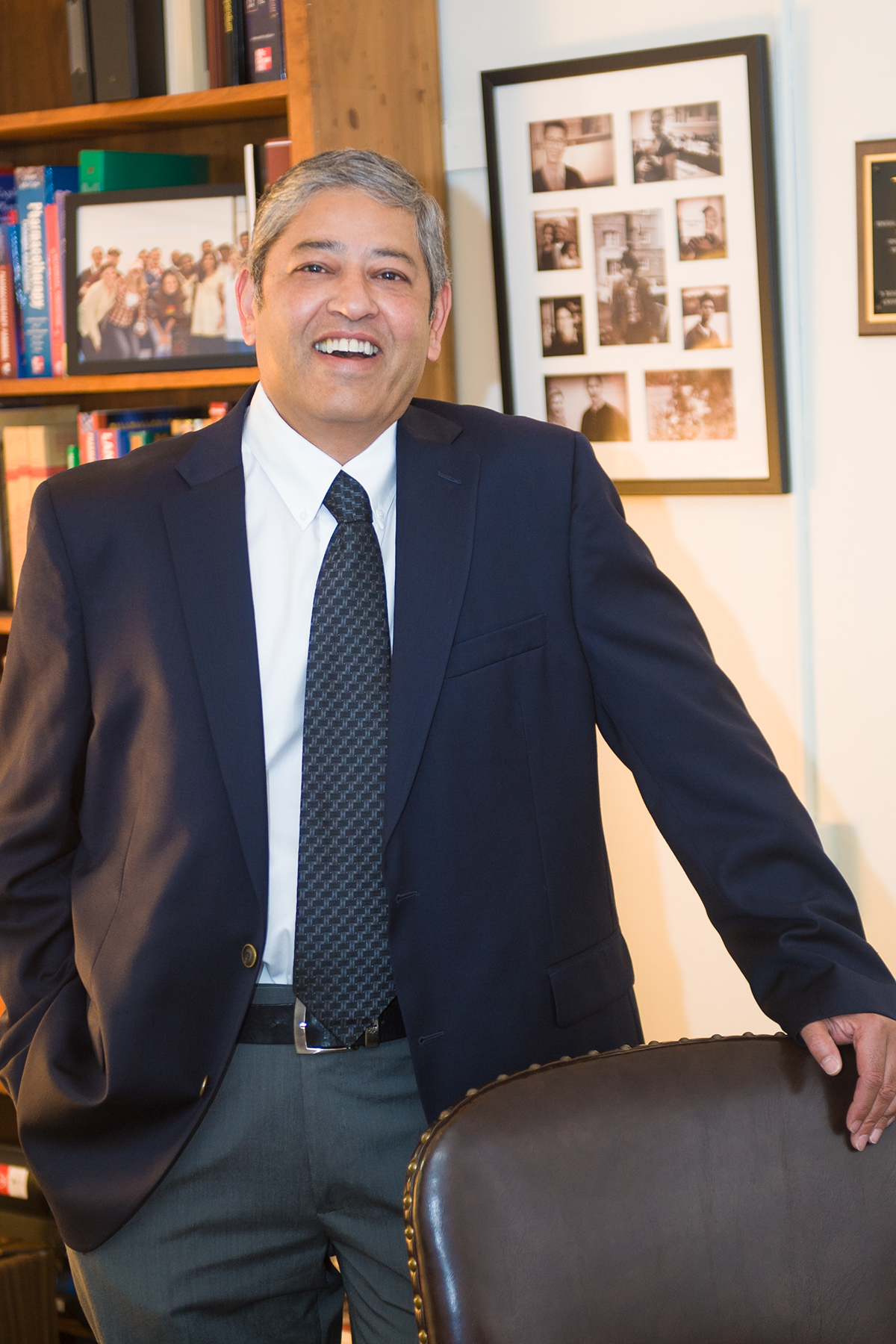 Distinguished Mentor Award
When students and former students discuss Hamid I. Akbarali, Ph.D., Professor of Pharmacology and Toxicology and Vice Chair and Director, Graduate Education and Post-doctoral Training Program, the stories are of course all a bit different – but similar. Over and over, you hear words such as "supportive," "available," "encouraging," and "motivating." Significant participation in RO1 grants, multiple publications and awards, exceptional learning and productivity seem to routinely characterize his students' participation in his laboratory.
Since Dr. Akbarali came to VCU in 2005, he has had a positive and life-changing impact on the lives of many young scientists. "He makes a sincere effort towards the scientific development and long term career success of every student in the department," states Ph.D. Candidate Sukhada Bhave. Ph.D. student Aravind Gade agrees, "He's been exceptionally good at the way he has guided us through the hurdles we faced."
M.D./Ph.D. student Ryan Mischel describes Dr. Akbarali as having "a superior mentorship ability that is genuinely outstanding: his passion for research is immense and outstripped only perhaps by his compassion for the budding scientist." Many high school students, over 20 undergraduate and graduate students, and over a dozen postdoctoral fellows have benefitted from this exceptional commitment to mentorship.
Fayez Khan met Dr. Akbarali as a VCU undergraduate student, when he started a summer internship. "Through the mentorship of Dr. Akbarali, I developed a strong foundation and understanding of opioid tolerance and interactions in the gastrointestinal tract and its implications in animal behavior. Each week became a challenging yet exciting obstacle…I was expected to present my findings and my future directions every week, and as a result of those expectations, my interpersonal, critical thinking, and presentation skills benefitted greatly."
After leaving a tenure track position at a small college in order to hone his research skills at VCU as a postdoctoral scholar, Dwight A. Williams, Ph.D. recalls joining Dr. Akbarali's lab: "He allowed me to ask what I am sure were very dumb questions on many occasions and yet never made me feel as though it was a mistake on his part to bring me into his lab. He always found a way to see promise in your data, especially when you thought the data was worthless. This is a skill I hope to acquire and pass on to my future students."
Joy Ngwainmbi Guedia, Ph.D., describes the supportive environment Dr. Akbarali creates. "He regarded everyone in the lab as a 'whole' person"…we were all excited about presenting the findings and/or difficulties we had during the week and he provided a platform where we could all grow as scientists." Despite a serious family illness, Dr. Guedia was able to complete her Ph.D. in 3½ years with two first author and three co-authored publications, thanks to Dr. Akbarali's support and flexibility.
"Rather than trying to shape each of his students into a cookie-cutter mold of what one might think of as a typical scientist, he encourages each student to excel in an area for which they are particularly suited," explains Tricia Hardt Smith, Ph.D., an Instructor in the VCU Department of Biology, Trani Center for the Life Sciences. "His advice continues to be valuable and accessible even after the completion of appointment in his laboratory. I believe this is a quality of a true mentor: he remains supportive throughout early career development as we become independent and take mentees under our own wings."
Sylvia Fitting, Ph.D., Assistant Professor, Department of Psychology and Pharmacology, UNC-Chapel Hill, who completed a NIH K99/R00 grant during her time at VCU, speaks for many young scientists when she states, "Without Dr. Akbarali, I wouldn't be where I am now."