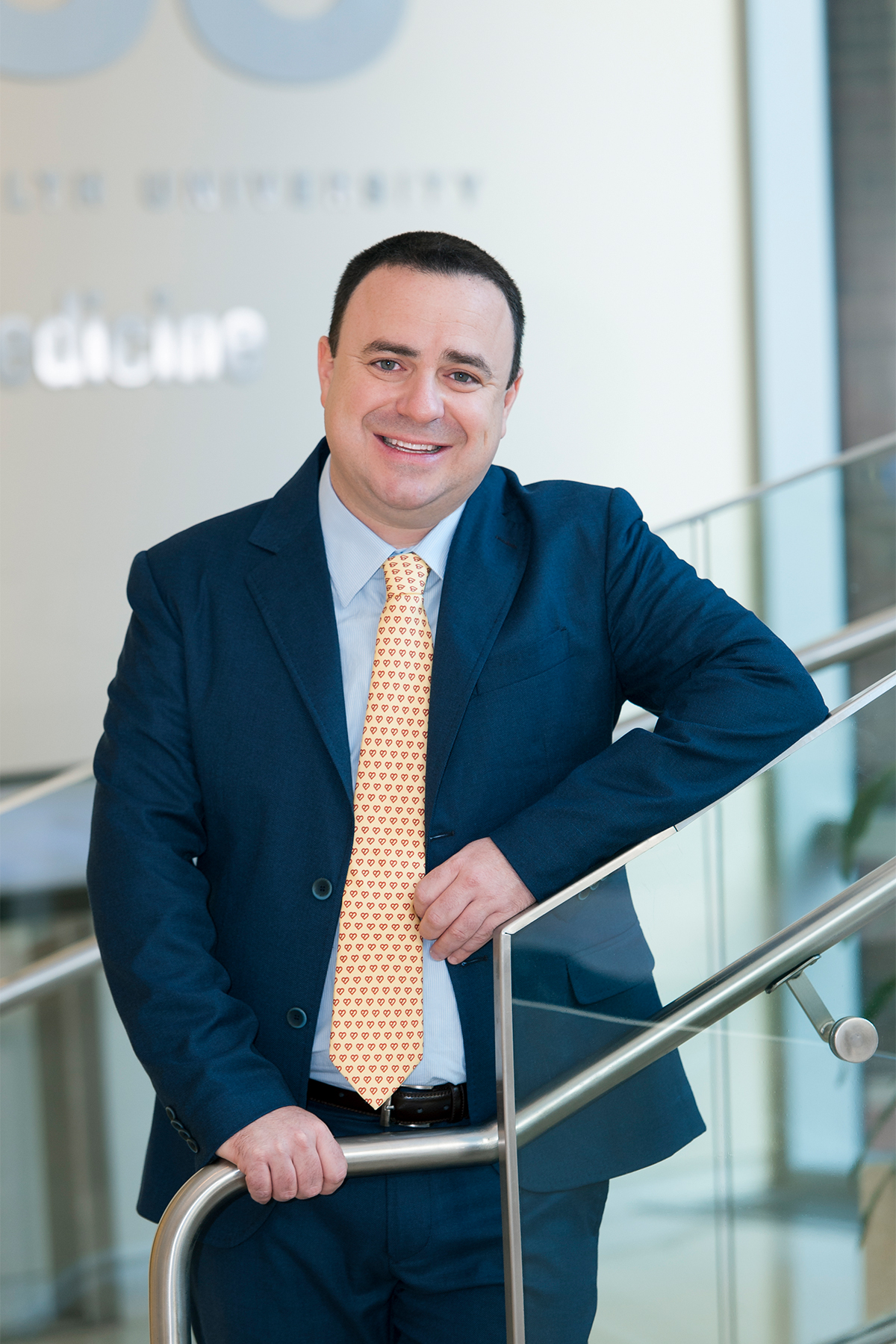 Distinguished Mentor Award
"As I sat in the back of the lecture room I contemplated whether I should introduce myself and ask him more about his research and the possibility of joining his lab. I hesitantly approached and was quickly welcomed with a warm smile and an invitation to join an upcoming lab meeting." This recollection from Jessica Regan, SOM Class of 2017, will sound familiar to mentees of Antonio Abbate, M.D., Ph.D., James C. Roberts, Esq., Professor of Cardiology. Dr. Abbate joined the VCU faculty in 2007 and is Medical Director of the Clinical Research Services Unit for the Center for Clinical and Translational Research. He was recently appointed Associate Chair of Research for Internal Medicine. He has published 290 manuscripts and book chapters, and notably, 37 of his trainees have contributed to 37 of his articles.
"In not even a year's time, he has mentored me from someone who was fairly research naïve to drafting research protocols, obtaining grant funding, and drafting manuscripts for publication in core clinical journals," states Cory Trankle, M.D., Postdoctoral Clinical Research Fellow, VCU. Equally impressive as his skill for fostering productivity among his mentees is his ability to assess each as an individual. As Sarah Christopher, M.D., Cardiology Fellow, describes, Dr. Abbate "cultivates the strengths of his learners, while continually providing the framework to improve on deficits."
Dr. Abbate has formally mentored more than 50 trainees in research, and informally mentored many more, in a wide variety of fields. Benjamin W. Van Tassell, Pharm.D. Vice Chair and Associate Professor, Pharmacotherapy and Outcomes Science, VCU School of Pharmacy, describes his eight years working with Dr. Abbate as "by far – the most productive years of my career. Our collaborations have led to over 60 peer-reviewed publications, and over 20 research grants with over $10 million in external funding. During this time our research group has grown from 2 to include 3 physicians, 2 molecular biologists, 2 pharmacists, a nutritionist, a veterinarian, an exercise physiologist, and three graduate students, plus students, residents, and fellows that have contributed along the way."
Dr. Abbate has mentees from high school age to professional colleagues and holds each of them to the highest standards. "He does not hesitate when (we) are not performing to our best potential. He gives constructive criticism in a manner that is not intimidating or malicious, and his ultimate goal is to push the learner to be the best version he or she could be. It is very rare that a mentor takes this much interest in a learner and does not shy away from feedback that could be negative," recalls Internal Medicine resident Arehzo Jahangiri, M.D. Another resident, Aaron M. Schatz, M.D., agrees, "By carrying himself to the highest standards, he lifts those around him to do the same."
Dr. Abbate's consistent and active engagement with his mentees is certainly one of the keys to his success. "He is constantly challenging me to think through the problems presented to me, but to also understand the science underlying the pathologies we are treating, and put it together in the "big picture" we all strive for to best treat our patients," states Jeremy S. Turlington, M.D., M.P.H., former Cardiology Fellow. Another former fellow, Nayef Abouzaki, M.D., agrees, "Prior to every Monday afternoon clinic, he would email us new journal articles…he is up to date on all relevant new research and challenges us to advance our patient care in a rapidly changing field."
Few people at VCU have had this impact on so many diverse individuals, but Dr. Jahangiri explains, "the most unique characteristic that Dr. Abbate possesses is his humbleness." For challenging, encouraging, and inspiring so many to achieve their greatest potential, we honor Dr. Abbate today.