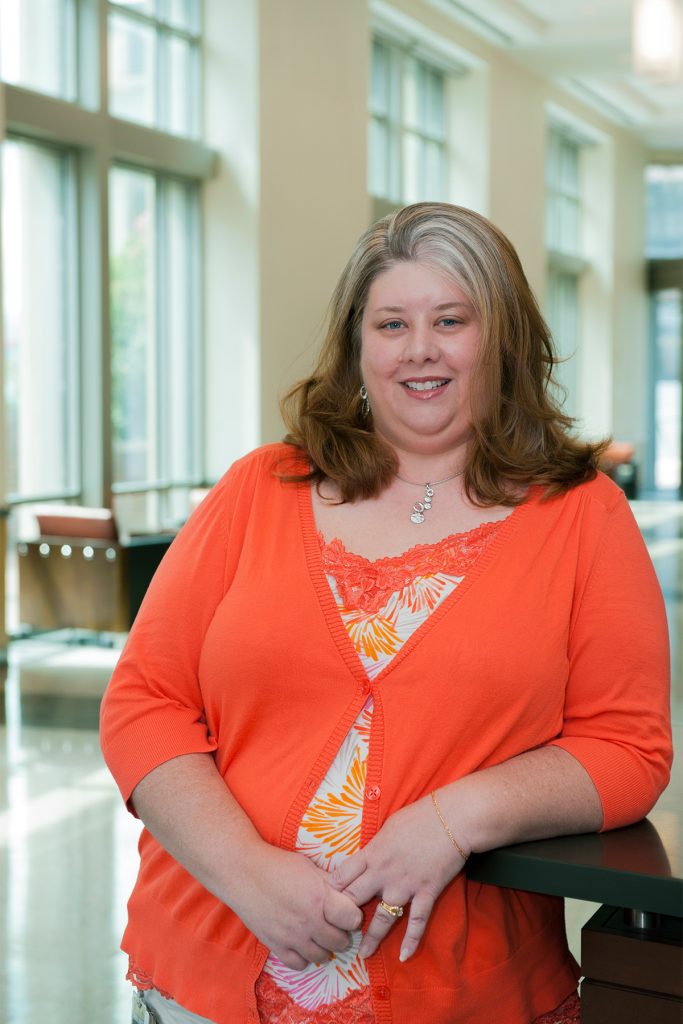 VCU/VCUHS Leadership in Graduate Medical Education "LGME" Award
Residents and Fellows are busy people – it speaks volumes that the trainees in Radiology took the time and initiative to complete a nomination packet for their Program Coordinator, Kim Christman. Their letters of support for her are among the most powerful ever received. Kim, they write, exemplifies what is meant by "leadership" in Graduate Medical Education. She is described as coordinator's coordinator and tireless advocate for the program's residents. Fifth year resident Dr. Ryan Gabriel writes that "Kim treats every resident as [if] they are part of her family" and states that "she has been the backbone of the residency program." Chief Resident, Dr. Ashkan Shademan reinforces this praise: "Kim sacrifices a significant amount of personal time; she is available on her phone and email for us, 24 hours a day, 7 days a week! . . . Her efforts and kindness are pure and felt by all of our residents."
Trained as a respiratory therapist and community health educator, Kim has been the Radiology Residency Program's coordinator since 2012, and has worked with VCU hospitals since 1998. Radiology Department Chair, Dr. Ann Fulcher, has worked with Kim since her first days of chairmanship and relies on her organizational skills, efficiency, institutional knowledge and ability to interact with a wide range of individuals. Furthermore, Dr. Fulcher admires Kim's lifelong learning philosophy and push to keep her knowledge base current. She regularly seeks out educational activities and participates on multiple committees both within the VCU Health community, GME office and nationally.
From the written narratives submitted on Kim's behalf, certain phrases and keywords stand out: "dependable", "kind", "tireless", "warm." Dr. Mariam Hanna, breast imaging fellow, says that Kim cares for the radiology residents "like her own children" and "always tries to lift the spirits of those around her." Dr. Matthew Parry, a fifth year resident eloquently summarizes what he and his colleagues believe about their coordinator:
"In my ten years' affiliation and training with VCUHS, I declare with utter sincerity that Ms. Christman stands above her peers as an administrator, resident advocate, counselor, and manager within a large and complex organization. Her ability to excel in each of these roles is no doubt the result of her personal sacrifice and heartfelt drive to better resident education and well-being at both the Departmental and institutional level."
We are proud to recognize and congratulate this year's winner of the LGME Award for Program Coordinator, Kim Christman!