The Class of 2023's Tiffany Tsay is one of 30 scholarship recipients chosen for the year-long Family Medicine Leads Emerging Leader Institute. Hosted by the American Academy of Family Physicians Foundation, the leadership development program identifies and trains family medicine residents and medical students who have shown a historical aptitude and strong leadership potential but have little formal leadership training or experience.
The Class of 2023's Tiffany Tsay will participate in a year-long national leadership program for aspiring family medicine physicians.
Tsay is enrolled in the VCU School of Medicine's Family Medicine Scholars Training and Admissions Track. The dual admission, four-year fmSTAT program nurtures and supports medical students who are committed to the pursuit of a career in family medicine.
"Family medicine is a unique specialty that allows physicians to take on multiple roles – whether it is serving as the quarterback for patients as they navigate the complex health care system or advocating for a community's health through system-level changes," Tsay says. "I am excited about this opportunity to learn how to combine the clinical knowledge I am learning in medical school with the experience I have gained in public health to improve my future practice and the health of my future patients."
A competitive leadership program, the Emerging Leader Institute is now in its sixth year and saw a 17 percent increase in applications for the 2020 cohort. Funded by family physician donors, the program provides a $1,000 scholarship to attend the AAFP National Conference of Family Medicine Residents and Medical Students and participate in institute programming after the conference.
"The program provides mentorship, encouragement and specific skill development to help grow leaders in family medicine," says Julie Anderson, M.D., president of the AAFP Foundation.
Over the course of one year, scholarship winners will work with a mentor to complete a leadership project related to one of three tracks: policy and public health leadership; personal and practice leadership; and philanthropic and mission-driven leadership.
"I am personally most interested in addressing the needs of the aging population – a demographic that is projected to grow to 20 percent of the population nationwide," Tsay says. "I believe that keeping older adults healthy and independent in their communities will become an issue of public health for family physicians. Whether it is introducing interventions into annual wellness visits or advocating for more older-adult-friendly communities, I am hoping to cultivate some of these ideas through the leadership project."
At the end of the year-long program, the leadership projects will be evaluated and an additional $1,000 award will be given to select recipients, allowing them to present their winning projects at the 2021 national conference. Finally, one Best Leadership Project Award will be named for each of the three tracks and the recipient will receive an additional $3,000 award for participation in a designated major event related to the track.
"We are incredibly proud that Tiffany was selected for the Emerging Leader Institute," says Peter F. Buckley, M.D, dean of the VCU School of Medicine. "She's been a great asset to the fmSTAT program, and her interest and experience in public health and aging populations is inspiring."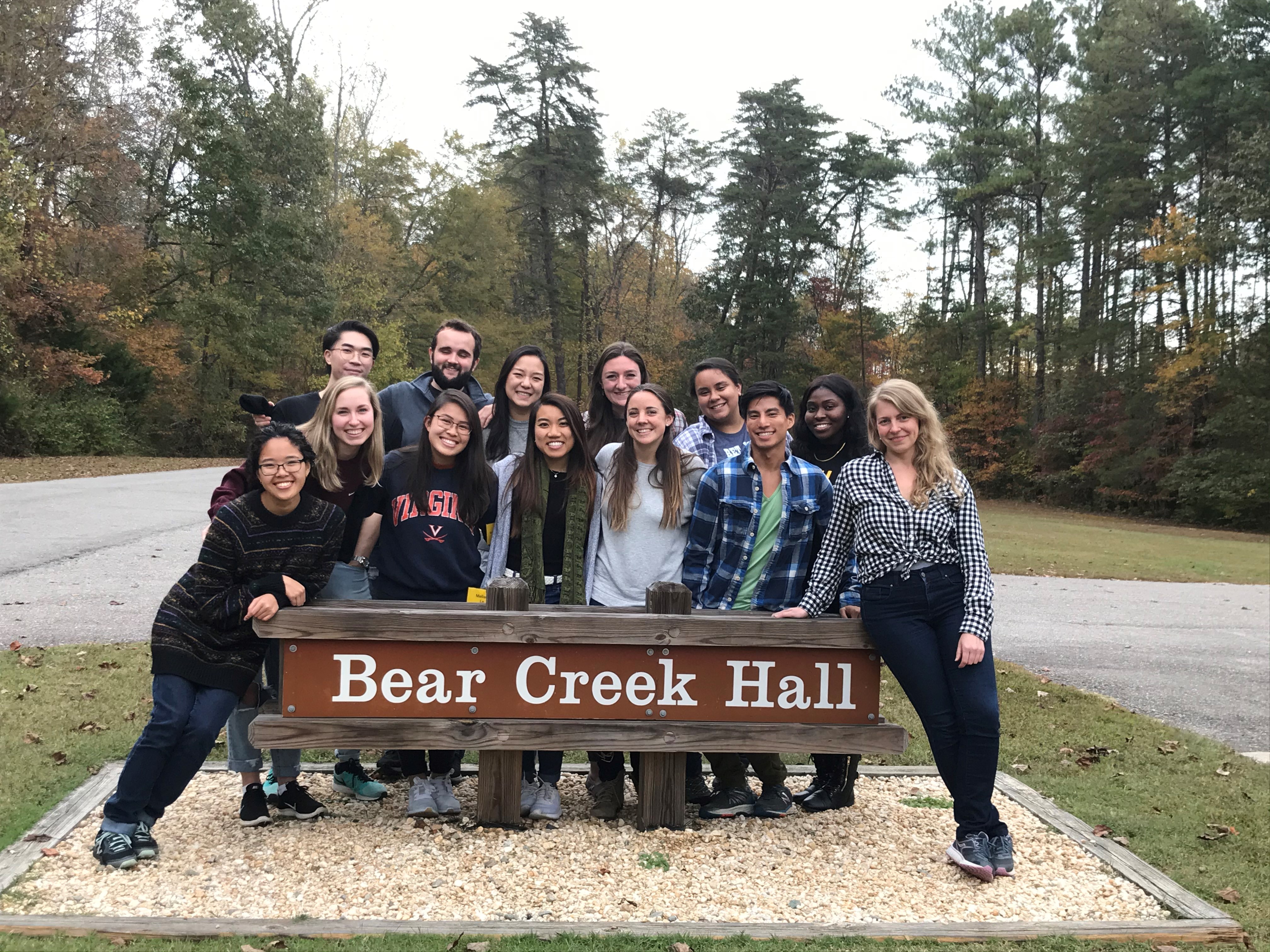 Tiffany Tsay (back row, third from left) with her fellow fmScholars from the Class of 2023 at the 2019 fall retreat.
Raised in Vancouver, Canada, Tsay earned her bachelor's degree in human biology, health and society from Cornell University in Ithaca, New York, in 2013. After graduating, she moved to Northern Virginia, where she worked for six years in health care consulting focused on aging and disability policy. She earned a master's in public health from Johns Hopkins University in Baltimore, Maryland, in 2019.
Tsay is the second fmScholar to be chosen for the AAFP Foundation's Emerging Leaders Institute. Alexandra "Lex" Tee, M'18, participated in 2015 and is now a family medicine resident at Kaiser Permanente in San Jose, California.
The American Academy of Family Physician Foundation serves as the philanthropic arm of the American Academy of Family Physicians. Its mission is to advance the values of family medicine through humanitarian, educational and scientific philanthropy dedicated to improving health.