Stabilizing a patient with spinal cord injury. Emergency tracheotomy. Intubation. It's all in a day's work.
Except now imagine doing these procedures while mountain biking, canoeing, running through the woods with map and compass, and carrying all your supplies on your back.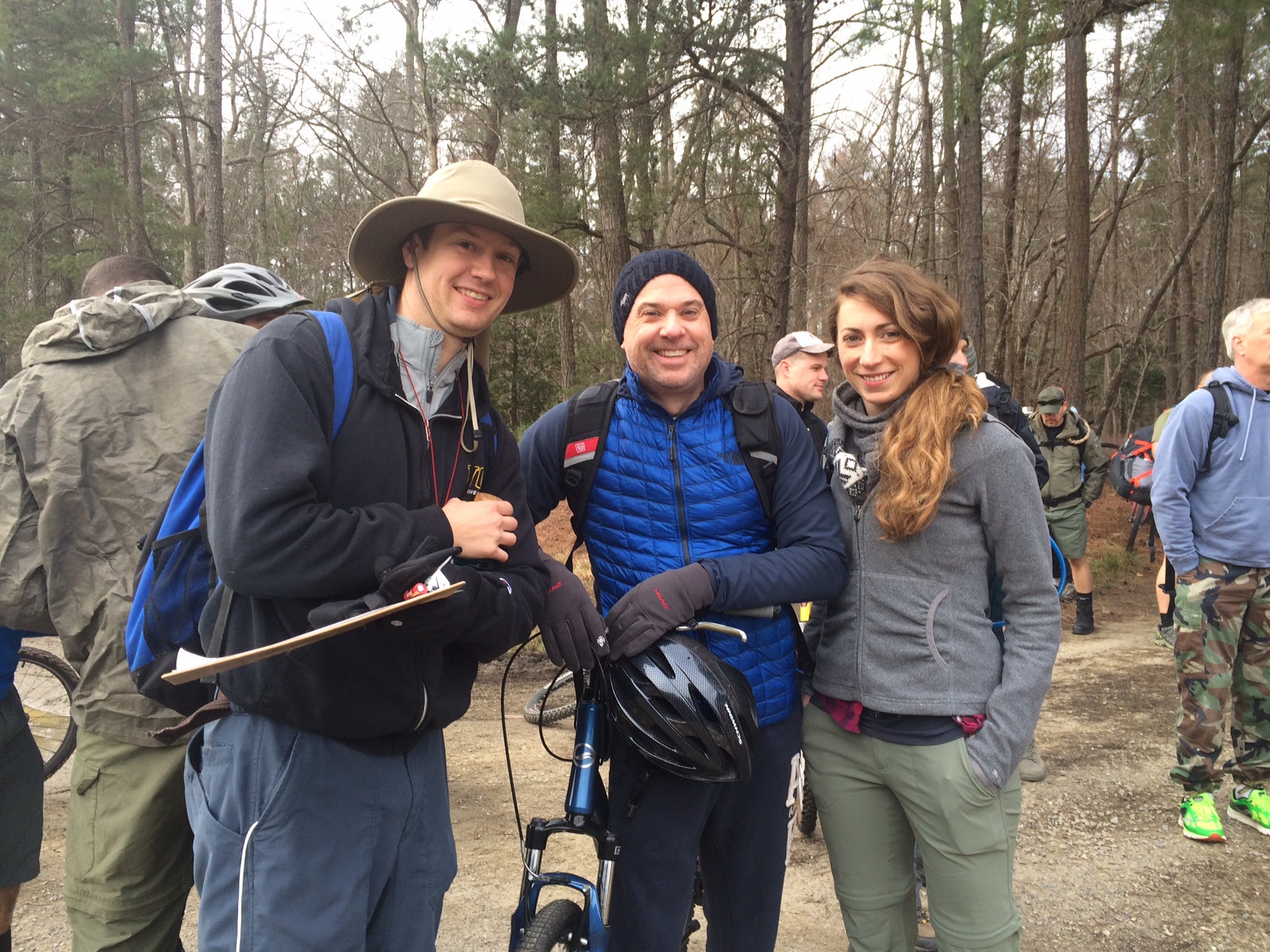 The Class of 2016's Phil Griffith, Chris Woleben, M'97, H'01, and the Class of 2017's Jenika Ferretti-Gallon prevailed in the Mid-Atlantic MedWAR that combines wilderness medicine and adventure racing.
Sounds almost impossible, but the medical school's Lactated Ringers team prevailed at the Mid-Atlantic MedWAR (Medical Wilderness Adventure Race) competition on March 19.
MedWAR events pit three-person teams of wilderness medicine enthusiasts against each other for a day-long event that challenges their medical knowledge, orienteering skills and stamina. The competition, held in several locations throughout the U.S., was created in 2000 by two emergency medicine physicians with a passion for adventure racing. MedWAR events have no route markers, water stations or cheering spectators; instead they simulate backcountry rescue situations so participants can test and improve their skills.
The Class of 2016's Phil Griffith heard about the event last year and decided it was the perfect venue for his love of the outdoors and career plans as an emergency physician. "Emergency medicine fits with wilderness medicine," he noted. Except in the outdoors, "You're practicing with fewer resources, higher evacuation times and the same principles of stabilize and improvise."
He participated in the event for the first time last year with Chris Woleben, M'97, H'01, on a team dubbed the Lactated Ringers. This year, the Class of 2017's Jenika Ferretti-Gallon joined them.
An associate professor in the Division of Pediatric Emergency Medicine, Woleben is also associate dean for student affairs in the medical school. Though he's far more experienced in medicine, Woleben calls the students "the masterminds to our team's success."
The competition, held in Newport News, includes three loops (four for more advanced competitors) consisting of questions and hands-on scenarios. Each team must navigate to checkpoints where they will encounter physical challenges or wilderness medicine simulations, which they must successfully complete before moving forward.
The team takes its name from Ringer's lactate solution that's often used for fluid resuscitation after blood loss due to trauma, surgery or other injury.
During the race, which the Lactated Ringers completed in under seven hours by mountain bike, canoe and foot, they performed a cricothyrotomy on a pig trachea and removed a fish hook from someone's skin (using a pig's foot as a stand-in). One memorable scenario involved stabilizing a skydiver who had landed in a tree and sustained spinal cord injury.
The trio capitalized on the lessons learned from the experiences of the 2015 team.
"The reason for our success was that we planned in advance," said Ferretti-Gallon. "We practiced orienteering the weekend before the race at a Boy Scout camp."
The group also knew what to carry in their pack, smaller than last year's but still a hefty 20 pounds of wilderness supplies. "The most important thing you can have is gloves," said Griffith. "And a knife is always useful." The group also hauled water purification equipment, shelter, epinephrine for anaphylactic shock, gauze and a CPR mask. A skin stapler came in handy, too, for making quick repairs on their simulated victims so the team could get back on the course.
With few penalties for wrong answers and some bonus points for their knot-tying skills, the team was named winner of the Intermediate division. In addition to bragging rights, the team won a copy of "Improvised Medicine," a book Griffith dubs MacGyver medicine. "Actually, I've had my eye on that for a while," he said.
It also gave them confidence. "MedWAR can change the way you think about practicing medicine," Ferretti-Gallon said. "It gives you skills to apply in the field. It's encouraging and it's empowering."
She'll hold down the fort next year at MedWAR, as Griffith moves to Ohio for residency.
However, he remains prepared for anything he encounters. "I always try to keep my medical bag with me. And my keychain is just exploding now with a bag of gloves, a pocket knife and other supplies."
By Lisa Crutchfield