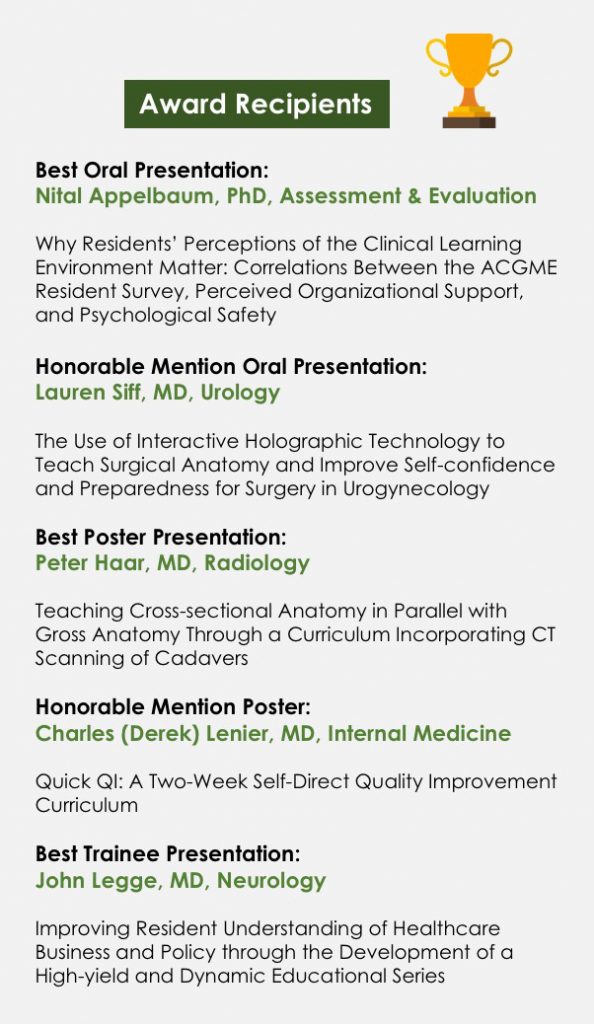 Advances in patient care and science are not the only focus of research and innovation at the VCU School of Medicine. As a center for teaching and learning, the school also promotes work to better understand, enhance and continue improving the education process.
To bring more attention to this work, the school's second annual Medical Education Symposium, celebrating scholarship and innovation, was held on April 4 in the McGlothlin Medical Education Center. Oral presentations, followed by a reception and poster session, provided an opportunity for medical school faculty and other medical educators on the MCV Campus to showcase and share with colleagues unique projects and practices for education innovation.
The symposium is designed "to promote an increased emphasis on scholarship in medical education," says Terry Carter, Ed.D., the medical school's associate dean for professional instruction and faculty development. "It's a nice opportunity to see the breadth as well as depth of current medical innovation and scholarship at VCU."
Presentations at the symposium included the use of holographic "enhanced reality" technology to help teach urogynecological surgical procedures, teamwork-building in first-year medical students and leadership-skill development among pediatric residents. Presenters and attendees alike expressed enthusiasm for the symposium as well as for being able to learn about the work of colleagues and to discover potential opportunities for collaboration and new ideas they might bring to their own disciplines and practices.
"This venue is great because it gives us an opportunity to find out what other people are doing here at VCU," observed Kelly Lockeman, Ph.D., an assistant professor in the School of Medicine who is also director of evaluation and assessment for VCU's Center for Interprofessional Education and Collaborative Care. She was particularly interested in the many initiatives centered on quality improvement. "So many departments are incorporating these efforts," she said. "There are a lot of things going on that are striving to make the education more effective and even to figure out what 'being effective' means."
Lauren Wingfield, M.D., a PGY-2 resident in emergency medicine, said the symposium "gives us a chance not only to show off what we are doing, but also to learn about what's going on elsewhere in the hospital and to be able to incorporate that into our practice in the ER."
The symposium included six oral presentations and 21 poster presentations selected from among more than 40 submissions. A panel of faculty with expertise in medical education served as judges.
Assistant Professor Nital Appelbaum, Ph.D., received the award for best faculty oral presentation for her talk "Why Residents' Perceptions of the Clinical Learning Environment Matter." She discussed how what's known as the hidden curriculum, or "underlying norms and beliefs of a group that drive behavior" might affect whether residents and students feel supported and safe to express ideas or concerns. In turn, those perceptions might affect the efficacy of the learning environment and, ultimately, patient safety, she said. "We have a duty in medical education to not only ensure our trainees demonstrate competence in their specialty, but also to provide an environment that facilitates both work and learning processes, especially if we are to attain the goal of providing the best care to patients," noted Appelbaum in her presentation.
The best trainee presentation award went to John Legge, M.D., a PGY-3 resident in adult neurology, whose poster outlined the education series developed in his department to introduce residents to the business and policy dynamics of health care. Traditionally, says Legge, this is information that medical education hasn't covered. "It is something we have identified in all residency programs, not just neurology, as a weakness, and we are trying to bridge that gap," he says. "The idea is for you to be able to walk out with more knowledge about business and policy and medicine than what you came in with."
By Caroline Kettlewell