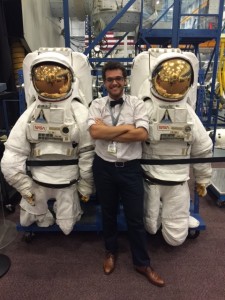 Monseur with two spacesuits at the Johnson Space Center in Houston, Texas, where he completed a clerkship in aerospace medicine.
As fourth-year medical student Brent Monseur looks ahead to residency and a career in OB-GYN, he knows the challenges he will face. "As increasing numbers of women enter the workforce and delay childbearing, physicians face new challenges to empower and support their patients to adequately plan their families," says Monseur.
This fall, Monseur has been discovering parallels between these challenges and those that exist for another group of patients: astronauts.
"The tactics used in OB-GYN of primary prevention, the development of innovative technologies and the use of alternative health care delivery strategies form the bedrock of aerospace medicine."
In October, he participated in NASA's Aerospace Medicine Clerkship, a program that allows fourth-year medical students to complete a research project on space medicine. "I worked at the Johnson Space Center in Houston, Texas, where my workstation was adjacent to the former sleeping and rehabilitation quarters of the Mercury 7, the original class of American astronauts."
Although he admits it's not the most typical path, Monseur hopes to combine his interests in OB-GYN and aerospace medicine in his career. "I envision investigating issues of spaceflight contraception and delayed childbearing due to career goals and cosmic radiation, issues where aerospace medicine and gynecology intersect.
"Fertility preservation and management of recurrent miscarriage would also be very useful in treating the astronaut corps should I pursue a second residency in aerospace medicine to become a flight surgeon. The beauty of the field of aerospace medicine is that the option is always there whether I want to pursue it directly after I finish my OB-GYN training or after years in practice."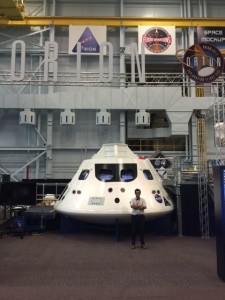 Fourth-year medical student Brent Monseur in front of NASA's Orion spacecraft, the first vehicle designed for deep space exploration.
Combining the two fields is not totally unprecedented: while in Houston, Monseur got to meet Richard Jennings, M.D., who is the only physician double board certified in OB-GYN and aerospace medicine. He also connected with Richard Williams, M'79, NASA's chief health and medical officer, who invited him to tour NASA's headquarters in Washington D.C.
Whether or not Monseur chooses to pursue aerospace medicine at some point, his time at NASA gave him a good idea of what it would be like to be a full-fledged flight surgeon. He also began to consider how the field of aerospace medicine might change in the coming years. As we move into what Monseur calls "the era of interplanetary space expedition," there may be a need for consultants based in Houston who can deliver care remotely to astronauts traveling throughout the solar system.
For now, however, Monseur's focus remains on our planet, and more specifically on finishing up his last year of medical school. Because of the School of Medicine's flexible fourth-year schedule, he will be spending most of the year away from the MCV Campus. He also remains a national board member of Medical Students for Choice, an organization dedicated to advocating for training for tomorrow's abortion providers and pro-choice physicians.
By Jack Carmichael
You can read more of Monseur's recollections of his NASA internship in a first-person account posted to the AAMC's Aspiring Doc Diaries.