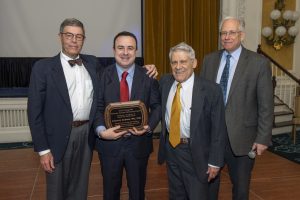 The Department of Internal Medicine celebrates the awarding of the inaugural Thames-Kontos Mentoring Award. L-R: Marc Thames, M'70; inaugural recipient Antonio Abbate, M.D., H'07; Hermes Kontos, M.D., H'62, PhD'67; and Todd Gehr, F'87, interim internal medicine chair.
"It was critical to my career development." That's how Marc D. Thames, M'70, describes the mentorship of Hermes A. Kontos, M.D., H'62, PhD'67 (PHIS), and its impact on his life and career. Thames calls his medical school years a magical time and says, "Dr. Kontos was the most impactful part of the magic. I always felt like I could talk to him about anything."
Thames began working in Kontos' cardiac research lab after completing his first year of medical school and the two quickly established a bond that continues today.
"I realized right away how lucky I was to have Hermes Kontos as a mentor. He never said 'I don't have the time.' He shared my excitement for the science that served as the basis for the work we did together, and was always available to come to the lab when help was needed with the technical aspects of the experiments we performed."
Kontos was just beginning his 41-year tenure on the MCV Campus when he and Thames first started to work together. He would go on to become medical school dean and later vice president for health sciences and CEO of VCU Health System. He always saw mentoring as part of his role.
"To establish a younger generation of academic physicians, you have to get them interested in science early on," Kontos says. "Be there for them when they come to you with a problem or need career advice. It doesn't take much time to suggest what you think is best for them."
But it can be the critical difference in the career development of a young physician. What Thames received from Kontos inspired him in his own work with students, residents and fellows throughout his career at Temple University, Case Western Reserve University, VCU (based at McGuire Veterans Affairs Medical Center) and University of Iowa. Today his academic career and mentoring continue at Emory University in the School of Medicine's Division of Cardiology.
"It became very clear to me that mentoring is such a critical part of career development for young people," Thames says. "I've worked to pay it forward by being a good listener and trying to help young people to pursue a direction that excites them and makes them want to work hard."
In honor of mentoring relationships and their power to change lives, and as a way for him to express his gratitude to the institution that was so critical to his own career development, Thames made a generous gift to the School of Medicine to establish the Thames-Kontos Mentoring Award. Housed in the Department of Internal Medicine, the award celebrates faculty who have had a significant impact on the lives of medical students, residents, fellows and junior faculty through exceptional mentorship or professional guidance. It also serves as annual recognition of the mentoring relationship between Thames and Kontos.
"Without his mentorship, my career would have taken a completely different path. He opened my mind to the possibilities of what could be done, and got me excited about an area that ultimately became the focus of my research career," says Thames, referring to his research on the autonomic nervous system and how it regulates the heart and circulation.
Who was your mentor?
Do you have a memory of a favorite mentor from your time on the MCV Campus? Email us at
MedAlum@vcu.edu
and share your story.
Housestaff alumnus Antonio Abbate, M.D., Ph.D., the James C. Roberts, Esq. Professor in Cardiology, received the inaugural Thames-Kontos Mentoring Award on Feb. 8, 2019.
Kenneth A. Ellenbogen, M.D., Martha M. and Harold W. Kimmerling Professor of Cardiology, wrote one of Abbate's multiple nomination letters. In his letter, Ellenbogen cited the outstanding guidance of his own mentor — Marc Thames.
In the 1980s, Kontos had recruited Thames back to Richmond, Virginia, to serve as professor of medicine and chief of the cardiology section at McGuire Veterans Affairs Medical Center. Then Thames recruited Ellenbogen from Duke University to lead the development of cardiac electrophysiology at the VA.
Now chair of VCU Health's cardiology division, Ellenbogen wrote, "Dr. Thames created an enthusiasm for research and work that was contagious and an environment that was always inspiring and exciting … I have never been more stimulated to ask questions in my life. Marc taught me that the questions were what was important and the techniques and technology were just tools. He taught and inspired so many young cardiologists, many of whom went on to very successful careers in academic medicine."
Ellenbogen says Abbate has created the same type of palpable enthusiasm and excitement among today's junior faculty. "He is a gifted and highly productive clinician scientists who gives selflessly of his time and effort to support trainees and faculty in cardiology. It's very fitting that he is the first recipient of this special award."
Thanks to the Thames-Kontos Mentoring Award, the cycle of mentorship will be celebrated for many years to come.
By Polly Roberts