When classmates Amanda Filiberto and Suzanne Giunta stood at the starting line of the Boston Marathon in April, there may have been a sense of déjà vu. They'd raced those same streets two years ago when they were second-year students, and had returned this spring to cap off four years of medical school – and four years of 5 a.m. workouts.
"The Boston marathon is electric," says Filiberto, a member of the VCU School of Medicine's Class of 2016. "There is no other race like it. There are volunteers and people cheering for a full 26.2 miles. There is something about the entire experience that makes those 5 a.m. runs in the snow, sleet, rain, wind or whatever so worth it."
For Giunta, Boston was the eighth marathon she's run since beginning medical school. Like Filiberto, she was a runner in college.
"I ran varsity cross country and track at the University of Rochester, then transitioned to marathon running once beginning school at MCV," says Giunta. "It's been quite a ride balancing my studies with my training, but I've loved having running as my stress reliever and have been lucky enough to see significant improvement in my times throughout the last four years."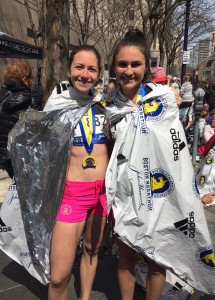 Classmates and training partners Suzanne Giunta (left) and Amanda Filiberto at the finish line of the 2016 Boston Marathon in April.
The Boston Marathon was a personal record for her with a time of 3:06. She averaged 7:05 minutes a mile, which placed her in the top 1.4 percent of all Boston's female finishers.
"Ending medical school with such a great performance was incredible and I was very happy with my time." She says that the best part of the weekend, though, was having two of her best friends come to watch the race and getting to start the race with her training partner, Filiberto.
Filiberto has run five marathons and six half marathons while in medical school. Her time in Boston this year was 8 minutes faster than her 2014 time – coming in at 3:16. Though it was a personal record, she wasn't satisfied with that, "because I trained really hard and knew that I was in excellent shape and could run faster."
So she quickly signed up for the Long Island Marathon near her hometown of Northport, New York. Running it just two weeks after Boston, she turned in her best time ever – 3:03:59 – and finished first among the women.
"I was a sprinter/middle distance runner for four years at Brown University, and once I graduated I never thought I would run competitively again," says Filiberto. "Suzanne was actually the one who got me started on the whole distance running thing and encouraged me to run the Richmond half marathon in November of our first year of medical school. I still remember the very first 8 mile run we went on together – and ever since then I've been hooked.
"Having a training partner to hold you accountable has made it so much easier to train, and those long runs have been a good way to catch up and de-stress from the rigors of medical school. Running has been such a huge part of my life for so many years, and despite starting residency in July, I hope to keep it that way!"
Filiberto will begin her general surgery residency training at the University of Florida College of Medicine-Shands Hospital this summer. Giunta is headed to the state of Washington where she'll train in family medicine at Swedish Medical Center.
By Erin Lucero