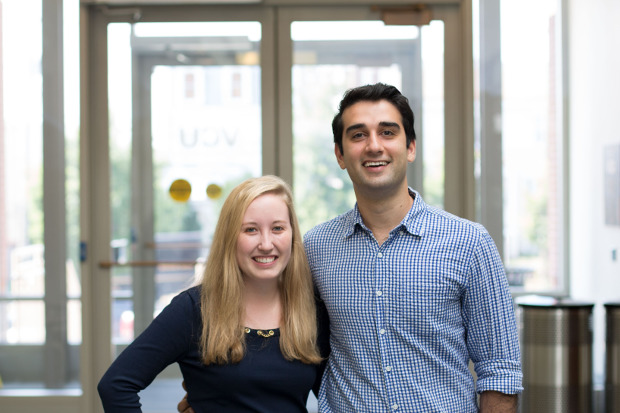 Fourth-year medical student Sina Mostaghimi teamed up with Honors College biomedical engineering student Simone Gregor to create VCU's first medical hackathon. It gave students 24 hours to work in interdisciplinary teams to find solutions to unmet medical needs.
As a biomedical engineering undergraduate at Georgia Tech, Sina Mostaghimi thrived on solving problems.
Today, the fourth-year VCU School of Medicine student from McLean, Virginia, is still solving problems in hopes of helping others thrive.
"My favorite thing at Georgia Tech was senior design," he says. But, "During my senior design project, it took weeks for me to get feedback from the physicians I was working with."
There had to be a better way, Mostaghimi thought.
At a dinner party last year, he met senior biomedical engineering student and Honors College member Simone Gregor and shared his idea.
"When Simone told me about hackathons, we decided a venue like that would be perfect for students from various disciplines to come together to help solve unmet medical needs," he says. "I wanted to create a student environment to foster opportunities for innovation, to provide time for project development and to offer immediate feedback.
For the uninitiated, a "hackathon" is a marathon-like experience bringing computer programmers together to solve problems by creating software projects. In VCU's case, Mostaghimi and Gregor envisioned an event to include not only computer science and biomedical engineering students from the VCU School of Engineering, but also pre-med and medical students.
HealthHacks drew more than 140 students who tackled problems pertaining to product design, hospital throughput and patient experience.</p
"It's the weirdest team concept, but you get diverse ideas this way," he says.
Mostaghimi and Gregor assembled a team of volunteers, attracted sponsors and created VCU HealthHacks, which took place over the first weekend in October. More than 140 students from VCU, Canada and even a high school in Richmond collaborated on three areas of focus: product design and improvement, hospital throughput and patient experience. The School of Medicine's Department of Emergency Medicine provided problems for students to solve as well as sending residents and faculty members who served as team mentors.
To close the event, teams had three minutes to present their projects to 10 judges who decided first, second and third place winners.
"It was quite an afternoon. We all sat in the front row of a lecture hall and listened to 30 teams describe their work," said Nathan J. Lewis, M.D., clerkship director and assistant professor in the Department of Emergency Medicine. "It was tough. There were so many great groups and ideas."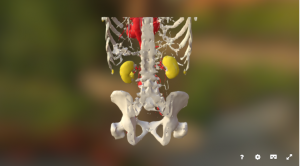 HealthHacks' winning team Anish Desai and Vivek Pandrangi used two-dimensional scans to create three-dimensional images to help patients get a better grasp on their own anatomy. This image shows the heart and an abdominal aortic aneurysm in red, located between the kidneys, shown in yellow. Click the image to go to a page where you can view the image in 3D.
The winning team used two-dimensional scans to create three-dimensional images for use in a virtual reality headset to help patients get a better grasp on their own anatomy.
"As medical students, we learn from two-dimensional CT scans all the time," says team member Anish Desai, a second-year medical student from Richmond, Virginia. "It's incredibly confusing, difficult and non-intuitive."
Desai and classmate Vivek Pandrangi, from Los Angeles, are both interested in virtual reality and its application to the patient experience.
"We'd been talking about our shared interest in surgery and finding a better way to educate patients during pre-op," Pandrangi says.
Via the HealthHacks experience, the team was paired with mentor Daniel Newton, M'12, a fifth-year surgery resident who was impressed with the students' abilities to take a totally rough idea and turn it into a solution.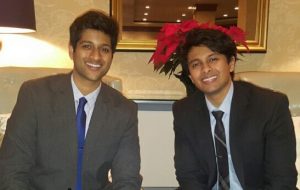 HealthHacks' winning team Vivek Pandrangi (left) and Anish Desai.
"The ability to show a patient his or her anatomy in an understandable way was solved by their technology," Newton says. "It's definitely a big step. Anytime patients have a full understanding of their disease or problem and the way it's going to be fixed, it helps take the fear out of the unknown."
Judge Nathan Lewis, who is also Mostaghimi's faculty advisor, sees a future in the winning team's work. He also hopes there's a future for VCU HealthHacks.
"If you can take the complex language of medicine and translate it into something tangible, it breaks down a lot of barriers," he says. "I'm not sure who's going to take over the HealthHacks reins, but the event illustrates the amount of collaboration between the Department of Biomedical Engineering and the Department of Emergency Medicine at VCU Health. We'd all love to continue."
A student team of volunteers made VCU's first HealthHacks a reality:
Sina Mostaghimi
Simone Gregor
Mashya Abbassi
Michael Pasyk
Brandon Kates
Stephen Holtz
By Nan Johnson