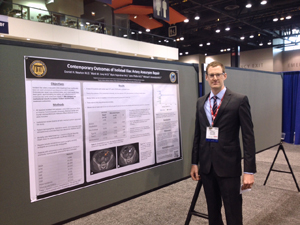 In addition to participating in the surgical skills competition, third-year general surgery resident Dan Newton, M'12, presented original research: Contemporary Outcomes of Isolated Iliac Artery Aneurysm Repair.
Dozens of medical students and surgical residents faced off in a skills competition at the 2015 Vascular Annual Meeting. Organized by the Society for Vascular Surgery, the meeting was held June 17-20 in Chicago.
The clinical skills competition drew 40 residents and 48 fourth-year medical students. Dan Newton, M'12, and student Grayson Pitcher had known about the opportunity beforehand, but had not known what it would entail.
While there was no way to specifically prepare, "the vascular surgery rotation at the VA Medical Center gave my technical skills a huge boost," said Newton, a third-year general surgery resident. "Out there we primarily work with Dr. Michael Amendola, who has been an incredible teacher and mentor, and really sparked my interest in vascular surgery."
"Our residents get extreme exposure," noted Amendola, M'02, H'07, F'09, pointing out that the McGuire Veterans Administration Medical Center has the fifth busiest vascular surgery schedule in the nationwide VA system.
Newton was one of three residents to receive perfect scores on five timed stations that tested different skills like suturing, suture identification and knot tying without putting any stress on the item being tied.
Newton plans to apply for a vascular surgery fellowship this year. "The field has a great mix of big open cases and minimally invasive endovascular procedures," he said. "It is also based heavily in physics and geometry, so it just sort of clicks for me."
Rising fourth-year student Pitcher also was awarded a perfect score along with two other student participants. The fourth-year medical student competition's tasks included a two-minute station at which they had to tie knots to the tab of a lightly weighted soda can without moving the can from a designated circle. Another event involved closing a 3 cm slit on a plastic tube.
Rising fourth-year student Grayson Pitcher during the skills competition at the 2015 Vascular Annual Meeting.
"Dr. Rahul Anand does a phenomenal job with the M3 surgical clerkship," Pitcher said. "Because of him and the rest of the surgical faculty, I believe every third-year student at VCU has an advanced set of surgical skills and knowledge after their clerkship."
For Pitcher, though, the event was less about the competition and more about the ability to network with vascular surgeons who were assigned to judge each station. He met faculty from across the country and was able to learn more about vascular surgery programs at a number of medical schools. That knowledge will be useful when he applies to vascular surgery residencies this fall.
Pitcher grew up with a balance of art, music and sports in his life. As a result, "I love anything creative, and it reflects in my personality in that I am very patient and obsessive compulsive about projects and detail. I always thought surgery would be a great fit. I loved how intricate and meticulous the vascular procedures were."
He, too, credits the mentorship of assistant professor Amendola for his success. "My experience inside and outside the operating room with him has been an instrumental reason for choosing vascular surgery."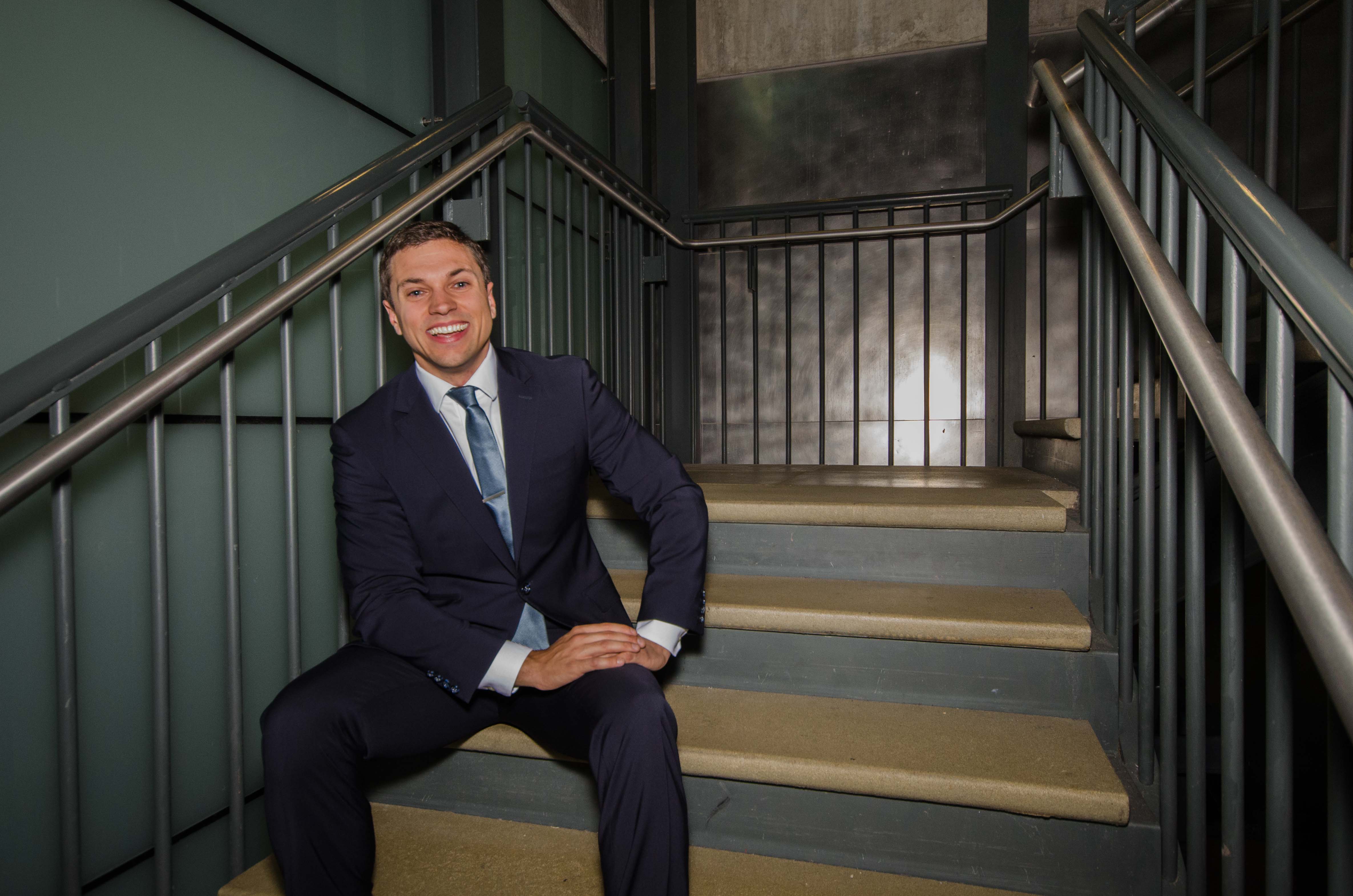 The Class of 2016's Grayson Pitcher.
Amendola, in turn, points to his experiences when he was a trainee with Richmond vascular surgeon Ronald K. Davis, M'63, H'69, and his MCV-trained practice partners. Amendola emulates the examples they set and prioritizes his role as a mentor, knowing it's one of the most influential factors when students choose a specialty.
"The real reward in academic medicine is influencing the surgeons of tomorrow," he said. "Dan and Grayson are going to be fantastic vascular surgeons."