Whether alumni graduated in 1968 or 2008, a common theme emerged throughout Reunion Weekend 2018. It's the people and their stories that make the MCV Campus such a special place to learn and begin a medical career.

When the Class of 68's Richard Hickman arrived on campus for his medical school interview, he found the school closed. It was Nov. 25, 1963, the day after President John F. Kennedy's assassination. Hickman didn't receive word about the school's closing and traveled 550 miles from West Virginia to Richmond. MCV was his No. 1 choice -- "it's where all the doctors in West Virginia had been educated and it's where I wanted to go" -- but he knew that he couldn't afford a second trip to Richmond.

Former assistant professor of medicine Donald L. Brummer, M.D., made sure he didn't have to. He promptly went across the street to the popular Skull & Bones restaurant and rounded up four other faculty members so Hickman could have a proper interview. Before leaving campus later that day, Hickman learned he had been accepted to the School of Medicine.

For the Class of 83's Lynn Beaulieu, it was a classmate who made the difference in his medical school career. He credits classmate Deborah Tobert with coaching him through the academics, while Tobert says it's Beaulieu, then a young father and the "father" of the class, who kept her spirits up during those four years.

Classmates Kelsey and David Salley, who met and married in medical school, hosted the 2003 class party and say it's the connection of the entire class they remember years later. "The bond is strong in the Class of 2003 and we are so thankful to have this time together again," Kelsey Salley says. "Since we are all busy with our careers, we may not see each other very often or even have much time to catch up on the phone. With this great group of folks, it is so easy to pick up where we left off at the last reunion. We most look forward to sharing memories together of our time at MCV."

Sometimes, it's not a classmate who makes an impact, but rather a junior colleague. The Class of 78's Martin Goldberg -- who went on to complete his internal medicine residency on the MCV Campus -- remembers his year as junior resident when a young, promising intern came on the scene. That intern is Department of Internal Medicine Chair John E. Nestler, M.D. "He was smarter than his resident and showed he was destined for greatness." The two had the chance to reconnect at Reunion Weekend at the Dean's welcome reception.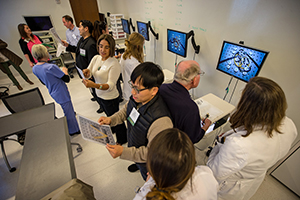 Alumni celebrated Reunion Weekend 2018 by reconnecting with classmates and getting a firsthand look at how campus has changed with a behind-the-scenes tour of the McGlothlin Medical Education Center, including the simulation center.
Now Goldberg's son David Goldberg, M'16, is a second-year resident, also in internal medicine, and father and son enjoy swapping stories about longtime professors such as professor emeritus George Vetrovec, M.D. "There's a camaraderie at MCV that's like no other," Martin Goldberg says. "It's a good place, a hard place. That shared training and learning leaves its mark."

Reunion 2018 saw hundreds of alumni return to the MCV Campus for a weekend's worth of activities, April 20-22. On hand to welcome them back to campus was Dean of Medicine Peter F. Buckley, M.D., who hosted a welcome reception for alumni before they headed to class parties all over town.

In addition to reconnecting with classmates, alumni got a firsthand look at how campus has changed with a behind-the-scenes tour of the McGlothlin Medication Education Center, including the Center for Human Simulation and Patient Safety.

At Mini Medical School, alumni heard from Buckley as well as Michelle Whitehurst-Cook, M'79, H'83, senior associate dean of admissions; Pemra Cetin, assistant dean for student affairs; Susan DiGiovanni, M'84, H'89, senior associate dean for medical education and student affairs; and Chris Woleben, M'97, H'01, associate dean for student affairs.

They learned what it's like to apply for medical school today and how the school prepares students for the Match process. During their tour of the Center for Human Simulation and Patient Safety they talked with students about standardized patients and simulation scenarios.

Alumni also participated in the Class Giving program, making gifts to the Annual Fund and endowed class scholarships through the 1838 Campaign. The classes' generosity has a direct impact on students -- both today and in the future -- providing them with scholarship support and by exemplifying the tradition of alumni engagement with the MCV Campus.

By Polly Roberts


Save the date: Reunion Weekend 2019
M.D. alumni whose graduation year ends in '9 or '4 will reunite,
revisit campus and make new memories.
Call (804) 828-4800 or (800) 332-8813 to learn more.
Reunion Weekend 2018
Reunion Weekend 2018