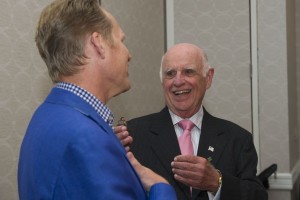 This year, the usually low-key Resident Research Day Conference in Neurosurgery turned into a three day celebration of Harry Young, M.D. It drew more than 200 people, some of whom traveled across country to honor him.
Mike Chen, M.D., H'06, PhD'07 (ANAT), can't recall a time when he worked harder or with more intensity than as a neurosurgery resident under Harold F. Young, M.D.
"The training was brutal," he said. "As a resident at that time, you could work 120 hours a week. But there was no resentment. Dr. Young was preparing you to be the best under the most adverse circumstances. He was the most influential teacher of my life."
Chen, who completed his residency in 2007 and now serves as associate professor at City of Hope in California, returned to Richmond in June. He traveled more than 2,000 miles to honor Young during the Resident Research Day Conference.
"I wasn't going to miss it," Chen said. "I owe him my career. He has the deepest passion for the profession, especially teaching it. He treated everyone with respect. He treated everyone like family."
Usually a small, one-day event in which residents present their papers, organizers expanded it into three days this year to honor Young, who last year stepped down after 30 years as chairman of the Department of Neurosurgery. He remains on faculty as professor of neurosurgery.
"It can be hard to motivate people to come back for an event, but we had an amazing response," said R. Scott Graham, M'92, H'98, director of the residency program. He has worked with Young since 1992. "He's a father figure to so many of us. He instilled that sense of responsibility in everything you do."
Last year, Young stepped down after 30 years as chairman of the department. He remains on faculty as professor of neurosurgery.
About 225 people traveled from near and far to pay homage to their mentor. In year's past, the conference has drawn about 50.
The alumni were eager to share stories and make a special presentation in Young's honor. On day three of the conference, Young gave his presentation on preparing trainees for independent practice.
"I'm not sure we'll ever see his like again," said John Ward, M.D., neurosurgery professor. "He was able to create a bond with patients that was enviable."
Ward was one of Young's first residents, arriving on campus in 1970.
"He was always there to help, and over the years, that held," he said. "He trained residents to be excellent clinicians, and he demanded that we treat everyone with dignity."
After completing his residency in 1977, Ward worked alongside Young until 1990, then opened a private practice in South Carolina. He returned two years later.
"I looked at other hospitals, but felt this was the place to be," he said. "Harry was here."
By Janet Showalter
Harold F. Young, M.D., who began his career at VCU in 1972 and served as department chairman from 1985-2015, is famous for his Youngisms:
"Treat patients, not images."
"Don't cut the steak and butter to live a few more days."
"I never go on vacation because people get sick on vacation."
"Any organ you can transplant is basically worthless."
"It is just a patch job. We can't give you a new spine."