Supported by the most prestigious fellowship in neurosurgery, resident Lisa Feldman spent a year doing research in New Zealand.
As a sixth-year neurosurgery resident, Lisa Feldman, M.D., Ph.D., aches for her patients battling aggressive brain tumors.
Despite surgery, chemotherapy and radiation treatments, the average life expectancy for patients diagnosed with glioblastoma multiforme, the most aggressive type of brain tumor, is 15 months.
"We have to do better than that," she said. "It's so frustrating. I see so many patients suffering."
Thanks to a prestigious fellowship and numerous collaboration efforts, Feldman is feeling optimistic about the future. The Chicago native was selected last year for the William P. Van Wagenen Fellowship, which awarded her a $120,000 stipend and $15,000 in research support. She used the funds to travel to New Zealand, where she studied perfluorocarbons as a new oxygen delivery therapy in hopes of reversing the death of healthy cells that results from radiation treatment of brain cancers.
"Our preliminary findings are very exciting," said Feldman, who just returned to Richmond. "We are discovering that nanoparticles do improve tumor sensitivity to radiation."
Feldman worked alongside physicians, scientists and researchers at the University of Auckland and the Malaghan Institute of Medical Research in Wellington. She is also collaborating with Washington University in St. Louis and her home Neurosurgery Department on the MCV Campus.
"The year I spent in New Zealand was extraordinary in that I had the opportunity to work with some of the brightest minds in the world," she said. "It was the best year of my life."
The teams have landed two more grants from the local government in New Zealand and the University of Otago to replicate their findings. Feldman is hopeful the next step will be clinical trials.
"Now that I'm back, we have weekly Skype calls," she said. "Collaboration is absolutely crucial. There's no way we could dream of accomplishing this without working together."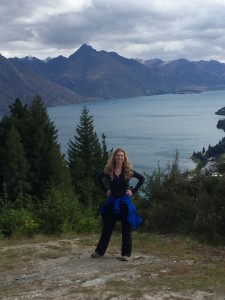 In addition to studying how perfluorocarbons could help patients battling aggressive brain tumors, Feldman also spent time exploring New Zealand and says, "The country is absolutely breathtakingly gorgeous."
Feldman is the Department of Neurosurgery's first Van Wagenen Fellowship winner. The fellowship was established by the estate of Van Wagenen, one of the founders and first president of the Harvey Cushing Society, now the American Association of Neurological Surgeons.
"This is a big deal," said R. Scott Graham, M'92, H'98, director of the Department of Neurosurgery's residency program. "It's the most prestigious fellowship to win in neurosurgery.
"Lisa has the perfect personality to get an award like this because she is so collaborative. She's good at searching out people who have the skills that match her interests. She knows that you can accomplish so much more as a team than on your own."
Feldman, 38, holds a bachelor's degree in psychology from McGill University in Montreal. While conducting research for her Ph.D. in neuroscience at Montreal Neurological Institute, she regularly performed brain surgery on lab mice. It wasn't long before she had an epiphany.
"I realized I really enjoyed operating," she said. "I enjoyed the procedure. That's what motivated me to go to medical school. I thought it would be much more fulfilling to help people."
She earned her medical degree from Rush Medical College in Chicago in 2010 before coming to the MCV Campus for her residency. She is currently completely a three-month rotation at McGuire VA Medical Center, where she is mainly performing spine surgery. She will return to the MCV Campus in September to concentrate on brain surgery.
"That's where my passion is – coming up with better ways to help my patients," said Feldman, who will complete her residency in July 2018. "I am so grateful for all the opportunities I've had here. I've learned so much. It's a dream come true."
By Janet Showalter