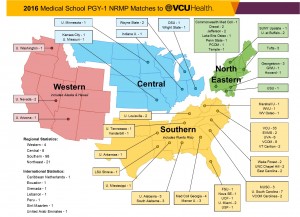 From all over the country: 140 new interns begin training at VCU Health this summer, hailing from 25 different states and 53 different medical schools.
Each summer, academic medical centers around the country welcome a new class of interns into their teaching hospitals. These recent M.D. graduates are embarking on three to seven years of additional training in the specialty of their choice.
From Boston to Tucson to Seattle, 140 new interns have arrived at VCU Health from 25 states.
"We're really proud of the caliber of this year's recruits," said Mary-Alice O'Donnell, Ph.D., associate dean for graduate medical education. "I've heard from many program directors who are enthusiastic about the interdisciplinary team spirit and patient focus this group will bring."
Of the 140 interns, 43 completed their medical degrees at the VCU School of Medicine. But the remaining 97 interns hail from 53 different medical schools. They bring with them certain core competencies along with experiences and expectations that are based on what they've learned at more than four dozen medical centers.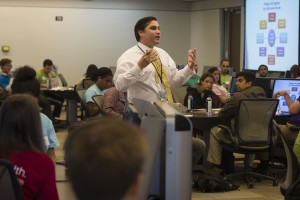 "Nationwide, communication failures are the leading cause of medical errors," Ryan Vega, M.D., H'14, told the interns.
To be sure that they are on the same page in terms of what's expected at VCU Health, the GME office organizes a three-day orientation called Walk the Walk. It differs from orientation programs at other medical centers where newly arrived interns are often trained in specialty specific programs. Instead, for seven years, O'Donnell has trained new arrivals in interdisciplinary teams.
Highlighting Handoffs
A session this year emphasized how to transfer care and responsibility of a patient to the next shift of caregivers, a process known as the handoff. The session was led by Ryan Vega, M.D., H'14, who completed residency training in internal medicine at VCU in 2014 and serving as the first chief resident for quality and safety at the McGuire VA Medical Center in 2014-15.
"Nationwide, communication failures are the leading cause of medical errors," Vega told the interns.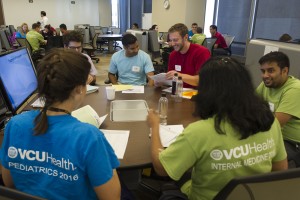 This summer, 140 new interns participated in interdisciplinary orientation program so that everyone is on the same page. One of this year's sessions tackled a leading cause of medical errors in hospitals across the country: handoffs.
To address the issue, VCU Health has adopted the I-PASS system developed by Boston Children's Hospital. It's a guideline for structured communication that uses a mnemonic to help health care providers move through the handoff process. (See chart below.) A 2014 study published in the New England Journal of Medicine reported the system can greatly increase patient safety without significantly burdening existing clinical workflows.
Vega estimates that VCU Health has applied the system more broadly at an institutional level than any other medical center in the country. Seven departments have completed a yearlong training, it's built into patients' electronic medical records and this is the second class of interns to train in the process.
"If we're going to becoming the safest hospital in the nation," Ryan emphasized, "structured communication is a route to eliminating medical errors."
| | | |
| --- | --- | --- |
| I | Illness Severity | Stable, "Watcher," Unstable |
| P | Patient Summary | Summary statement; events leading up to admission; hospital course; ongoing assessment; plan |
| A | Action List | To do list; timeline and ownership |
| S | Situation Awareness & Contingency Planning | Know what's going on; plan for what might happen |
| S | Synthesis by Receiver | Receiver summarizes what was heard; asks questions; restates key action/to do items |
© 2016 I-PASS Study Group/Children's Hospital Boston
All Rights Reserved. For Permissions contact ipass.study@childrens.harvard.edu
By Erin Lucero