During the busy days and years of medical school, Honors Day takes time to shine a light on some of the school's brightest students and the scholarships that benefit them.
"In the life of a medical school, the opportunity to honor aspiring physicians is a fantastic experience," says Dean of Medicine Peter F. Buckley, M.D.
The annual spring event traditionally recognizes those students whose outstanding performance has marked them with the distinction of having earned the highest grade in a course or clerkship or as the top student in their class.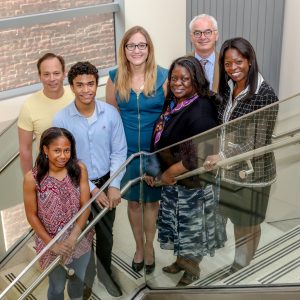 Before Honors Day, Class of 1996 alumna Diane DeVita (far right) and her sister, Lynette Freeman (third from right), along with DeVita's husband, John (far left), and their children, met Dean of Medicine Peter F. Buckley (top right) and the inaugural Freeman-Gayles Memorial Scholarship recipient, the Class of 2017's Sarah Berg (center). Photography: Skip Rowland
The day also serves as the chance to celebrate the dozens of privately endowed scholarships that have been established to benefit medical students. At the 2017 ceremony, the school awarded the Freeman-Gayles Memorial Scholarship for the first time.
Endowed by Class of 1996 alumna Diane DeVita and her sister, Lynette Freeman, the scholarship serves as a tribute to their parents, who died while DeVita was in her second year of medical school on the MCV Campus. While some schools may have required her to take a semester off, VCU allowed her to study from home and take her exams when she returned. It's in this spirit of compassion that she and her sister hope to ease the financial burden for future students.
DeVita and Freeman, along with DeVita's husband, John, and their children, attended Honors Day, after first enjoying lunch where they met scholarship's inaugural recipient, Sarah Berg, who will graduate in May and train in emergency medicine at Barnes-Jewish Hospital in Missouri.
Honors Day also recognizes students who receive specialty awards, such as the four graduating students who produced this year's top I2CRP capstone scholarly projects. The International/Inner City/Rural Preceptorship is a four-year program for students who declare an interest in and commitment to working with medical underserved populations in urban, rural or international settings.
Among this year's recipients are Jacqueline Britz, for the project "Strengthening Early Childhood Programming in Underserved Communities in Virginia," and Yael Tarshish for "Mental Health of Latina Mothers at Hayes E. Willis Health Center." Both students have benefited from multiple scholarships, including the Aesculapian Scholarship, made possible through donations to the school's Annual Fund.
The Class of 2019's Alvin Cho took home first place at the 2017 Medical Student Research Poster Session for his poster "Effect of Gut Microbiome on Morphine Tolerance."
In addition, Honors Day celebrated the 2017 Medical Student Research Poster Session, held in mid-April with 43 posters on display. The posters described research conducted by students covering a broad spectrum of topics in the basic and clinical sciences.
First place went to the Class of 2019's Alvin Cho, whose poster "Effect of Gut Microbiome on Morphine Tolerance" highlighted his research over the winter with his mentor Hamid I. Akbarali, Ph.D., professor, Department of Pharmacology and Toxicology.
Other Honors Days awards spotlighted the newest inductees into the Alpha Omega Alpha Honor Society and the Leonard Tow Humanism in Medicine Award winner, the Class of 2017's Braveen Ragunanthan.
Student Clinician Ceremony
The 2017 event ended with the Student Clinician Ceremony, an annual event previously held in the summer. Sponsored by the Arnold P. Gold Foundation for Humanism in Medicine, the ceremony is designed to provide guidance, information and support to rising third-year medical students as they prepare to begin their clinical rotations.
The transition from classrooms, simulations and research "to being front and center and seeing patients every day" brings on a new sense of responsibility, said Adam Bullock, M.D., FAAP, as he addressed the Class of 2019. The assistant professor is a pediatric emergency medicine physician with Children's Hospital of Richmond at VCU and the 2017 Leonard Tow Humanism in Medicine Faculty Award recipient.
He encouraged students to listen to each patient's individual story. "One of the most important questions you can ask is 'What brings you in tonight? What are you afraid of?'"
Bullock elicited a laugh from the crowd when he joked about the grind of the medical profession and that "there is no ESPN 'SportsCenter' Top 10 best intubations of the day." Instead, he told the students to ask themselves each day, "Did I help someone? Are they feeling better?" and therein will lie their motivation.
Part of the Student Clinician Ceremony also recognized outstanding residents through the Gold Foundation's Humanism and Excellence in Teaching Award. Current fourth-year students chose five residents who were particularly strong role models for compassionate, relationship-centered care during the students' third-year rotations.
Craig Kelman, M.D.
Department of Neurosurgery
2011 graduate of VCU School of Medicine
Advice: "Try to see patients in their own world. You are in a unique position to talk with them more than the residents. Get to know them."
Tu Nguyen, M.D.
Department of Internal Medicine
2014 VCU School of Medicine
Advice: "Nurture your relationships with your family and friends, and find meaning in the relationships you cultivate with patients."
Valerie Plant, M.D.
Department of Surgery
2012 graduate of VCU School of Medicine
Advice: "Be honest and choose a specialty you will love and enjoy. It will help with the tough times."
Roxanne Sholevar, M.D.
Department of Psychiatry
Graduate of Sidney Kimmel Medical College at Thomas Jefferson University
Krista Terracina, M.D.
Department of Surgery
2011 graduate of Louisiana State University School of Medicine
Advice: "One night a week, spend 30 minutes with a patient, just talking. And remember the grandmother test – if it doesn't meet the standard of care you would want for your grandmother (or daughter or other family member), it's not right."
By Polly Roberts