Dr. Peter Buckley's Philosophy has Brought Him to the Medical School as Its New Dean
Peter F. Buckley, M.D., has arrived on the MCV Campus as the 24th dean of the VCU School of Medicine and executive vice president of medical affairs for VCU Health. A psychiatrist and expert in the neurobiology and treatment of schizophrenia, Buckley is a national leader in academic medicine and recognized internationally for his research. Most recently, he served for more than six years as dean of the Medical College of Georgia at Augusta University, where he had been recruited in 2000 to lead the psychiatry department. During his tenure as dean, the medical school expanded to become the ninth largest by class size, grew to encompass five regional campuses, built a new medical education home and acquired new endowed chairs and scholarships, including a $66 million gift to the medical school.
This story first appeared in the spring 2017 issue of the medical school's alumni magazine, 12th & Marshall. You can flip through the whole issue online.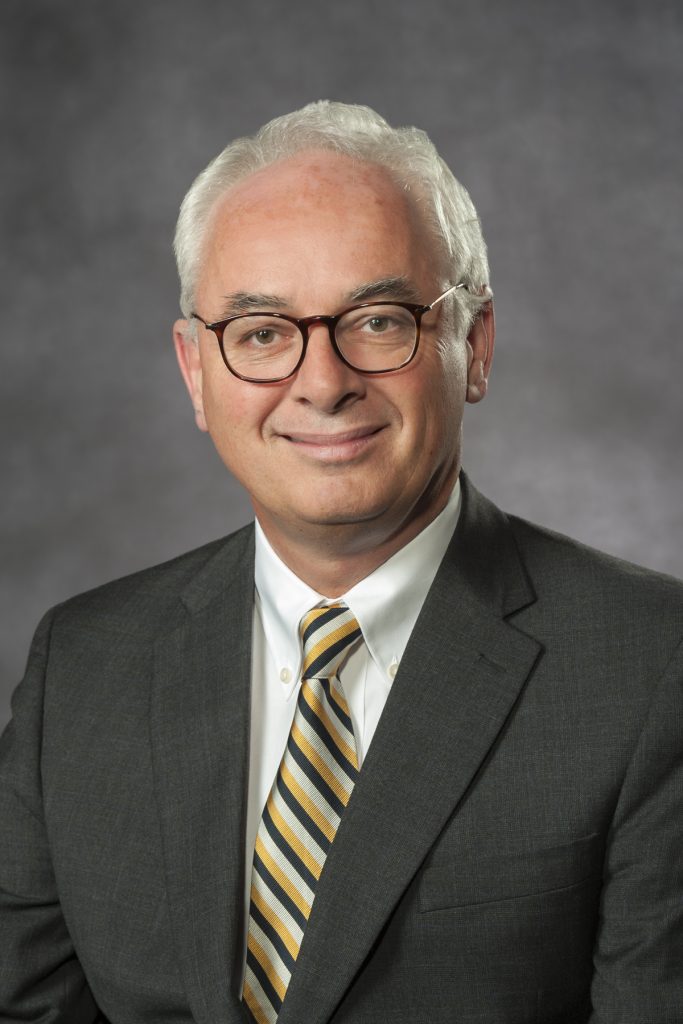 His previous academic appointments include serving on the faculty at Case Western Reserve University, where he rose through the ranks to become professor and vice chair of the psychiatry department. While in Ohio, he also served as medical director for Northcoast Behavioral Healthcare and its three state inpatient psychiatric facilities, leading it to become the best-rated psychiatric hospital in the state.
With 500 original articles, book chapters and abstracts to his credit, Buckley is senior author of a postgraduate textbook of psychiatry and also has authored or edited 16 books on schizophrenia and related topics. He serves as editor, associate editor or as a member of the editorial boards of more than a dozen psychiatric journals.
DEAN PETER F. BUCKLEY, M.D. SAYS …
The MCV Campus and VCU are gems in the commonwealth of Virginia, so I'm very pleased to join you here. Of course I've known about the School of Medicine and its reputation for many years. And specifically, a few years back, I had the opportunity to learn about it in much more depth, and I was very impressed by the talented faculty here.
Moreover, when I was dean at the Medical College of Georgia, I was involved in planning for a new curriculum and new facility, and so our team naturally visited Richmond to take a look at the remarkable McGlothlin Medical Education Center. They returned to Augusta and reported that it more than lived up to its reputation as a pioneering learning environment, and we built our facility and curriculum based on what we learned.
I'm Irish by birth, and traveled to the U.S. with my wife, Leonie, in the early 1990s. We're very proud to be American citizens. As part of that, we feel a great onus to give back, and, in this instance, to work as dean of this great medical school to help improve the health of the citizens of the commonwealth and beyond.
Q: You'd been at Augusta University's Medical College of Georgia since 2000 and had served as dean there for the past six years . What led to your move?
We enjoyed our time in Augusta and were well involved in the community. But life's a journey, and it was time for us to take the next stage of our journey together. We were really drawn to Richmond and to this community. We're energized by the medical school's great collaborative spirit as well as by the science, both the basic science and the clinical translation science.
The impact of any academic medical center should be best felt in its own community. There's not a better medical school or a university than this one to display how a university can positively impact the health care of the people in the region and the overall population's wellbeing.
These attributes as well as the vibrancy of Richmond and warm welcome of the community drew us to enthusiastically make our new home here.
Q: What is your vision for the School of Medicine?
This school is extremely well poised, in terms of both its research profile as well as the foundation of funding, to increase its rankings in federal funding. I will be working with my colleagues to try to broaden the research portfolio and broaden the focus on community-based research that's meaningful, that's impactful, within the local region.
Presently, I am meeting people from our institution and community as I gain an understanding of the institution, its culture and our environment. It's really a labor of love at this stage, and enjoying the support and help of others as I focus in on the strategic growth and development opportunities here into the future.
Q: Your own specialty is psychiatry. What shape has that taken over your career?
I have specifically focused on schizophrenia because I consider the condition itself very disabling, as well as very intriguing from a neuroscience point of view. I've had the privilege and opportunity to work with some great colleagues over the years as we looked to try to understand its basic science. Can we predict how people relapse and what factors affect it? We've been fortunate to do work on how medications can forestall relapse and try to predict which medicines work better as well as understanding their
side effects.
More recently we have been studying the neurobiology of schizophrenia. Presently, we make an artificial distinction based upon symptoms as to whether someone might have a mood problem or schizophrenia. Some of our more recent collaborative work has suggested that there may be an underlying substrate that delineates these conditions in a different manner. We are working on federally funded collaborative research with major centers across the country to tease out the neurobiological "signature" of psychosis.
Q: What do you want the alumni body to know about you?
Several things. Firstly, Leonie and I are very pleased to be here and we have great respect and appreciation for the traditions of medicine. The impact of this university, and specifically the medical school on the community stretches back to 1838. It's an amazing history and it also influences us daily and into our future. I see an excellence today in both research as well as in clinical care that makes me excited about the school's remarkable momentum.
Of course, there are challenges now that weren't here in 1838. Obviously, the finances of running a medical school that's interconnected with a health system is a very complex situation of its own. It's further complicated as we move to more value-based care.
But an opportunity comes with that, too. One of the things this university and this medical school have done fantastically is to train doctors and health care providers as a group. The MCV Campus' enviable collection of schools provides an environment to train health care teams in a collaborative group. That's essential today, and our impressive new curriculum earned flying colors from last year's accreditation visit. Quality is not a singular doctor, or a nurse or an allied health provider. It's a team event. In medicine, we are moving ever increasingly towards more team-based learning and team-based practice of care. To that end, we were also recognized this year as recipient of the Baldwin Award from ACGME, acknowledging our excellence in training, quality and humanism.
We have a great medical school: a remarkable legacy and an impressive momentum and future direction. There is much to do and we will do it together as we advance our medical school's 179-year legacy of being innovative at the forefront of research, education and excellence in clinical care.