And has the stories to prove it
Build resilience. Exhibit compassion. Rise above challenges.
This story first appeared in the fall 2017 issue of the medical school's alumni magazine, 12th & Marshall. You can flip through the whole issue online.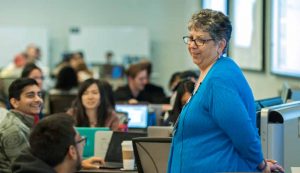 Susan DiGiovanni, M'84, H'87, F'89, was a leader in developing the school's new curriculum, introduced in 2013. She says the new approach takes even further the organ-based studies that first attracted her to the MCV Campus.
Susan DiGiovanni, M'84, H'87, F'89, knows the words are easy to come by. So instead of platitudes, she shares her own personal story. For more than two decades, she's been a role model on the MCV Campus. Now she's the VCU School of Medicine's newly appointed senior associate dean of medical education and student affairs, and she's inspiring students and colleagues alike as she tries to become the best physician she can be.
It's not unusual for multiple generations to go into health care, and like many students, DiGiovanni was introduced to the world of medicine by her father, who worked in a New York hospital. But her story is a little different; instead of a dynasty of physicians in the family, she came from a humbler background.
Both parents, neither of whom graduated high school, initially worked in a garment factory in New York. But soon after they were married, both were laid off. DiGiovanni's mother, working outside the home in an era when most women didn't, ended up working for the postal service. Her father took a different route — one that inspired and influenced his daughter for decades to come.
"My father got a job working as a janitor for New York City in the Queens Hospital Center. He would come home every day and talk about all the fascinating things the doctors were doing in the hospital. The first time I ever heard the word CAT scan was him talking about it."
His daughter was intrigued, and gravitated toward the sciences. "My dad was a huge influence in my decision to go into medicine," she says. DiGiovanni made him proud, joining the medical school's Class of 1984.
To save money, she lived at home during her undergraduate studies. And though there were options for in-state tuition for medical school, she had discovered the MCV Campus.
"I liked the curriculum here," she says. "At the time, we were one of the few schools that taught an organ-based curriculum. That made a lot more sense to me, to teach in an integrated way."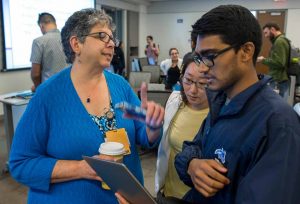 Susan DiGiovanni, M'84, H'87, F'89: "We want to open [students'] eyes to what it's like to work with patients who are very different. As a physician, you have to be understanding.
VCU was a great fit for her. But she also was able to complete an elective at the hospital where her father still worked, which was fun for both and led to some great stories, as DiGiovanni was able to impress her New York colleagues with her connections. "If there was a problem in the clinic where I was working, I could just pick up the phone and call my dad. Five minutes later, he and his crew would show up."
After earning her medical degree, she completed internal medicine and clinical nephrology training on the MCV Campus. She practiced privately for a while, and then won an intramural research training award from the National Institutes of Health. She remained at the NIH for four years, publishing her work on the AQP-2 water channel
in multiple journals. In 1995, though, she opted to return to VCU, eventually shifting from physician-scientist to physician-educator and making her mark at the university — while raising a daughter as a single parent. She dived into various roles including director of the second-year renal course and program director of the nephrology fellowship program. Early in 2017, she was appointed to her current position.
"I have had the pleasure of watching Susan teach for 34 years — as a resident, fellow, faculty, program director and now senior associate dean," says Elizabeth B. D. Ripley, M'86, H'89, F'92, the medical school's interim senior associate dean for faculty affairs. "She is passionate about helping students at all levels understand, and she nurtures our curiosity and personal development. She is committed to all students' success."
Influencing curriculum
DiGiovanni's interest in VCU's curriculum is today even stronger than it was in her medical school days. She was a leader in developing the school's new curriculum, which was introduced in 2013. She says that new approach takes the organ-based studies that first attracted her here even further.
Now the curriculum — the medical school's biggest change in three decades — gets medical students into clinical areas earlier, working as part of teams and being ready to face the challenges of a new way of practicing medicine.
The new curriculum came about from a "backwards design," DiGiovanni explains. "We started out by thinking about what we want our graduates to look like when they walk out the door. We listed knowledge, skills and attitudes. A lot of this has to do with professionalism and communication, empathy and respect — things that are just as important as knowing which medication to use."
Now that the first class under the new curriculum has gone on to residency, she's made a few tweaks to the program. "I've learned that even though certain things sound really grand on paper, keeping things simple is the way to go."
Administration recently simplified the terminology, reorganized a few areas and are improving the assessment pieces to include multiple miniassessments.
While she's thrilled to be able to influence the curriculum, teaching remains DiGiovanni's first love. And as part of her role as a faculty member in the Department of Nephrology, DiGiovanni finds innovative ways to reach her students.
Thinking like a patient
"One of the things we do in the renal course is make the students walk in the shoes of a kidney patient," she notes. "A patient on dialysis has a restricted lifestyle. On dialysis days, they have to sit in a chair for four hours straight."
So DiGiovanni asks students to do the same. Living that life — even for a day — gets students thinking, she says, as they write prescriptions for dialysis or other lifestyle modifications. "It makes them reflect on how hard it was. And when the patient doesn't comply, do you understand why? I try to get them to think about it. As physicians, we can look down on patients who don't follow our instructions. You did it for one day; can you do it for 365?"
Encouraging empathy in students is a big focus in the School of Medicine. Many students have worked with patients from underprivileged areas, but some have not. "We want to open their eyes to what it's like to work with patients who are very different. As a physician you have to be understanding."
'It's OK to seek help'
DiGiovanni's commitment to making sure every student feels supported goes beyond the academic. She readily shares personal stories of overcoming a battle with severe depression to encourage student awareness and coping strategies.
"Depression runs in my family. I had my first episode when I was 14, didn't get treatment and I didn't snap out of it for months." The depression continued, and only years later did she get help.
"As a medical professional, you think it could ruin your career," she admits. Instead, with proper treatment, her career flourished, and today, a quarter century later, she tries to de-stigmatize the condition. "I am very open to talking to students about my struggles with depression, and that I spent time in a psychiatric ward and had electroconvulsive therapy. It's OK to seek help and so much better to go get the care."
Students need to hear stories like that to boost resilience to the stresses of medical school, says JOY SANDERS, assistant dean of the School of Medicine's development and alumni affairs office. She has worked with DiGiovanni mentoring students in small groups for a decade. "She has been inspirational to so many students. And she's able to balance kindness with no nonsense."
DiGiovanni has inspired so many students, Sanders says, because she shows that you can thrive despite a humble background and a severe chronic condition. "We have a lot of first-generation students sitting around that table, and she knows how it feels. She's been there."
By Lisa Crutchfield