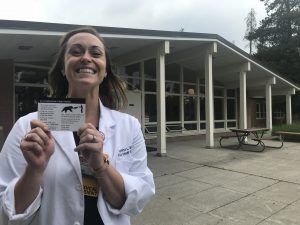 A clinical rotation took the Class of 2019's Kathryn Gouthro to Yellowstone National Park – where they remind visitors that all of the park is bear habitat!
Growing up inside Yellowstone National Park, fourth-year medical student Kathryn Gouthro never had far to travel to see her family doctor.
Three clinics were strategically located throughout the park, but only one was staffed with a full-time doctor. That's where Gouthro went to be treated for colds, strep throat and other childhood aliments.
"That sparked my interest in family medicine," says Gouthro, whose father managed Yellowstone's hotels and restaurants. "The doctor there was not only someone who took care of the people, but he was part of the community. I respected that."
More than 20 years later, Gouthro was back at Yellowstone completing a month-long clinical rotation. She lived and worked at two of the clinics alongside registered nurses and a physician's assistant.
"It was a really awesome experience figuring out what to do with the resources available," she says.
The clinics have X-ray and EKG machines, but no ultrasounds or CT scans. Gouthro could not take a basic metabolic panel, instead sending blood work to an outside lab. With limited resources, she relied on thorough physical exams. She took extra time to get to know her patients, their health habits, lifestyles and family history.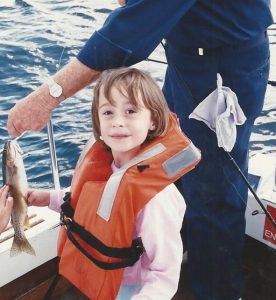 The Class of 2019's Kathryn Gouthro, catching a cutthroat trout on Yellowstone Lake as a child.
She also consulted with her supervising physician and medical director at Yellowstone, Luanne Freer, M'88. But since Freer was off site, Gouthro uploaded patients' files to a secure server and the two discussed treatment options by phone.
"This is such a great experience for students because they can hone their skills," Freer says. "It opens their eyes to the fact that you don't always have to order expensive and extraneous tests. We sometimes can get a little complacent relying on tests instead of really listening."
Freer, who is based outside Seattle, is the associate medical director at Medcor, a large company that holds the contract for medical services in Yellowstone. Since 2005, when Medcor began overseeing the medical rotation elective at Yellowstone, more than 100 physician assistants, nurse practitioners and medical students have completed the program. Gouthro's rotation marked the last time the elective will be open to medial students.
"Rural medicine challenges you," says Gouthro, president of the Class of 2019. "You never know what is going to walk through that door."
Patients are primarily park visitors or employees who live in the park. Gouthro treated everything from ear infections and high-altitude illness to bug bites, cuts, bruises and broken bones. On one occasion she called in a helicopter to transport a stroke patient to the hospital.
"Most of the patients were bummed because they are on vacation and find themselves at the clinic," Gouthro says. "They are just looking for help and are so grateful that you are there. It felt wonderful to make a difference."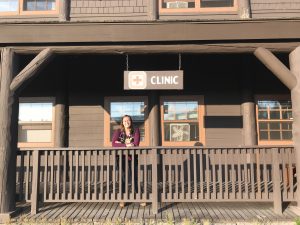 The Class of 2019's Kathryn Gouthro at Yellowstone's Old Faithful Clinic.
Gouthro, who holds a bachelor's degree in political science from Columbia University, learned about the Yellowstone rotation while volunteering at the clinic one summer. She met Freer about that same time when the two raced on the same relay team. When Gouthro applied to medical school, Freer was happy to write her a reference letter.
"She has this way of connecting with people," says Freer, who founded the Everest Base Camp Medical Clinic, the highest-altitude emergency room in the world, in 2003. "She is special."
A member of the Army Reserves, Gouthro is enrolled in fmSTAT – the medical school's Family Medicine Scholar Training and Admission Trackthat's designed to nurture and develop students interested in family medicine careers.
After she completes a seven-year commitment with the Army after school, she says, "I would love to be a rural family doctor. When you are it – when you are the only person available – you have the opportunity to really become a resource for the people there. You become part of the community, which is really a special thing."
By Janet Showalter