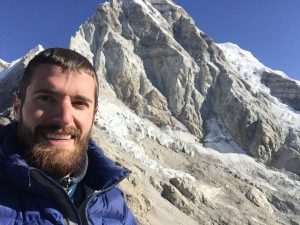 The Class of 2021's Bob Jones hiked to the base camp of Mt. Everest. Scroll below for more pictures from the incoming class.
They've traveled to all 7 continents and can talk to people once they get there. They speak French, Chinese Mandarin, Haitian Creole, Korean and Guarani – that's an indigenous language spoken in South America. Watch out for the one who can recite all eight Harry Potter movies verbatim – that's probably in English.
Of course we like a good medical background, so you'll find an EMT, an EKG specialist and an emergency department scribe. A cancer researcher investigated a drug that's now in Phase I clinical trials. One got medical exposure shadowing a Shaman in the Amazon Rainforest and another got a different kind of exposure. She spent her birthday last year hospitalized in Thailand after catching a mosquito-borne virus.
There's the student who enjoys donating blood. Which is a good thing because her classmates include a phlebotomist and a Red Cross blood drive coordinator.
One student is the newest in four generations of doctors. Another is the first person in his family to graduate from college.
They love sports – and they're good at it. We've got a college quarterback and a short stop who was drafted by the Major Leagues. Plus the college football fanatic who can name mascots to all 128 FBS schools. They compete in field hockey and golf, tennis and badminton — make friends with the student who knows how to string tennis rackets.
There's the one who biked across the country from Baltimore to San Francisco, and the other who learned how to ride five months ago.
Mountain climbers have hiked Table Mountain and to the base camp of Mt. Everest. Another summited Mt. Kilimanjaro. We've had marathoners in Chicago and Boston, a triathlete and even an Ironman. Along with a brown belt in Judo and a second degree black belt in karate.
A licensed open-water diver recently came back from the Great Barrier Reef, a certified deep sea scuba diver can hold his breath for 3 minutes, and we've got an an oyster gardener.
They've worked as a personal trainer, a nutrition counselor and a cab driver from Boston. One tutored refugees in ESL and another launched a nonprofit that helps the homeless. An Air Force engineer has launched, landed and disposed of satellites, a magician has performed for pediatric patients at hospitals in the U.S. and the U.K., and an actress made it out on stage four times a week for two months during her senior year of college – she had to, she was playing Cosette in Les Mis.
There's a volunteer dog rescuer and a knitter who's won two ribbons at the Virginia State Fair. A beer brewer and a barista. And the food blogger behind AMPMBM – it will help you stay regular.
We've got adrenaline junkies who like to skydive and keep bees in their backyard. Another taught fourth grade math and science. And then there's the one who spent some time this summer chasing a moose. Yes, a moose.
Click the images below for expanded views.
The Class of 2021 is amazing!