It's a week that's full of milestone moments for the 216 incoming students who make up the Class of 2020.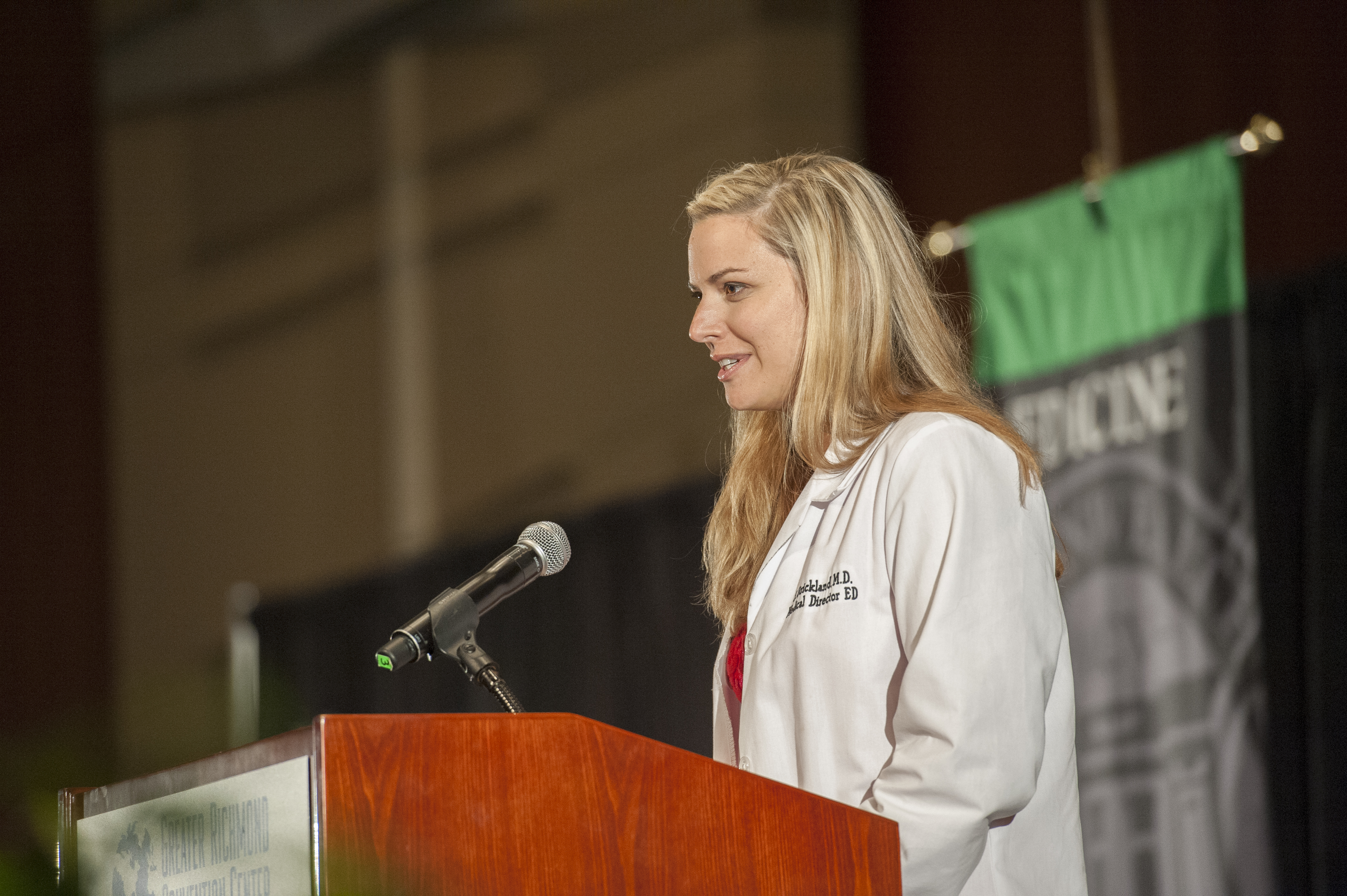 Susangeline S. "Angie" Strickland, M'06, H'09, was keynote speaker at the Class of 2020's White Coat Ceremony.
Roll Call in the historic Egyptian Building. The official class photo under a blazing August sun. And getting helped into their first white coats at a celebratory ceremony with family and friends looking on.

This year's keynote speaker at the White Coat Ceremony tapped into the feeling of eagerness that pulses through the week when she told the students: "Your impact matters now. Not just when you graduate. Not just when you get done with that rotation or this exam. But right now."
Susangeline S. "Angie" Strickland, M'06, H'09, knows what she's talking about. She's stood in their shoes, and she shared stories about her own experiences to show them what's possible.

In medical school, she and her husband, Percy, lived in Church Hill surrounded by neighborhood children who longed for their attention. With a schedule of exams, classes and preceptorships looming, it sometimes seemed crazy to answer the knocks on the door that came at all hours of the day.

Nevertheless, she and Percy teamed up with some of her classmates to offer homework help on their front porch. That act of service has grown into a multi-faceted community program, Church Hill Activities and Tutoring, known as CHAT. With a nearly $2 million budget, it offers eight tutoring locations, a pre-school, a jobs program and 1,000 volunteers – medical students among them.

"You have entered a community who desperately needs you," she told her audience. "I'm talking about Richmond. About the community that surrounds this place of learning.

"You are training to be healers. Dream big and start today. You have an impact to make, so put on that white coat and let's get to it."

Today, Percy Strickland is CEO of CHAT, and Angie serves on CHAT's board of directors in addition to practicing as medical director of the Emergency Department at Bon Secours Richmond Community Hospital. They have six children.
White Coat Ceremony 2016
White Coat Ceremony 2016