"One day in the not-so-distant future we will be leaders in our community. Why not start now?"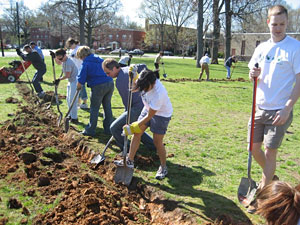 That was the question that spurred the Class of 2012 to hold its first ever Day of Community Service—aka "DOCS 2012." Open to all medical students as well as their family and friends, the M1 organizers were delighted to see four dozen participants lend a hand on Saturday, April 4.
"Community service is a way of life and not something that can be accomplished in a single day," acknowledges first-year student Bethany Morehouse, who along with Kate Wilkinson served as Co-Chair for DOCS 2012. "But for a group of medical students to come together on a single day and make a difference in the City of Richmond, that truly makes a statement about who we are and what we stand for. It gives me a sense of hope and pride in the future of medicine."
The volunteers gave five hours of their time at five project sites around the Richmond area, contributing their compassion and elbow grease to:
M1 Lisa Sienkiewicz and fellow volunteer Mike O'Brien cleared trash and trails at Bryan Park.
ElderHomes

, where they provided basic home repair for elderly residents in the north Church Hill area.
Chesapeake Bay Foundation benefited from trash clean up and trail clearing at Bryan Park.
Tricycle Gardens now has a foundation for a community garden in the Fan.
Read Aloud Virginia's school-age children at the East End Library enjoyed a read-aloud session that was combined with craft projects.
VA Book Barn is better prepared to deliver books to non-profit reading centers after the volunteers organized more than 4,000 donated books.
M1 Tina Lung volunteered to read aloud with schoolage children at the East End Library.
Lauren Dockery volunteered at the East End Library with Read Aloud Virginia. "It was a fun way to spend a Saturday morning and we got to meet some really neat kids who were looking for something fun to do," Lauren said. "We even had a little girl who read aloud looking at the book upside-down!"
Those who could not participate on Saturday had another avenue for supporting their community. A food drive was held in the week leading up to the DOCS Day that brought in more than 130 pounds of food that the organizers delivered to the Central Virginia Food Bank.
The Class of 2012 is committed to and active in the Richmond community. The class even elected a Community Service Chair, Kate DiPasquale, who is a native Richmonder and familiar with some of the community's needs. Last fall, she led a Community Service Task Force meeting. It was there that the idea of a Day of Service took shape, both as a way to give first-year students the opportunity to participate in a meaningful service project as well as explore their new home.
Based on the success of the first DOCS Day, the students aim to hold the event annually.