Zach Kons observing in the operating room with Mark Richardson, MS'99 (PHIS), MD-PhD'05.
In 1998, a young man walked into the office of Linda Costanzo, Ph.D., looking for direction. Mark Richardson, MS'99 (PHIS), MD-PhD'05, was then a self-proclaimed "failed medical school applicant" working toward his master's degree in physiology.

In 2020, another young man walked into that same office – again looking for direction. Zach Kons was a rising third-year medical student whose clinical rotations were disrupted due to COVID-19.

She sent them both to her husband, Richard Costanzo, Ph.D. The Costanzos, longtime professors in the Department of Physiology and Biophysics, retired from VCU School of Medicine's full-time faculty in recent years, but remain on the MCV Campus and continue to serve the medical school – Linda Costanzo in the medical education office and Rich Costanzo on the research front.
Though 20 years apart, both young men had an interest in research and neuroscience. They were looking to gain knowledge, experience and an edge. Richardson to beef up his resume to reapply to medical school. Kons to figure out how best to continue learning with the unexpected disruption in his schedule.

Rich Costanzo put them to work in VCU's Smell and Taste Research Laboratory, where he serves as research director. The lab has long been a place where innovations for the loss of taste and smell have been sought. It just so happened that Kons' arrival to the lab coincided with a worldwide pandemic in which the loss of smell was a chief symptom, and the spotlight on the topic had never been hotter. He jumped right into a study on COVID-19 patients and helped develop a survey to collect key data.

Kons notes, "It was interesting to learn how to conduct research in a time when the push to get the research out wasn't for grant funding or institutional pressure to publish, but instead to truly help people who were on the frontlines and to help patients understand what was happening."

Rich Costanzo's lab is a fertile field for research advances, mentorship opportunities and even – on occasion – relationships that span decades. For Kons, it was this lab and the matchmaking services of the Costanzo duo that would open an unexpected door to Boston.
A team, decades in the making

"The uncertainty and upheaval we have all experienced over this past year makes us even more grateful when our alumni step up to support our students," says Dean of Medicine Peter F. Buckley, M.D. "Drs. Richardson and Holbrook's generosity to Zach is a phenomenal example of alumni opening doors to extraordinary opportunities."
Back as a student in Rich Costanzo's lab, Richardson first met Eric Holbrook, M.D., H'02, who was completing an NIH fellowship in the lab prior to his otolaryngology residency at VCU.

As they like to do, the Costanzos remained in touch with the pair, watching as Richardson became a leading expert in the field of brain stimulation, appointed director of functional neurosurgery at Massachusetts General Hospital with an endowed professorship in Neurosciences at Harvard Medical School. Meanwhile, Holbrook's career also led him to Harvard Medical School as an associate professor of otolaryngology and director of the Division of Rhinology at Massachusetts Eye and Ear.

When Richardson and Holbrook both landed in Boston, Rich Costanzo orchestrated a reunion in 2019, pitching a collaboration to help breathe life into his longtime dream to create an olfactory implant to restore someone's sense of smell, much like a cochlear implant does for hearing.

"If it hadn't been for Mark and Eric being at Harvard, I don't think any of this would have come about. Eric is in the nose. Mark is in the brain. I've had this idea. It's the perfect storm," says Costanzo, also an electronics buff and an inventor behind multiple patents.
In this 1998 photo from the lab of Richard Costanzo, Ph.D., Mark Richardson, MS'99 (PHIS), MD-PhD'05, is seated in the front row with Eric Holbrook, M.D., H'02, standing in the back. The two reunited as faculty members at Harvard Medical School.
"It is amazing that we all are working together again on a project of similar interests," Holbrook says.

Supported by a three-year, $600,000 grant to Mass General, the project team has been studying the olfactory perception network, using brain recordings from epilepsy patients implanted with clinical mapping electrodes, hoping to discover how the sense of smell might be restored through a brain-computer interface.

"Then along comes Zach and COVID," Costanzo says.
Coming full circle

As medical student Kons' work in the Costanzo lab continued, so did his interest in research and neuroscience.

"I always kind of knew I wanted to do something surgical," says Kons, who is from California and completed undergraduate work at University of California, Davis. "When I did my neurosurgery rotation, I thought all the residents and attendings were phenomenal and so supportive of each other. That was a really cool thing to see from a department that works so hard and is always in the hospital. So I gravitated toward it pretty quickly."

When the Costanzos saw his growing interest, they connected him with Richardson, who agreed that a year of research would maximize Kons' potential by orienting him to a neurosurgeon-neuroscientist career path.

"So we figured out a way to get Zach to Boston to become a part of the implant work and give him more exposure to neuroscience," Rich Costanzo says.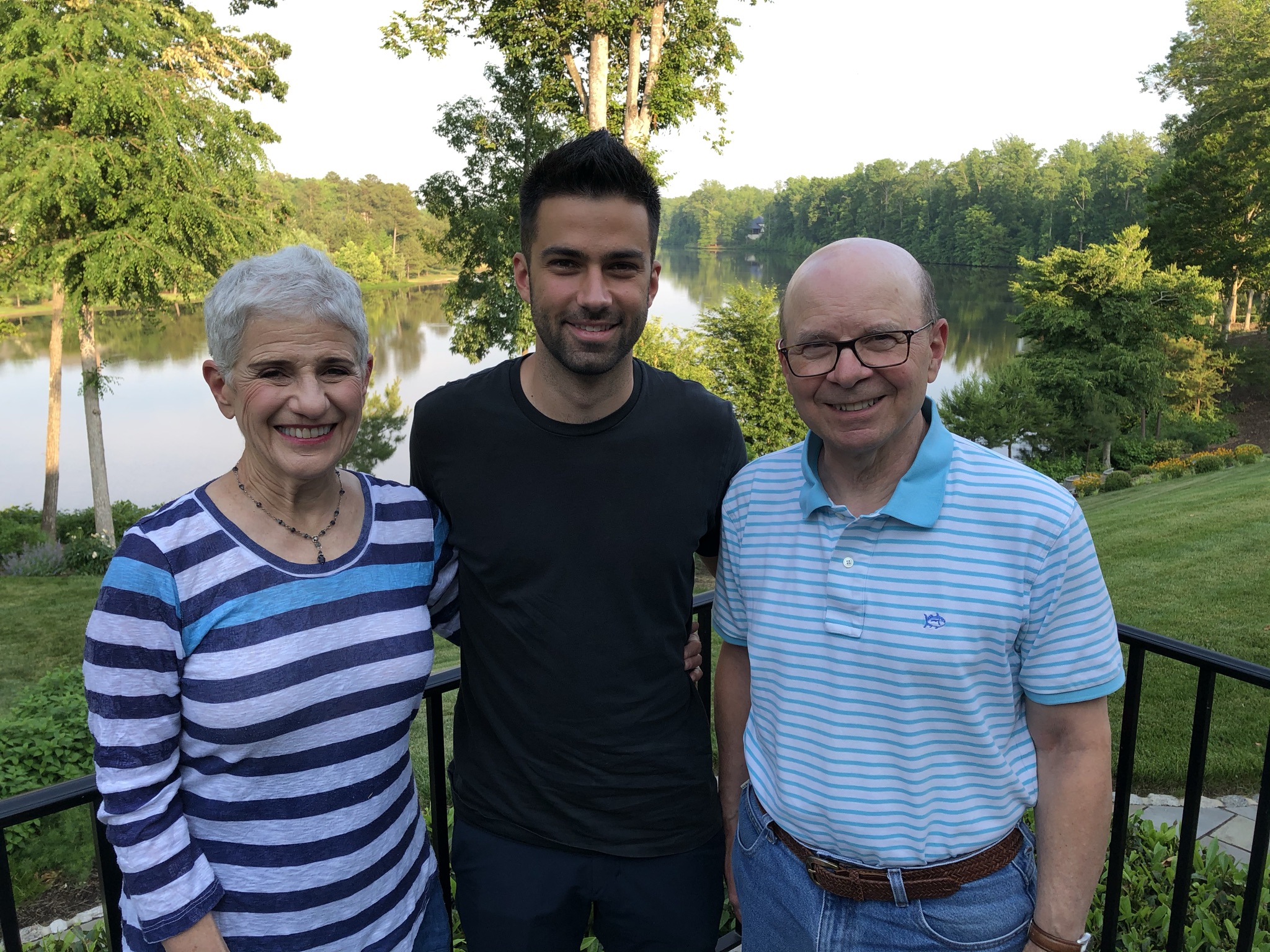 Zach Kons (center) credits Linda Costanzo, Ph.D., and Richard Costanzo, Ph.D., with paving the way for his research year in Boston.
A packed 1994 Ford F-150 and a spirit of adventure

Kons, who'd never before visited Boston, moved there in June 2021 and will stay for about 11 months, returning to VCU for his fourth year of medical school.

"This opportunity is a chance to learn at one of the world's top hospitals with one of the world's leading surgeons in functional neurosurgery," Kons says. "I couldn't ask for a more perfect opportunity to start a career."

To get ready, Kons started teaching himself computational neuroscience, and is already conducting signal processing and analyzing data for the olfactory project. He's also working on epilepsy projects and observing in the operating room, which is where he met Holbrook for the first time.

"Rich and Linda told me that Zach is the best student and hardest worker they'd seen in years when they proposed that Zach do a year of research here," says Richardson, who is supervising Kons in MGH's Brain Modulation Lab. "You can't get a better recommendation than that. Since meeting Zach, I agree with them. His work ethic is old-school and there's no doubt about his eventual success."
Paying it forward

From left to right, Eric Holbrook, M.D., H'02, Mark Richardson, MS'99 (PHIS), MD-PhD'05, and Richard Costanzo, Ph.D.
None of this would have happened without the Costanzos, and VCU's unique expertise in smell and taste.

"Rich and Linda are pure mentors, always looking how to improve career paths of students and mentees," Holbrook says. "Rich continues to provide mentorship and connections with olfactory researchers that have been instrumental to my career."

Richardson agrees. "They recognize students' unique potentials. Here I was a failed medical school applicant and they saw something in me and gave me a chance. As for Zach, they saw a way to really expand his experience and knowledge. VCU trains top-notch people and facilitates these top-notch opportunities."

Kons says that he is very grateful for this experience and understands it was an unselfish move of the Costanzos to suggest that he take a year away from his medical studies to do research at a different institution.

"Dr. Richardson is amazing," Kons says. "Even though he's busy, he makes time for me and has brought me into his office a few times to check in on me as a person. It's cool to have a leader who is working as hard or harder on the team than everyone else. You want to work for a leader like that.

"This collaboration between VCU and Harvard is all because of Dr. Costanzo and how he forms and keeps relationships with students. Dr. Richardson and Dr. Holbrook are making a huge difference for me. As a student, it's great to see alumni who are open to helping a student."