When it comes to seeking mental health care, says Robert Findling, M'87, M.B.A., patients and their families never say, "We came too early." To the contrary, he notes, many people never receive any care at all despite the toll that mental illness can take.
This story was published in the spring issue of 12th & Marshall. You can find the current and past issues online.
School of Medicine alumnus Findling, who assumed his new role as chair of the Department of Psychiatry in January, wants to focus on supporting and continuing to grow VCU's efforts to change that picture, both locally and globally. "We want to really leverage the power of a university to do the most good, not only for patients in Richmond but for patients around the world," he says.
Now a specialist in child and adolescent psychiatry and pediatric psychopharmacology, Findling believed as a student that neurosurgery would be his destination. "I had done neuroscience research as an undergraduate, and that really got me interested in the brain," he says. But a rotation in child psychiatry set him firmly on a different path.
"What I really enjoyed about psychiatry was its breadth," he says. Drawing on brain science and biology – but also extending into psychology, human behavior, family, community and more – "it was that broad scope and diversity of things that are necessary to become a competent, compassionate psychiatrist that really drew me to the field."
While completing his residency in the Triple Board Program at Mount Sinai Hospital in New York, Findling served as chief resident and earned board certifications in child and adolescent psychiatry, psychiatry and pediatrics. More recently, in 2011, he earned an M.B.A. through an international program with New York University, the London School of Economics and Écoles des Hautes Études Commerciales in Paris.
But throughout his career, Findling's primary focus has remained on young people, particularly those with severe psychiatric illnesses such as schizophrenia or bipolar disorder. He is a distinguished fellow of the American Academy of Child and Adolescent Psychiatry, which last fall honored him with the Norbert and Charlotte Rieger Award for Scientific Achievement in recognition of his published research on bipolar disorder.
He also was invited to join the advisory board for a multi-year public broadcasting initiative that will produce films that will bring issues surrounding mental health to the attention of millions of viewers. The first film, to premiere in 2022, focuses on people younger than 25, which is often when mental health conditions first appear.
"I refuse to believe that any child should be written off," Findling says. That's what drew him to child psychiatry in the first place. "It is indescribably gratifying to get kids whom others have written off and watch them thrive and develop and be on the path toward a future of success and happiness."
Lingering stigma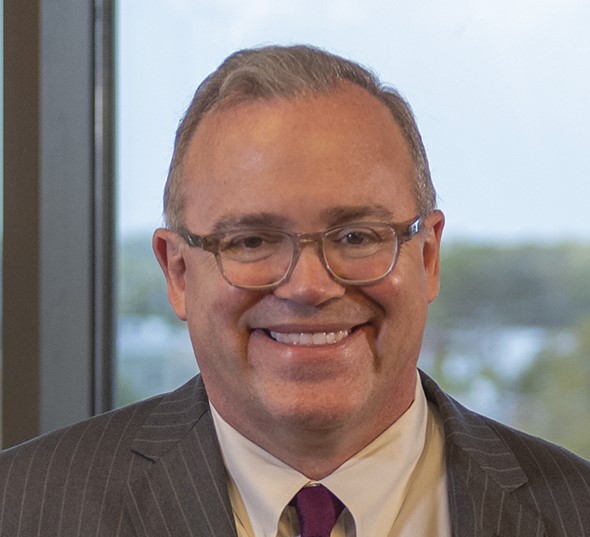 Alumnus Robert Findling, M'87, M.B.A., has returned to the MCV Campus to lead the Department of Psychiatry.
Photography by Allen Jones, VCU University Relations
The toll of mental health disorders is undeniable; the World Health Organization estimates that untreated mental health issues account for 13 percent of the world's total "disease burden," the impact of a health problem as measured by indicators such as financial cost, mortality and morbidity. By 2030, WHO predicts, depression will be the leading cause of disease burden globally.
In the United States, it is estimated that nearly 1 in 5 Americans has a mental health condition. According to the Centers for Disease Control and Prevention, suicide rates have risen more than 30 percent since 2001. The problem is particularly acute for young people; mental health disorders are the leading cause of disability, and suicide is the second leading cause of death — after unintentional injury — among youths between the ages of 10 and 24.
"These are not just diagnoses," Findling says. "These are truly disorders that are associated with real human suffering and disability, as well as mortality."
To compound the problem, he adds, "There is a stigma associated with mental health that there isn't with many other conditions in the rest of medicine."
In his own training, he came across "real doubters" who didn't believe that mental health disorders were genuine medical conditions. Much like the similarly stigmatized substance use disorders, mental health problems were viewed — even by some in the medical profession — as the result of bad choices, personal weakness or other psychological processes that were somehow independent of brain function.
There was particular skepticism that the kind of severe conditions in which Findling has specialized, such as bipolar disorder, could exist in children at all. Shame and secrecy, he observes, have been the unfortunate result, accompanying and worsening the burden of mental illness and discouraging people from seeking treatment.
Scientific accuracy
Decades of research, however, have established a solid body of evidence for the biological basis of mental health disorders, such as the role of genetics in conditions including schizophrenia and autism spectrum disorder. Fascinating recent work has suggested possible connections between mental health and immune system function or with the gut microbiome. Incisive studies have demonstrated the profound impact of trauma and adverse childhood experiences on emotional development, even at the level of gene expression.
Research universities such as VCU have played a pivotal role in this progress, says Findling's predecessor Joel Silverman, M.D., H'73, who for more than 35 years served as chair of the Department of Psychiatry. "The focus on high-quality scientific research is one of the most important changes," Silverman says. "More and more people are understanding that mental illnesses are real diseases."
Research also has resulted in better diagnosis and treatment. "We can now be much more precise than we used to be about the means by which to come upon an accurate diagnosis," Findling says. "Only with accurate diagnosis can you lead to effective plans of treatment." The challenge, he acknowledges, is that there is no definitive test — no scan or bloodwork or conclusive symptom — that can pinpoint a diagnosis. Yet from basic checklists to targeted interviews, an array of evidence-based tools is now available to take diagnosis out of the realm of impressionistic approaches and allow for real clarity and reliability, Findling says. "And that precision makes all the difference in the world."
Barriers to care
Still, Silverman says, stigma lingers, along with the misperceptions "that people don't change and treatment doesn't work."
An even more significant problem is access: Even when people seek care, too often they can't obtain it.
According to the U.S. Department of Health and Human Services, half of all mental health problems begin by the age of 14. As Findling points out, early identification, diagnosis and evidence-based treatment are the best opportunities "to get kids back on track." Yet more than half of U.S. adults and children with mental health conditions receive no treatment. And within that statistic can be found even greater disparities based on factors such as race, income level, insurance coverage and even geographic location. Virginia, for example, ranks 37th among states in access to care, according to the community-based nonprofit Mental Health America.
"One of the challenges we have to face in psychiatry is our issues with access," Findling says. "We can't talk about getting people in earlier rather than later if our doors are not wide enough to let more people in."
Local focus, global leadership
Previously, at Johns Hopkins, Findling held joint clinical and academic appointments and served as director of child and adolescent psychiatry and vice-chair of the Department of Psychiatry and Behavioral Sciences. He also led initiatives to expand access to care through partnerships with a wide range of professionals, a model he wants to bring to VCU to strengthen and grow work already in place.
By partnering with professionals using interdisciplinary approaches — including physicians, nurse practitioners, therapists, social workers and other medical specialists — "We can provide the most amount of care with the resources that are currently available."
Sandy Lewis, Ed.D., executive director of the Department of Psychiatry's Virginia Treatment Center for Children, finds this approach encouraging.
"We know that most likely we will never have enough psychiatrists to meet the demands for both adult and child services," Lewis says. However, she adds, "Dr. Findling absolutely believes we can do more together, working collaboratively to open access and explore innovative ways of delivering services."
Research will be another priority as Findling builds upon the legacy of Silverman, under whose tenure work by Department of Psychiatry faculty has gained international standing. Findling sees research as "a way of serving all of mankind and making a difference in people's lives all over the world."
Here, also, he plans to forge partnerships and create collaborations. "Our commitment as a clinical entity is to our community and serving as a resource to the most vulnerable patients anywhere," he says. "But for us to really do the most good, it is by doing research that informs the field."
That goal will be well-served by Findling's selection and funding as one of six faculty members, universitywide, to hold a C. Kenneth and Dianne Wright Distinguished Chair in Clinical and Translational Research.
"Dr. Findling is a tremendous addition to our neuroscience initiatives," says Dean of Medicine Peter F. Buckley, M.D., who is himself a psychiatrist and expert in schizophrenia. "Mental health conditions are ubiquitous, and they are very often poorly understood. Dr. Findling brings 20 years of experience in working to expand our understanding through his leadership of multi-site clinical trials and longitudinal studies funded by the National Institutes of Health."
First and foremost, Findling says of his new position, "I have to do a lot of listening. I am the new kid, which makes it important for me to learn what is here."
Reflecting on coming full circle and returning to the school where he became a physician, Findling says that what drew him to the MCV Campus as a medical student is what has brought him back. "There was a sense of belonging," he says. "This was the right fit for me." Among the most important things he learned at VCU were a sense of "physicianly ownership" and an understanding of how important it is to be compassionate and responsible, not just technically capable.
Those lessons have informed his career since and will continue to do so. "Choosing to go here for medical school was one of the best decisions I ever made."