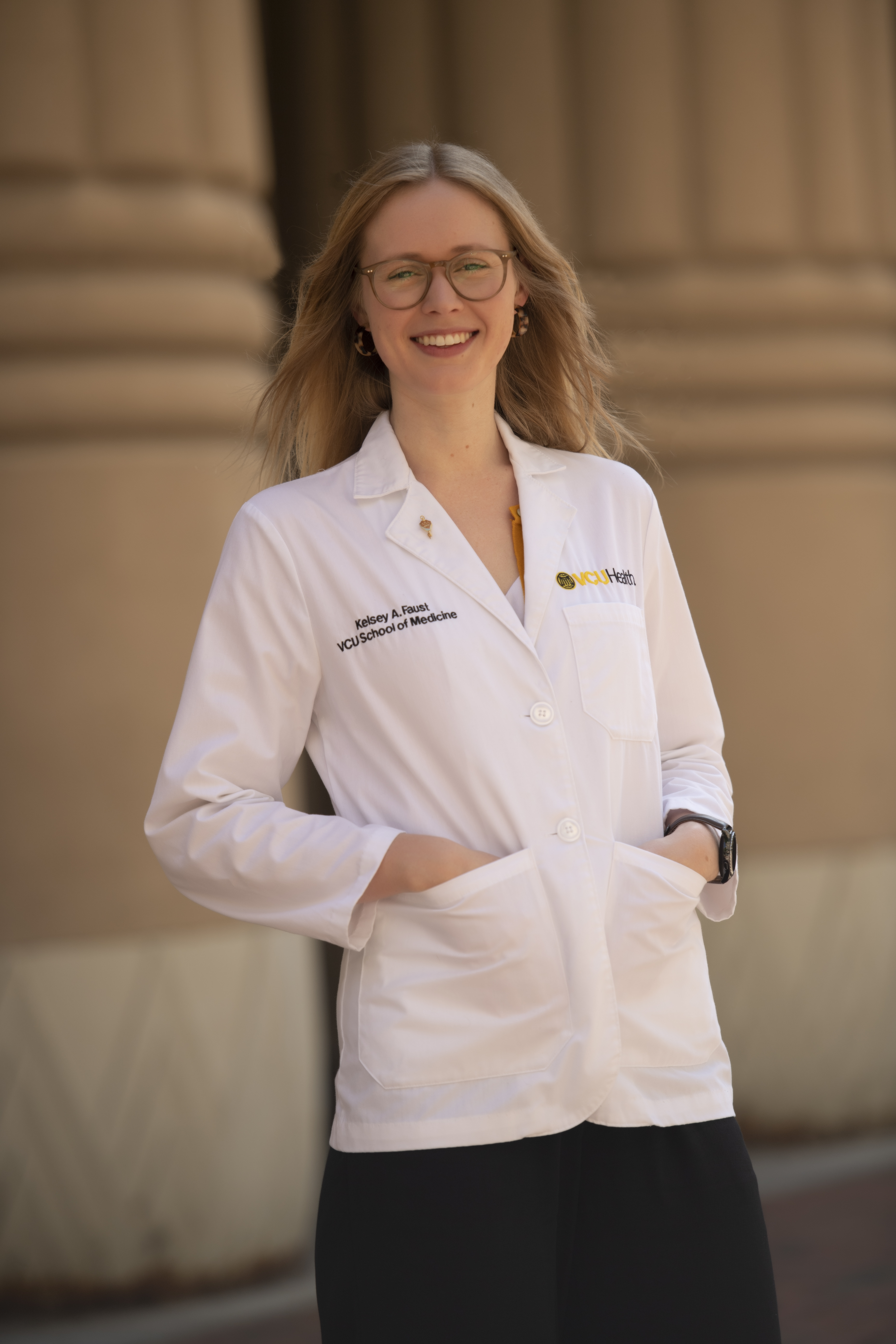 The first in her family to earn a college degree, the Class of 2020's Kelsey Faust now has her sights on becoming a neurosurgeon. Photography by Tom Kojcsich, VCU University Relations
The Class of 2020's Kelsey Faust loves stories. "There are so many interesting people in the world," she says. "That was something that really drove me toward medicine."
It's also what attracted her to the field of neurosurgery.
The complexity of patients' cases, she says, requires a continuity of care over time. As a result, "you really get to know patients' stories."
On her path to becoming a neurosurgeon, Faust has learned not to take herself too seriously. "When you're laughing," she says, "everything's better; even the worst job is fun."
This she knows firsthand. A first-generation college graduate from Florida, Faust worked four jobs during her senior year of high school to help her family make rent payments, keep the lights on and put food on the table. Health problems for her stepfather had rendered her mother, a hard-working dental hygienist, the sole provider for a family of six.
When Faust applied to college, no one in her family had experience navigating the process. "One of the biggest challenges is knowing what resources are out there and how to connect with them," she says. In her second year at the University of Florida, she learned of a full scholarship program for first-generation students that was only accessible to incoming freshmen. "That was a huge let-down," she remembers.
Now, as a medical student acutely aware of mounting debt, Faust is grateful to hold the philanthropically funded A.H. Robins Scholarship, awarded to students based on financial need and academic excellence. Endowed by 1933 School of Pharmacy graduate E. Claiborne Robins Sr. in 1965 in memory of his grandfather, A.H. Robins, the gift "has helped take some of the stress out of affording medical school, and it's nice to know that I will graduate with less debt," Faust says. "It gives you a little bit of peace of mind – which you rarely have in medical school," she laughs.
On the MCV Campus, Faust has used her experience to help connect others facing similar challenges with the appropriate resources. After receiving an anonymous nomination, she accepted a position on the medical school's admissions committee. When meeting with groups of applicants, she shares tips for avoiding expensive test prep and points them toward free resources that she found useful. "You try to be the person you would've wanted in that spot," she says. "It's very rewarding."
In 2017, Faust founded a student chapter of the American Association of Neurological Surgeons. She organized several successful events connecting medical students with residents and faculty who could review articles with students in journal clubs and even provide research opportunities to interested students.
"She's paid big dividends for us," says R. Scott Graham, M'92, H'98, director of the Department of Neurosurgery residency program, citing a promising pipeline of students who are interested in neurosurgery as a result of the interest group Faust created.
Two things stand out about Faust, Graham adds. "She's humble. She follows through." In a team environment, he says, "those are really important characteristics. When she sets out to do something, she carries it all the way through."