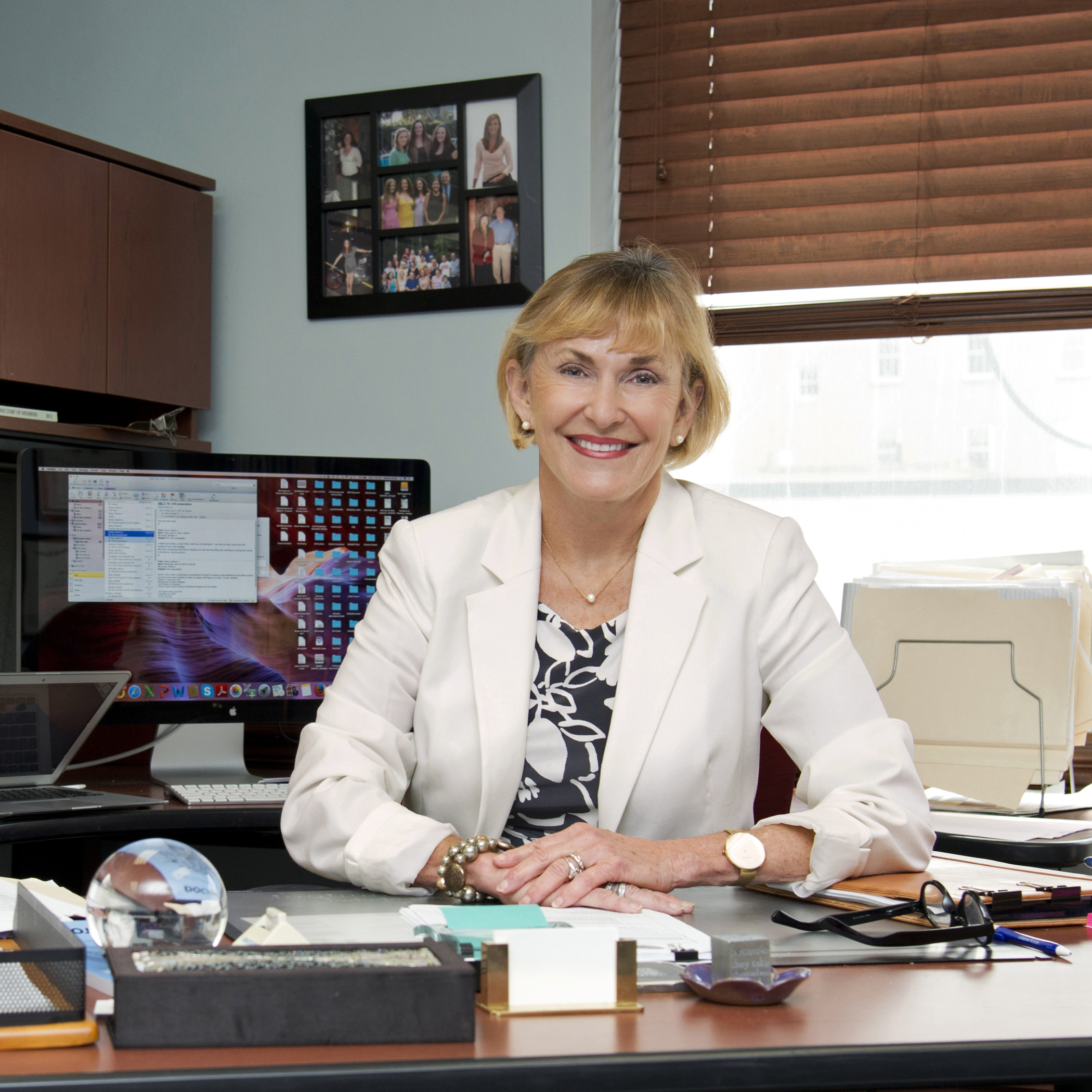 Photography by Anne Thompson, Medical University of South Carolina
While some children grow up in families steeped in sports or immersed in the arts, Kathleen Brady's childhood was framed by science.
Her father, a behavioral pharmacologist at Johns Hopkins, helped train the primates that preceded NASA astronauts in space flight. His friends and colleagues were frequent guests in their home, and young Kathleen would sit in on their conversations. She conducted her own small behavioral experiments and turned to her father for advice on science fair projects.
"His help and our discussions over the years were a huge influence," says the daughter who earned her first author credit in the fourth grade with a paper in the Journal of the Experimental Analysis of Behavior.
Today, Kathleen Brady, M.D., PHD'81 (PHTX), is vice president for research, a distinguished university professor in psychiatry and director of the South Carolina Clinical and Translational Research Institute at the Medical University of South Carolina, dividing her time equally between administrative and research roles. She is the current president of the International Society of Addiction Medicine and has served in extensive advisory and leadership positions in her field.
A widely respected and extraordinarily accomplished clinical researcher, a committed mentor and a tireless advocate, Brady has dedicated her career to helping redefine our understanding of addiction and to promoting evidence-based approaches to treatment.
An early interest in addiction science
In 1976, having earned a double-major degree in psychology and biology from Fordham University, Brady arrived on the MCV Campus in pursuit of a Ph.D., studying the impact of drugs and chemicals on behavior. It was her father, not surprisingly, whom she had asked for advice on the best programs in the country. VCU's Department of Pharmacology and Toxicology was among those he recommended, particularly the work of Robert Balster, Ph.D.
"I really hit it off well with Bob Balster from the very beginning," Brady says. "One of the things I knew early — and if anything, has become truer the more experience I get — is that it is really important to have good mentors, people whose science you not only admire but also how they live their lives."
In Balster she found a mentor she describes as a "brilliant scientist and very productive." She also admired his positive outlook and ability to maintain a healthy work-life balance.
One of the most foundational things Brady learned from Balster, she says, was "good, solid experimental design." In his lab – thanks to a new National Institutes of Health grant he was just launching – they focused on what was then gaining rapid ground as a new class of abusable "club drugs" including phencyclidine, or PCP (dubbed "angel dust"), and ketamine. Researchers called them dissociative anesthetics.
"Kathleen had a strong interest in the addiction field even before she came to VCU," says Balster, now the Luther A. Butler Professor of Pharmacology and Toxicology. Her research, he says, "was on the forefront of the first real knowledge about that class of drugs."
Brady worked with animal models which, she notes, offer researchers the advantages of broad control over the experimental environment and other parameters. However, addiction and substance use disorder — as with all matters of human health and behavior — live not within such managed confines but rather within the messy, disorderly world of everyday life.
Brady understood that working with humans could be unpredictable. But in trying to assess the subjective effects of drugs and the factors that drive their use and abuse, ultimately she felt that working with humans would bring her one step closer, in part "because they could actually talk to you."
A summer spent doing laboratory-based human research at McLean Hospital, a psychiatric facility affiliated with Harvard Medical School, "sealed the deal," says Brady, leading her to pursue an M.D. degree at MUSC.
Following medical school and a psychiatry residency (including serving as chief resident), Brady completed a fellowship in addiction psychiatry before joining the MUSC faculty as an assistant professor. She had continued her research throughout her medical training — "I don't think there was a year when I didn't publish something," she says — and came to her new faculty position with a grant in hand, establishing a precedent that has continued throughout her career.
Brady has been instrumental in bringing in more than $120 million in research funding during her years at MUSC, and her CV runs to some 55 pages of appointments, activities, presentations, honors, awards and publications.
An evidence-based approach to addiction
Not that long ago, addiction and substance use disorders were widely regarded as a kind of personal weakness or failure of individual will. Brady has contributed to a major shift in this view by establishing the neurobiological basis of addiction during her three decades at MUSC.
"The view of addiction as fundamentally a brain disease — the result of alterations that drugs produce in the brain – has happened during her career," Balster says. Brady's work, he adds, has been at the forefront of combining neuroscience and clinical psychiatry research to understand that.
As Brady explains it, her work has focused on exploring gender differences in addiction and elucidating the roles that early childhood trauma, stress and stress-reactivity play in addiction development and relapse.
"We have discovered that the flight-or-fight stress system in drug-addicted women is actually more dysregulated than it is in men — and that dysregulation is highly correlated with relapse," Brady says. "A lot of people with addictions, particularly women, have long histories of early childhood trauma that contribute to stress-system dysregulation and make them more vulnerable to develop addictive disorders."
"Stress and trauma have very significant effects on the biology of the brain," Balster agrees. "You can trace a lot of the interest in the importance of trauma to Kathleen's work. It's one thing to say there is an actual correlation; she has been interested in the actual mechanisms."
Brady also has contributed to a growing body of research identifying how comorbid mental health disorders such as anxiety, depression or PTSD can play a role in addiction.
Addiction is "really a biopsychosocial disorder," she says, "and every individual presents with and has different facets to their addiction. Thirty years ago, when I started in this field, there was not much communication between the psychiatric field and the addiction field. There was little recognition of the important role of psychiatric illness, stress and early childhood stress both in the development of addictions and in driving continued drug use."
If helping establish the how and why of addiction has been central to Brady's work, perhaps even more important has been building on that research to promote evidence-based treatments, including medications, "that really target correcting some of the underlying neurobiologic abnormalities."
She cites, for example, replacement therapies that have been developed for opioid dependence. By making it easier for people to stop and remain off drugs, she says, "These medications can actually save lives and give people the breathing room and opportunity to get their lives back together."
To that end, Brady considers one of her most important contributions to have been leading the effort to establish MUSC as a central "node" in the Clinical Trials Network (CTN) of the NIH's National Institute for Drug Abuse. NIDA created the CTN to enhance the delivery of scientifically based treatments to drug abuse patients.
As a CTN node, Brady explains, "We run clinical trials in front-line addiction treatment programs throughout the Southeast to promote evidence-based treatment." Initiatives include investigating the efficacy of telehealth services in addiction treatment and engaging overdose victims in treatment while in the ER and giving a "warm hand-off" for follow-up care.
"Her seminal work has been a major driver of the modern push to develop and deploy combined treatments that recognize the myriad facets of complex psychiatric phenomena like chronic stress, PTSD, anxiety and ​substance use disorder," says Ruben Baler, Ph.D., health science administrator at the NIDA. And while Brady's standing as a scientific leader is unquestionable, he says, "A truer measure of her contributions can be found in the lasting public health impact of her work, which includes a more humane understanding of ​substance use disorders​."
An advocate for team science
Brady serves as co-principal investigator for the MUSC CTN node, adding to an already lengthy list of roles, responsibilities and accomplishments which, it should be noted, includes having raised three daughters with her husband, now-retired psychiatrist R.B. Lydiard, M.D., Ph.D. Brady gave birth to their first child while in medical school, her second while in residency and her third as a new assistant professor.
It's no wonder friends and colleagues call Brady "a rock star" or "Renaissance woman" and, frankly, marvel at her productivity.
"I can't even begin to fathom how she accomplishes all these significant leadership jobs and continues to be an amazingly productive scientist," Balster says.
Brady acknowledges having been "blessed with a high energy level and good organizational skills. I am good at prioritizing," she says. She is quick to note that her work is deeply collaborative, and she credits mentors, colleagues and those she has mentored herself as essential to her success.
"I believe strongly in team science," she says. "My productivity is often a reflection of a lot of strong people around me who are also being productive, and we are all helping each other in our scientific discovery."
It's an approach she can trace back to her years on the MCV Campus, which she describes as a vibrant and supportive learning environment for which she still holds some of her fondest memories.
"This department has graduated a lot of people who have done very well, and Kathleen is certainly one of the leaders," says William Dewey, Ph.D., Louis S. and Ruth S. Harris Professor and chair of the VCU Department of Pharmacology and Toxicology.
"She is recognized in the field, without question, as one of the most eminent, excellent scientists in drug abuse research. We should be extremely proud of her."