Milestone moment
On Friday, May 12, the medical school hosted ceremonies for the M.D. graduating students as well as its other advanced degree graduates. The Convocation and Hooding Ceremony celebrated the success of the Class of 2017, the first M.D. class to graduate under the school's new C3 Curriculum at the VCU School of Medicine.
Designed to emphasize team-based learning and earlier clinical interactions, the curriculum's success was evident through numerous student achievements: a 98 percent pass rate on the USMLE Step 1 exam with an unprecedented 73 students earning scores of 250 or higher, followed by a 98.5 percent pass rate on the USMLE Step 2 with again more than 70 students earning scores of 250 or higher (including seven students who scored greater than 270).
Messages from Dean Buckley:
Additionally, over 99 percent of graduating seniors matched to a residency training program in the largest and most competitive residency match since the National Residency Matching Program started in 1952.
In short, the Class of 2017 has many reasons to be proud.
Convocation Speaker Jerry Strauss III, M.D., Ph.D., Dean of Medicine, 2005-17
Meet some of this year's graduates:

Baaba Blankson

Jackie Britz

Clay Downey

Tim Kegelman
Michael Krouse

Bridget Quinn

Braveen Ragunaathan

Yael Tarshish

John Weeks
Ashley Wiliams
"You are very fortunate," said keynote speaker and former Dean of Medicine Jerry Strauss III, M.D., Ph.D., who remains on faculty in the Department of OB-GYN. "You have a wonderful career ahead of you. At an incredible time when technology and big data can transform health care delivery and public health, I envy you because you will have the opportunity to shape the use of these powerful tools … And when your career is over, you will be able to look back and reflect with satisfaction upon what you have done for individuals and humanity. Not too bad."
Strauss then shared three lessons on building resilience with the Class of 2017.
Strive for equanimity. "There is no one secret to achieving equanimity. The path to it is very personal — family, friends, religion, meditation, yoga. For me, it has been careful reflection and, whenever possible, humor. Life sometimes takes you on bizarre journeys. Why not enjoy the ride?"
You don't know what you don't know. "I've taken that lesson to heart. Not to lack confidence about things that I do know, but to always remember that there are things that I may not know. You should always remember that and you should beware of colleagues who have not learned this lesson. There is no room for amateur hour in medicine."
Have a passion and stick to it. "Have a commitment and a passion that you can bring to fruition."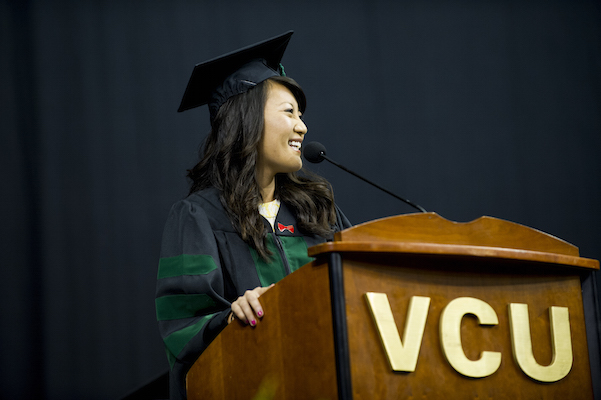 Class of 2017 President Yeri Park
Class President Yeri Park, M'17, delivered her farewell address to classmates, recalling the uncertainty of the first days of medical school and how the class overcame those challenges together. "That uncertainty is part of our growth. It's a crucial factor that will make us better doctors in this lifelong journey. We feel uncertain because we care. We care about patients, we care about the outcome and we understand there's so much more at stake in everything we do.

"During those times, I'm thankful to have had all of you by my side, providing me and each other with the utmost support. Each of us has passed through those feelings and gained a piece of knowledge, an experience and a millimeter of thicker skin."

Park also spoke of the loss of a classmate during the first semester of medical school. Many students wore a red bow tie pinned to their graduation robes in remembrance of classmate Mohamed Ibrahim, who received special recognition later in the ceremony.

"I can say without a doubt that Mohamed's presence created a sense of unity amongst his classmates that I have never seen in a medical school class before," said Christopher Woleben, M'97, H'01, associate dean for student affairs. "His legacy lives on today with the countless medical students who collect medical supplies for United2Heal and donate their time to advise pre-medical students."


Dean of Medicine Peter Buckley, M.D.
That kind of involvement with the community was a theme of the remarks from Dean of Medicine Peter F. Buckley, M.D. "Be visible, be engaged," he encouraged the class.
Remember, he said, patients are the best teachers. "Carry those patient experiences with you and cherish their remarks throughout your career. It is what will get you through the rough times." He spoke of the importance of going the extra mile — following up with patients, calling them in the evening and taking time to explain a diagnosis or procedure. "You will be measured on how kind a doctor you were … did you go out of your way to help somebody?"
Advanced Degree Recognition Ceremony
Graduation weekend also marked the conclusion of training for students with advanced degrees, including 44 who earned doctoral degrees, 55 who earned master's and 67 certificate graduates.
Jan F. Chlebowski, Ph.D., the medical school's associate dean for graduate education, noted that all graduates of the Human and Molecular Genetics program — the only master's program of its kind in Virginia — had landed employment after graduation. He attributed this to the "explosion" of available genetic data, adding that the "concept of personalized medicine is no longer science fiction.
In addition, many graduates earning their master's degree in addiction studies will go on to jobs in addiction policy and working toward solving the opioid epidemic both in the U.S. and around the world.
By Polly Roberts
Convocation 2017
On Friday, May 12, the medical school hosted its annual hooding ceremony for the M.D. graduating students. The speaker was the medical school's former dean, Jerry Strauss III, M.D., Ph.D., who remains on faculty in the Department of OB-GYN. Newly appointed Dean of Medicine Peter Buckley, M.D., as well as Class President Yeri Park also addressed the class.