Medical Society of Virginia 'salutes' the service of global health surgeon Edgar B. Rodas, M.D.
The organization recognized Rodas for his commitment to improving patient care and education across international communities.
---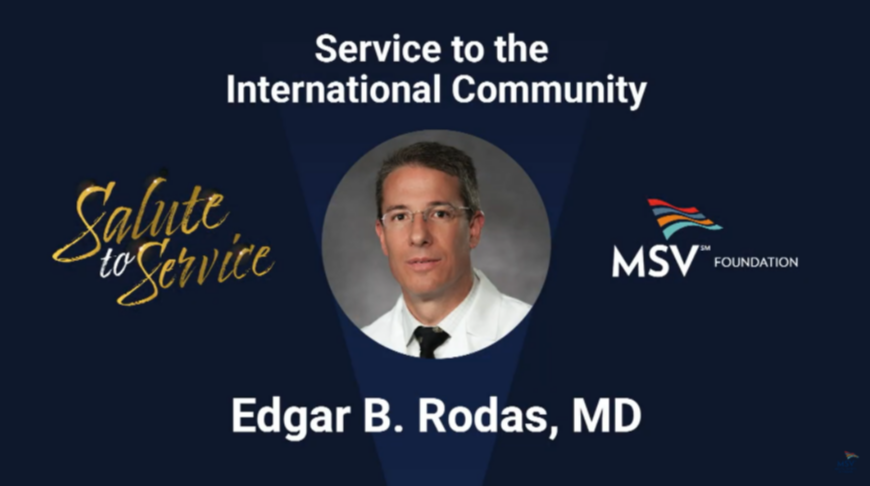 ---
The 19th annual Salute to Service Awards, sponsored by the Medical Society of Virginia, honored Edgar B. Rodas, M.D., FACS, with the Service to the International Community Award.
Held in-person for the first time in two years due to the COVID-19 pandemic, the Salute to Service Awards ceremony took place Saturday, Oct. 29, during the 18th annual MSVF Physicians Gala in Hot Springs, Virginia. The ceremony honors health care professionals across Virginia who epitomize dedication to serving communities in need. The foundation honors individuals in areas including advancing patient safety, service by a medical student or resident and, for the third year in a row, recognizing ongoing efforts in response to COVID-19.
Rodas, director of VCU's global surgery program, has dedicated his career to improving patient care in underserved regions around the world and supporting students and trainees with the same ambitions.
"This award is a testament to Dr. Rodas' commitment as a physician, an educator and an ambassador of global health equity," said David Chelmow, M.D., interim dean of the VCU School of Medicine. "We are grateful for his leadership here at VCU and abroad."
Unconditional care
Since 2019, Rodas has led the Acute Care and Systems Strengthening in Low Resource Settings, or ACCESS, program, a four-year longitudinal program at VCU School of Medicine for students interested in acute care specialties and global health. As the program director who interviews first-year medical students applying for the track, he was proud to note that "a lot of them picked VCU for the ACCESS program and VCU's commitment to global health."
Rodas is a founding member and current president of the Cinterandes Foundation, which coordinates an ongoing mobile surgery program in Ecuador. Utilizing an operating room constructed inside a cargo vehicle similar to a moving truck, the organization provides surgery and primary care services for those who would otherwise not have access, as well as educational opportunities for local health care providers in underserved areas of Ecuador. The time Rodas spent with his late father, Edgar Roads, M.D., in Ecuador, inspired him to eventually lead the foundation, share the initiative with his students and carry on his father's legacy of expanding global health care.
As an educator, Rodas hopes to inspire the pursuit of global health amongst the next generation of medical students by providing opportunities that are similar to his own. He encourages them to get involved with other organizations, like the Panamerican Trauma Society, which has provided both teaching and learning experiences for students and faculty in countries like Bolivia, Chile, and Paraguay.
"I'm proud of them, because they are the ones who really drive the initiatives," Rodas said of his students.
Adapting to the times
Restrictions during the COVID-19 pandemic impacted both the clinical and educational components of VCU's global health initiatives. Unable to connect in person with students and trainees in other countries for hands-on training, Rodas collaborated with his colleagues overseas to transition a course on advanced trauma life support into a virtual learning environment, holding didactic learning sessions via Zoom for students and residents in both the U.S. and Ecuador. After nearly two years, during which the "massive backlog" of patients needing surgery continued to grow, he and his trainees resumed their work abroad in February 2022 with a trip to Uganda. Some students have also begun traveling to Central and South America, the Caribbean and Africa with different faculty groups from VCU in the last few months to resume their educational and clinical activities.
On every trip outside the U.S., Rodas said he learns something new, from humbling reminders of resource disparities to learning new procedures that he can bring to VCU. When asked what the award from the MSV means to him, Rodas noted that he couldn't do this work alone.
"I'm grateful for this recognition, but I'm not more deserving than anyone else," he said. "I am thankful for the vision and the support of both my chair and my division, and the previous two deans at the School of Medicine who had an open mind and always listened to what we are trying to do."